Happy New Year!
2017, eh? I honestly thought we'd never make it through 2016 to the new year. Somehow the year seemed never-ending. Yet it flew by, and now it's over. I can't say I'm going to miss 2016. I panicked halfway through the year that I was failing miserably as a human and as an entrepreneur, and now that I look back, I can see that I did just as well as I did in 2015. No better. No worse. My life is pretty much the same as before, and there wasn't exactly a surge in any of the numbers, business-wise. I suppose there's something comforting about consistency. I am sustainable!
One of the goals I had for the year was to make a printed 2017 calendar for me and for you. And I did it! I designed a wall calendar for us all to enjoy. Now you can order a real Kitchen Heals Soul 2017 wall calendar (not just a digital download). The calendar is filled with printed photos, 14 to be exact if you count the front and back covers. Each month features a carefully selected photo of a treat (like pies, cakes, cookies, etc.). I hope that this 12-month calendar reflects the style of my blog. I think it would make a nice gift and a lovely addition to  your home. It will certainly perk up your wall at work too, if that's where you choose to hang it! I made sure to find a company that would do a good job of printing the calendar and binding it with care. I chose everything, down to the wire binding: I opted for a gold wire to hold it all together because gold is so "in" these days. I hope that you will check out the Kitchen Heals Soul 2017 calendar. It comes in two sizes. I'm particularly partial to the small size. It's just so darn cute!
By the way, I've also got some postcards and notecards that you can purchase too, in case you like to mail pretty letters to people. They look like this: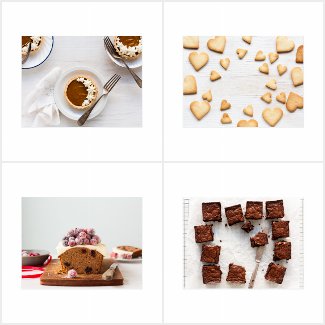 And, if printed wall calendars and pretty postcards aren't your thing, below is a January 2017 desktop calendar, free for you to download. Simply click the size of the image you need below and the image will open in a new tab. Then download that image by right clicking on it to save it to your computer. Find the file in your folder of Downloads and right click on the image title to set the image as your wallpaper/desktop image.
Image source & recipe: Cranberry cardamom cake with cream cheese frosting 
Download no longer available. For the latest desktop calendar, click here.