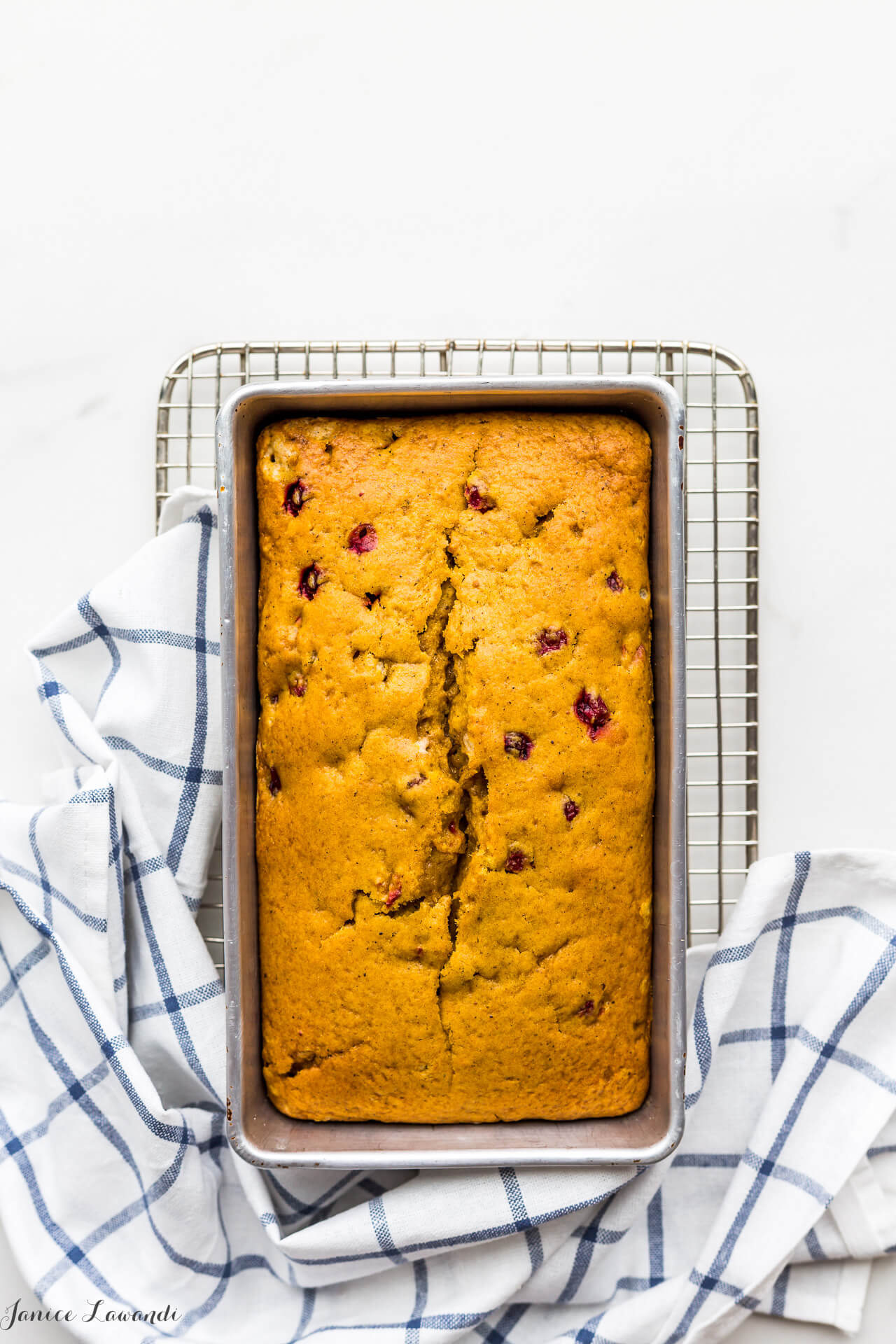 This pumpkin cranberry loaf cake recipe actually took me four attempts to get right. Yes, four. A lot of pumpkin loaf cake recipes are made with both canned pumpkin and a liquid (like milk, yogurt, or sour cream). Some will even include orange juice. But every time I try to incorporate extra liquid, I end up with a gummy layer on the bottom of my pumpkin loaves, which looks like the cake might not be done baking. This is the same kind of problem I often see testing out and troubleshooting various banana bread recipes.
Interestingly, pumpkin bread and banana bread are made from the exact same recipe, but in one case, you use puréed pumpkin (or canned pumpkin) and in the other case, you use mashed banana.
The recipe I began with (attempt #1) had a full cup of pumpkin purée as well as a full cup of orange juice (which I replaced with buttermilk in my first attempt to maintain the acidity of the recipe, without having the overpowering flavor of OJ) in one loaf with only two cups of flour. The bread took over 1.5 hours to bake at 350°F, and even with all that baking, the bread still has a gummy layer at the bottom, a sign that something was off with the recipe or that the cake was underbaked. I served this bread to coworkers who adored it and couldn't get enough.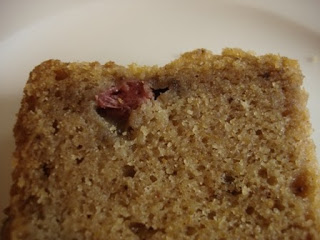 Attempt #1 with 1 cup of buttermilk, baking soda, baking powder, and the zest of 1 lemon
I waited a week before my third attempt. I was concerned. What if I put together another terrible quick-bread. This could be a blow to my ego that I am really not in the mood for. I was scared. I am used to that scared feeling when you don't know what the outcome of an event/test will be. Will it be good? Will it be bad? Will I be forced to throw out another loaf, wasting all those precious ingredients? I hate waste. My final recipe contained 1/4 cup of buttermilk and no lemon. All other ingredients were the same. I bumped up the cinnamon because I felt even my most successful attempt #1 needed a boost that was non-citrusy. This third loaf baked for 1.5 hours at 350°F. The amount of time made me very nervous. I was preparing myself for another quick-bread that was too moist. To my surprise, this bread was just right! That layer of moistness at the bottom was gone!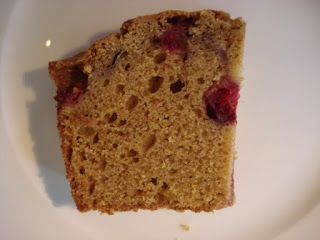 Attempt #3 (SUCCESS!) made with 1/4 cup of buttermilk, baking powder, baking soda, and the zest of half a lemon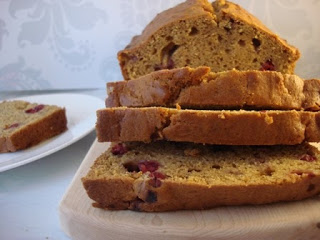 Pumpkin cranberry loaf
Here's a recipe for a moist pumpkin cranberry loaf cake spiced with cinnamon, nutmeg, ginger, and cloves
Ingredients
250

grams

(

2

cups

)

all-purpose flour

5

mL

(

1

tsp

)

baking powder

1.25

mL

(

1/4

tsp

)

baking soda

2.5

mL

(

1/2

tsp

)

ground cinnamon

2.5

mL

(

1/2

tsp

)

ground cloves

2.5

mL

(

1/2

tsp

)

ground ginger

2.5

mL

(

1/2

tsp

)

ground nutmeg

115

grams

(

½

cup

)

unsalted butter

200

grams

(

1

cup

)

granulated sugar

2

large eggs

5

mL

(

1

tsp

) pure vanilla extract

250

mL

(

1

cup

)

thick pumpkin purée

60

mL

(

¼

cup

)

buttermilk

optional—omit if pumpkin is watery OR strain pumpkin before using!

250

mL

(

1

cup

)

frozen cranberries

tossed in a spoonful of flour just to coat them
Instructions
Preheat the oven to 350°F. Butter and flour a 9x5 inch loaf pan (like this one on Amazon). Line the bottom of the pan with a piece of parchment (cut to size).

In a medium bowl, whisk together all the dry ingredients, and set them aside.

Mix together the pumpkin purée, buttermilk (if using), and vanilla in a spouted bowl or a big liquid measuring cup.

In the bowl of an electric mixer, fitted with the paddle attachment, cream the butter and the sugar for about 5 minute.

Add the eggs, one at a time, beating well after each addition. Scrape down the bowl as needed.

Add one-third of the flour. Mix until just combined.

Add half the pumpkin mixture. Mix until just combined.

Add the second third of the flour. Mix until just combined. Scrape down the edges of the bowl as needed, then add the rest of the pumpkin.

Add the last bit of flour. Mix until just combined.

Stir in the frozen cranberries. Don't overmix!

Transfer the batter into the prepared pan (the batter is thick, so I don't recommend pouring). Smooth the top and make sure to bang the pan to try and remove some of the air pockets.

Bake for about 1½ hours (but start checking it after an hour with a cake tester).

Let cool 15 minutes before unmolding on a wire rack to cool completely before serving.
Notes
If your pumpkin puree is very watery, loose, or wet, make sure to either strain it before measuring it OR omit the buttermilk from this recipe. Otherwise, your loaf cake will be underbaked on the bottom and gummy.
Nutrition
In the Northern Hemisphere, winter officially begins on December 21st, on the day of the winter solstice. Although it is not technically winter now (the first week of December), it feels like winter in my kitchen (perhaps the feeling stems from the hot buttered rum pudding). With the passing of Canadian Thanksgiving in early October, and then American Thanksgiving, which was November 25th this year, it seems appropriate to end the fall baking period, and begin Christmas baking. By early December, if not end of November, I find myself craving spiced, boozy fruitcakes, plum pudding, and loads of beautiful, homemade cookies. I can smell the aromas of holiday baking. I can see my belly/figure filling out with all the glorious treats. The Christmas season is not a time for dieting in my home. It's a time for well-deserved indulgence and pure enjoyment. Fruit cake is brimming with sweet, candied and dried fruits and fruit peels, topped with brandy, marzipan, and a thick layer of brandied buttercream. Plum pudding is flambéed with brandy and served with a hard sauce made of confectioner's sugar, butter, and more brandy. There will be gingerbread houses, and gingerbread men (I'm sorry, but this old-school girl refuses to call them gingerbread "people," so please just get over it!). There will be cut-outs of all sorts, perhaps even decorated since I learned how this year. My mom and I will definitely be making Egyptian shortbread with my Aunt Fawzia's recipe. Her recipe is always a challenge to put together as it calls for "a saucer of this" and a "spoonful of that," and enough flour until the cookie dough "feels right." The baking list goes on an on.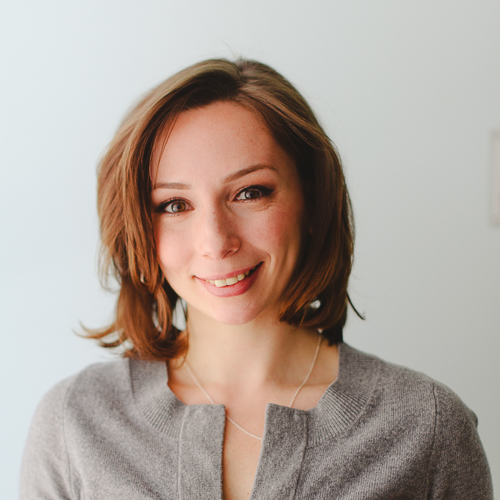 Janice Lawandi is chemist-turned-baker, working as a recipe developer in Montreal, Quebec, Canada. She studied pastry at Le Cordon Bleu in Ottawa and cooking at l'Académie Culinaire. She has a BSc in Biochemistry from Concordia University and a PhD in Chemistry from McGill University. Visit janicelawandi.com to see my portfolio.