Spiked or not, I think eggnog is wonderful. It's something about that creamy spiciness that has me hooked. Obviously, homemade eggnog is better, but sometimes that's just not an option. Even if I usually only have time to buy grocery store eggnog, it seems so luxurious when I'm sipping on a glass of eggnog on the rocks.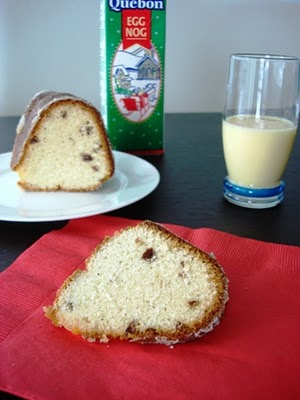 When it's eggnog season, I drizzle it on everything. Eggnog appears on my menu on a daily basis. I find that the easiest way to incorporate eggnog into my daily routine, is by adding it to my usual daily beverages, like tea, coffee, hot chocolate (my current beverage of choice), and even an eggnog milkshake. Recently though, I've wanted to take my "nogging" a little further. So, I jumped from beverages to baking: this eggnog poundcake studded with rum-soaked raisins, and coated with a thick layer of rum-sugar glaze (recipe below) and an eggnog trifle with cranberries.
The recipe for this eggnog pound cake (originally made with currants) is taken from Flo Braker's beautiful Baking for All Occasions
. I have wanted to buy this book for years, but never had the chance. I'm glad I finally did. This is her cover recipe, and I can safely say that I will be making it again and again. In fact, I already made it twice this week-end, for two different groups of friends. When I served up the first bundt, one person I served it to went back for thirds (that's my girl!), while her husband (who never eats cake) happily gobbled a slice. When I served up the second bundt, a stampede of people lunged for the cake. So many, in fact, that I did not even get to sample a piece myself. Those that missed out on slices of this cake fought over the crumbs (no joke!). It's a real heartwarming feeling when people are fighting over a bundt you made (not that I condone violence of any kind). Those that got to sample a few crumbs even emailed me to thank me for those crumbs. Wow!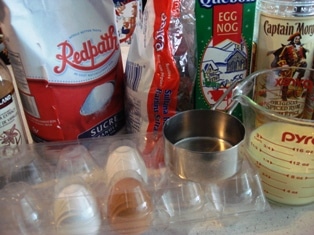 The eggnog bundt cake recipe comes from Flo Baker's book Baking for All Occasions, available on Amazon. The glaze is a very crystalline glaze that I think would be great on gingerbread and lemon cakes. Flo Braker's recipe called for a glaze containing lots of sugar, and a mix of water and rum. In my books, cakes can always use a little more booze, so I opted for lots of sugar and more rum (no water). Even with double the rum, the rum flavor was still far from overwhelming. I think it was just right. Several tasters commented that the rum flavor was just great, without making the cake seem too boozy.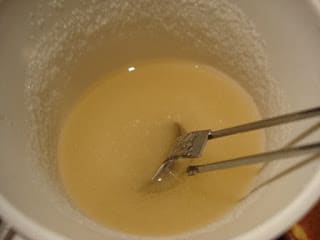 The crazy thing about this glaze is that it is saturated with sugar granules. So much so (150 grams), that you cannot dissolve all that granulated sugar in the little amount of liquid called for (4 tablespoons). You end up with a magical slurry of sugar crystals in rum.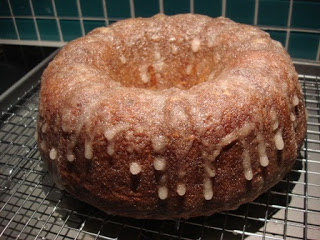 The mixture can be generously brushed onto the hot, freshly-baked bundt. You will want to use all of the glaze for this task. Trust me, you will thank me later. When the bundt has cooled, and the glaze has crystallized, you end up with a thick, sparkly layer of rum glaze, with random trickles that streaked down the sides of the bundt. Those trickles truly bring this bundt to the next level of rum-spiked "nogging" heaven.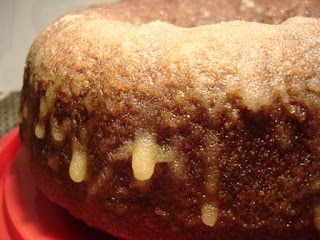 If you are looking to bake a bundt cake outside of the Christmas holiday season, be sure to try this cinnamon chocolate chip bundt cake made with sour cream.
Eggnog bundt cake with rum glaze
This eggnog bundt cake has eggnog baked into the cake and is topped with a rum glaze that crystallizes on the surface of the cake so that it sparkles!
Ingredients
Eggnog bundt cake recipe
65

grams

(

½

cups

)

dried currants

2

tbsp

(

2

tbsp

)

spiced or dark rum

375

grams

(

3

cups

)

all-purpose flour

2

tsp

(

2

tsp

)

baking powder

1/4

tsp

(

1/4

tsp

) Diamond Crystal fine kosher salt

1/4

tsp

(

1/4

tsp

)

ground nutmeg

preferably freshly grated

230

grams

(

1

cup

)

unsalted butter

softened

400

grams

(

2

cups

)

granulated sugar

3

(

3

)

large eggs

lightly beaten

250

mL

(

1

cup

)

store-bought eggnog

at room temperature

1

tsp

(

1

tsp

) pure vanilla extract
Rum glaze recipe
150

grams

(

¾

cup

)

granulated sugar

3/4 cup

60

mL

(

¼

cup

)

spiced or dark rum
Instructions
Eggnog bundt cake
Place a rack in the centre of the oven and preheat the oven to 350°F (175°C) or, if the pan has a dark finish, 325°F (160°C). Butter a large 10 cup Bundt pan and then flour it, tapping out any excess flour. I like the Nordic Ware Anniversary Bundt pan (get it on Amazon).

Warm the rum, then combine the hot rum with the currants in a small bowl. Let them soak for 15 minutes.

Whisk together the flour, baking powder, salt, and nutmeg.

Using a stand mixer fitted with the paddle attachment, cream together the butter on medium-low speed until creamy and smooth, 30 to 45 seconds.

Add the sugar in a steady stream and continue to beat on medium speed until light in color and fluffy, about 5 minutes, stopping the mixer occasionally to scrape down the sides of the bowl.

With the mixer still on medium speed, add the eggs, 1 to 2 tablespoons at a time, beating after each addition until incorporated and stopping the mixer occasionally to scrape down the sides of the bowl. Add the vanilla and mix just until combined.

On the lowest speed, add the flour mixture in 4 additions alternately with the eggnog in 3 additions, beginning and ending with the flour mixture and mixing after each addition just until incorporated. Stop the mixer as needed to scrape down the sides of the bowl. ed pan and spread evenly with the spatula.

Using a rubber spatula, gently fold in the currants and any remaining rum.

Spoon the batter into the prepared pan and spread evenly with the spatula.

Bake the cake just until a cake tester inserted into the centre of the cake comes out clean, and the sides are beginning to come away from the pan, 50 to 65 minutes. Transfer the cake to a wire rack and let it cool in the pan for about 10 minutes while you prepare the glaze.
Rum glaze
In a small bowl, combine the sugar and the rum. Stir with a rubber spatula just until blended.

Invert a wire rack on top of the pan, flip the cake onto the rack. Slide a sheet of waxed paper under the rack.

Using a pastry brush, coat the top and sides of the warm cake with the glaze, using every last drop. Let the cake cool completely before serving. To serve, carefully transfer the glazed cake to a serving platter. Thinly slice the cake with a sharp or serrated knife.
Notes
I prefer the bundt pans from Nordic Ware, specifically the Anniversary bundt pan available on Amazon. I find cakes are much less prone to sticking to the Nordic Ware bundt pans so there's less stress!
Nutrition
Calories:
373
kcal
|
Carbohydrates:
56
g
|
Protein:
4
g
|
Fat:
13
g
|
Saturated Fat:
8
g
|
Cholesterol:
70
mg
|
Sodium:
59
mg
|
Potassium:
152
mg
|
Sugar:
38
g
|
Vitamin A:
435
IU
|
Vitamin C:
0.4
mg
|
Calcium:
57
mg
|
Iron:
1.5
mg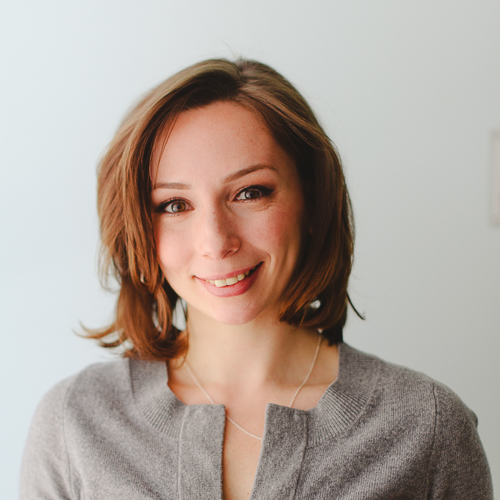 Janice Lawandi is chemist-turned-baker, working as a recipe developer in Montreal, Quebec, Canada. She studied pastry at Le Cordon Bleu in Ottawa and cooking at l'Académie Culinaire. She has a BSc in Biochemistry from Concordia University and a PhD in Chemistry from McGill University. Visit janicelawandi.com to see my portfolio.