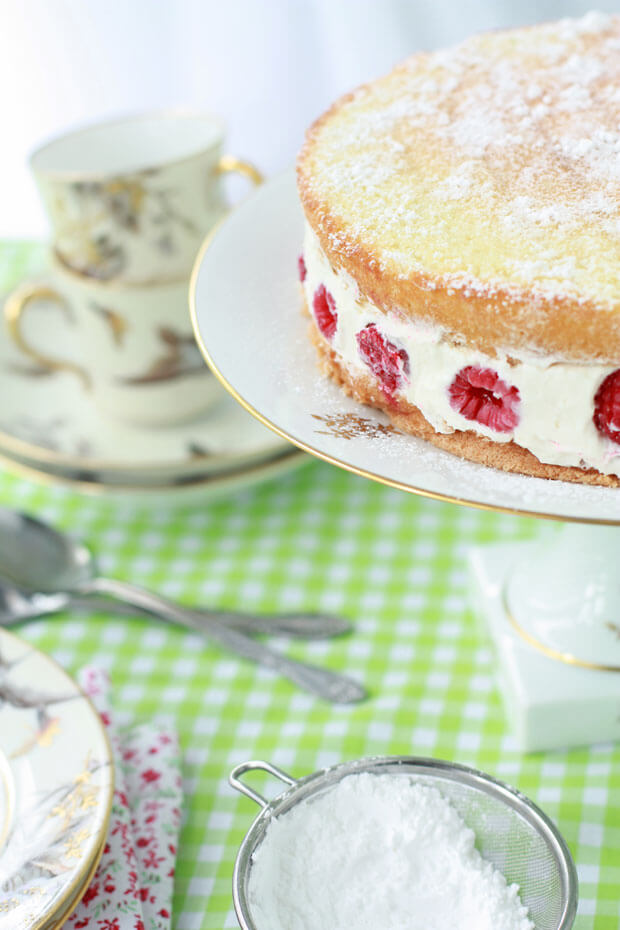 Fraisiers and framboisiers may be two of my favorite cakes. They feature two layers of sponge cake (génoise) with a buttercream filling or even "chantilly" cream, and a layer of fruits (fraises—strawberries, or framboises—raspberries). The cake is traditionally topped with marzipan, dyed a lovely shade of pastel pink, though sometimes it is simply topped with a generous sprinkling of powdered sugar.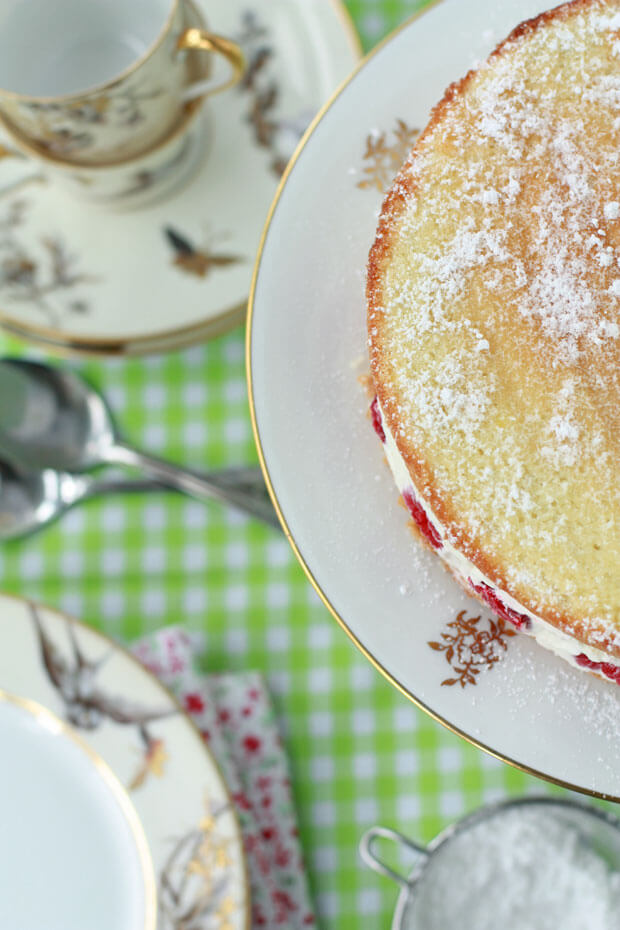 The fraisier cake is a layer cake made from two layers of spongecake with a buttercream filling that anchors the fresh strawberries (fraises) between the layers of sponge. Fraisiers are either topped with powdered sugar or a layer of marzipan.
One variation is to replace the strawberries with fresh raspberries (framboises). The raspberry version of the fraisier is called a framboisier cake for this reason.
In my mind, the fraisier cake is a celebration cake. When I was baptized, my parents served a fraisier to our family in celebration. Fraisiers were served at countless birthdays, and always from the same pâtisserie in town.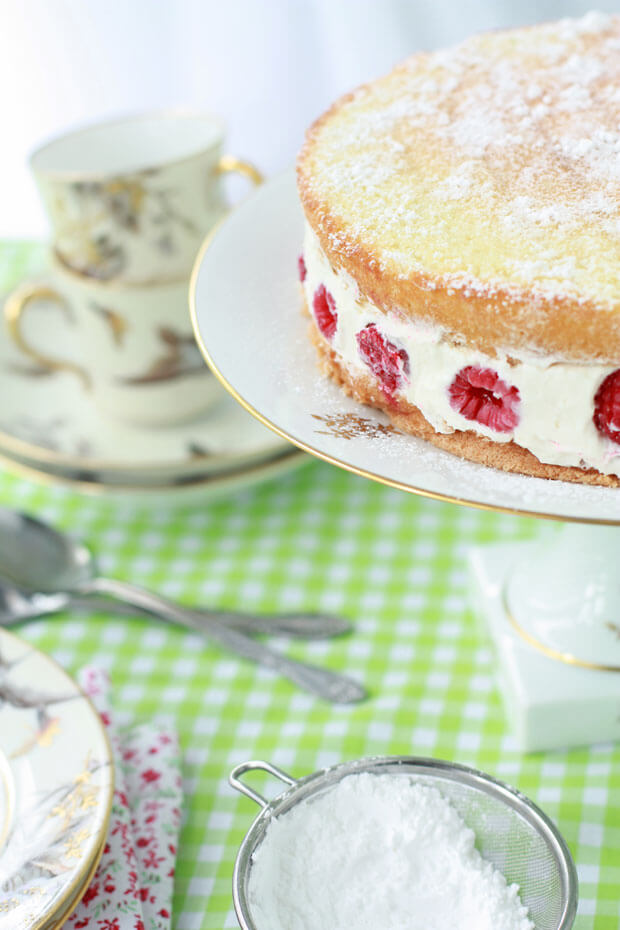 For the sponge cake, I made a
warm milk sponge cake
, which my family calls Zilla's cake (though we aren't sure who or what is Zilla).
For the filling, you can make an Italian meringue buttercream or a French buttercream. The buttercream is mixed with melted white chocolate, which smooths it out.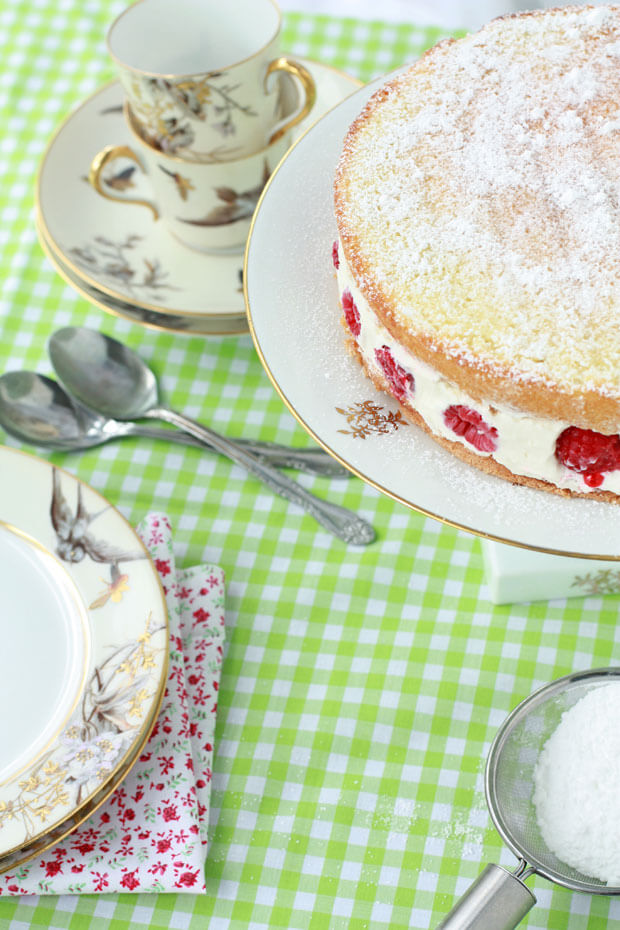 The beauty of working with a sponge cake is that they are great at absorbing flavoured syrups so for this framboisier, I used a soaking syrup flavoured with Chambord, a sweet raspberry liqueur.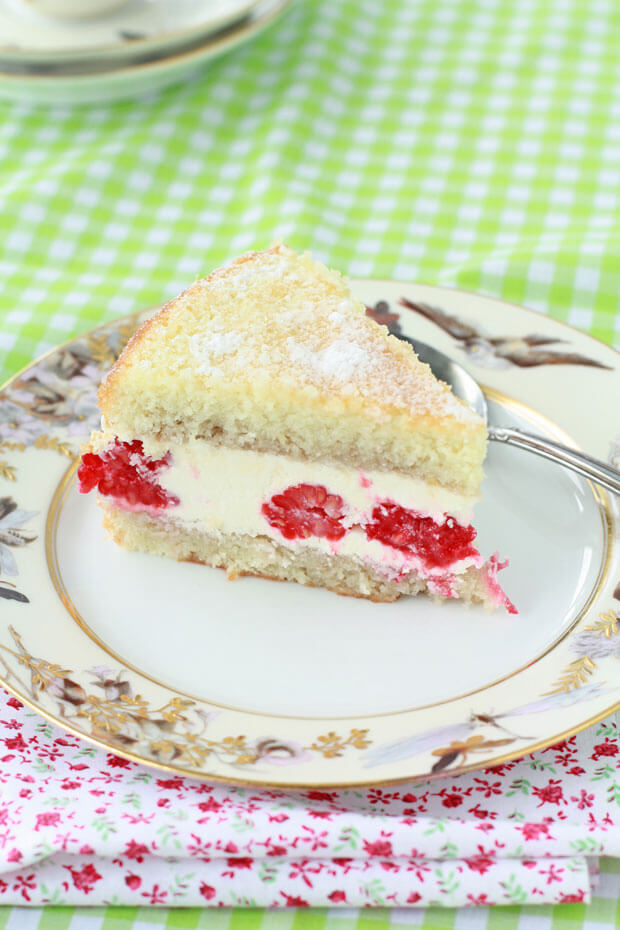 My blog is not perfect, and neither am I. My framboisier is not perfect either. When I began putting together this post, I had visions of a perfect layer cake that did not quite become reality. I should probably have been more vigilant with the placement of the raspberries. Perhaps I could have been a little more careful when photographing because a couple of the raspberries got "weepy," and dribbled a little of their juice. I could've selected raspberries from the pint that were more close in size, and not a mix of big ones and small ones....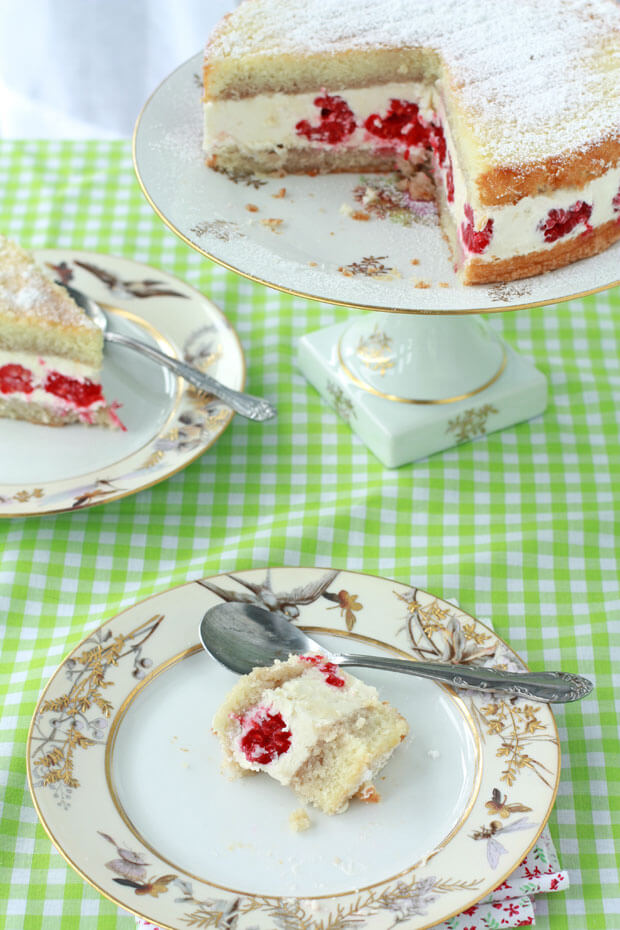 Below is the recipe to make a framboisier, which is a fraisier cake with raspberries instead of strawberries. It's got a lot of parts, but you can actually make it in an afternoon, so don't freak out on me. This cake is worth the time spent.
You can use any berry you'd like, really, but I much prefer to use raspberries because their tart flavour cuts through the buttery sweetness of the white chocolate buttercream. I applied a little boozy syrup to the layers to moisten them. I went fancy-schmancy and used Chambord, a raspberry liqueur.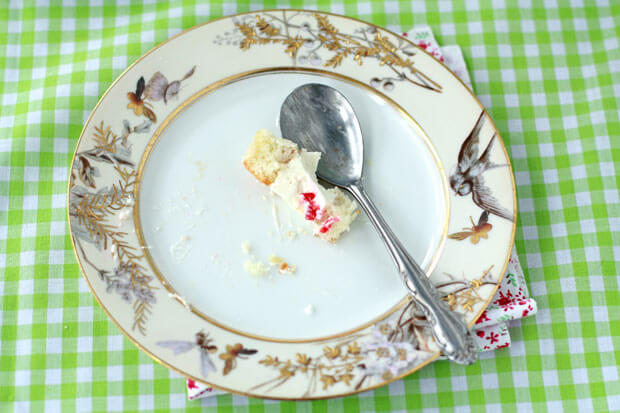 Of course, you don't have to add booze to the syrup, but really, the cake is so much better with it. Trust me. Oh and if you are feeling ambitious, you can colour some marzipan to a pastel pink with some food dye, and roll, cut, and top the cake with it to make this layer cake into a true framboisier. I was lazy. So I sprinkled powdered sugar generously over top.
For a more traditional berry layer cake, try this berry cake with cream cheese frosting. And you can always make a funfetti Momofuku Milk Bar birthday cake if you prefer!
Framboisier cake
This framboisier cake is like a fraisier made with raspberries: layers of sponge cake filled with mousseline cream and raspberries. You can top it with powdered sugar or a layer of marzipan.
Ingredients
Sponge layers
1

warm milk sponge cake

baked in an 8-inch springform for 35 min at 350°F, cooled, then split into two even layers
Soaking syrup
50

grams

(

¼

cup

)

granulated sugar

~¼ cup

85

mL

(

⅓

cup

)

water

~⅜ cup, ie less than ½ cup

30

mL

(

2

tbsp

)

Chambord liqueur

or any liqueur you'd like to use
White chocolate buttercream (I used about half of this recipe and froze the rest for another day)
1

batch

Swiss meringue buttercream

I used Sweetapolita's recipe

114

grams

(

4

oz

)

white chocolate

melted and cooled slightly
Framboisier topping
200

grams

(

½

lb

) marzipan

optional (you can dye it with a few drops red food colouring)

icing sugar
Instructions
To make the soaking syrup
In a small saucepan, combine the sugar and water on medium-high heat. Bring it just to a simmer, and leave it to simmer, swirling often, until all the sugar is dissolved. Remove from the heat to cool completely.

When the syrup has cooled, add the Chambord (more or less than suggested above, depending on how flavourful you want the syrup), and stir. Set aside for later.
To make the white chocolate buttercream
Combine the swiss meringue buttercream with the melted chocolate. You can do this in your mixer with the paddle attachment, or with a spatula by hand. Personally, I like to do this with the mixer. It's easier. Make sure the two components are roughly the same temperature so that the emulsion doesn't break.
To assemble the framboisier
Place 1 cake round on your cake turntable, cut-side up.

Brush on a half of soaking syrup

Meanwhile, brush the cut-side of the other cake round with the rest of syrup and set aside.

Top the cake round on the turntable with a scant ⅔ cup buttercream, and spread it to cover the surface of the cake.

Place the raspberries over top.

Top with another scant ⅔ cup buttercream, and spread it carefully over the raspberries, without pressing too much.

Place the second cake round, cut-side down, over the buttercream layer. Press it down very gently.

If you are topping your cake with a marzipan layer, roll it out to fit the top of the cake. You'll need to spread a thin layer of buttercream over the top of the cake to glue the marzipan down. If not using marzipan, dust generously with powdered sugar just before celebrating.
Nutrition