Want to go directly to the cookie recipe? Just click here to skip to the recipe for these bittersweet cocoa coffee cookies!
As an Amazon Associate I earn from qualifying purchases.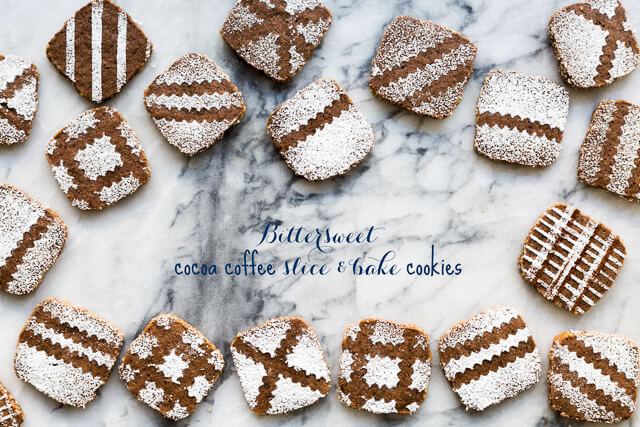 I've been reading Elizabeth Gilbert's Big Magic (available on Amazon) and sometimes, it makes me cry. Her book discusses a lot of the things I struggle with every single day with my blog and with being creative, like the need to be perfect. See, the need to be perfect or to be good (or better or the best) means that much of the time, I don't even try. I don't put myself out there because I'm afraid that the end result won't be as good as what everybody around me is doing. Or maybe the result won't be as good as it could be if I had practiced doing that thing for 6 months or a year before showing you what I can create. My inner pessimist stands in front of me and yells "STOP! Don't do it! You're not ready! You're not good enough!" and I listen, and I stay put, stagnant, like my feet are cemented to the earth. In those moments, I often feel torn. On the one hand, I know that I need to practice, but on the other hand, if I practice and it's terrible, I will be sad. People may laugh, or scoff at me and say "Gosh, she's rather terrible!" It's much easier not to try because if I don't try, I'll never get hurt, right?
Except, that's not true either. The safe road isn't the better road because the safe road means everybody's driving by, moving forward, while I am trapped. There's no easy way out of this game!
Elizabeth Gilbert taught me that "done is better than good," meaning that if I stick with that mentality that I cannot try to be creative and/or share my creative efforts until I am "ready" or they are perfect, then I will have created absolutely nothing. And creating nothing is worth exactly that. Nothing. Because trying and sucking is better than doing nothing at all. Good will never happen unless I try. Done is better than good.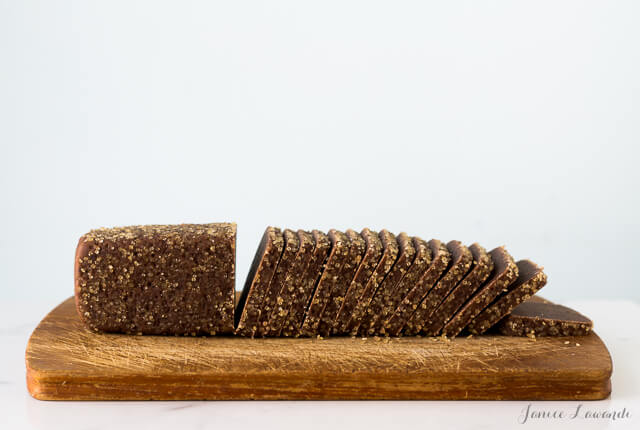 The second thing I'm learning from Big Magic is that people aren't born with a magical creative gene that I don't possess. Creativity is possible, if I try (according to the book). But I can't try once, fail, and blame it on a lack of creativity. Like everything else, creativity takes practice. I like to blame my "nerd genes" for my lack of creativity, but perhaps I am nerdy because I dedicated a good chunk of my adult life to developing nerdy skills. I pretty much shut creativity out of my life in favour of logic. And to be honest, I wasn't always a brilliant scientist (if we could even call me that). In college, I copied most of my chemistry homework off of the "smart students" because I just didn't understand any of it. Chemistry didn't click, and I struggled. Big time. Ten years later, I defended a PhD thesis in Chemistry, the one subject I understood the least in college. True story. I persevered and I read entire textbooks until I understood the language and the logic of it all. And you know what? My thesis isn't perfect, and neither was my defense and I'm alright with that because an imperfect thesis that is finished and defended is better than a thesis never published because it's not yet perfect.
This year has gotten off to a rough start and I've been struggling. I stomped my foot and I said that I wouldn't do video, that I wouldn't even try to move forward on a lot of creative projects because I am not good enough and because I don't feel ready. There's literally been a war going on inside of me for the last 3 months as I watched others try, all while my perfectionist self said not to bother with a multitude of excuses to explain why. And then I gave Big Magic a shot, a book that I meant to read last November, but I brushed it aside because I didn't understand what I could possibly gain from reading another Elizabeth Gilbert book. I read and reread sections of her book and I cried. And in the last few weeks, I have tried to do more new things than I can count. I joined Snapchat and got frustrated, but persevered. I shot tiny videos that are blurry and sometimes with a camera that isn't quite level. Remember my cake drop video? It's on youtube for all to see. I put together a gif with these cookies tonight to share on Instagram. I am fully aware that none of it is perfect, and there is a big part of me that cringes at every step and I fight the urge to scream at myself or to run away and hide. The flaws are magnified in my eyes and they literally tug at my heart. But sharing each little thing also brought me joy because with every effort, I face a fear. I am being productive and I am moving forward, creating something and putting myself out there. Done is better than good. And every effort I make will (fingers crossed) lead to something better. I may have to repeat the same mistake 3 times before I understand what I'm doing wrong, but I learn with every big step.
Today's post only has 2 photos, and I almost didn't share these cookies at all because they are, as the title indicates, bittersweet. I made these cookies with a minimal amount of sugar (I don't think you could go lower than this) so that these cookies were more of a play on the bittersweet flavour of coffee beans and cocoa powder. I roll all of my icebox cookie doughs in turbinado because I am addicted to those crunchy edges. These bittersweet cookies were the perfect canvas for some powdered sugar stencilling and practicing taking video, using Snapchat, and testing out an app to make this gif. If you prefer a sweeter cookie, just double the sugar (use 100 grams granulated sugar in the cookie dough, which comes out to ½ cup).
Now, go to Amazon and buy Elizabeth Gilbert's Big Magic! Trust me, you will not regret it (unless you already knew all this, in which case, I don't know why you are here because you must be perfect)! You can make these bittersweet cocoa coffee cookies while you are waiting. They are a slice-and-bake cookies so you should actually chill the dough overnight, while you are waiting for your book to arrive. If you want other slice-and-bake cooke recipes, try these fruitcake cookies, vanilla sablés, or another kind of chocolate cookie, chocolate sablés.

Bittersweet cocoa coffee cookies recipe
Bittersweet cocoa coffee cookies
These bittersweet cocoa coffee cookies have a delightful flavour of coffee and chocolate, and they aren't too sweet. They are perfect with a hot cup of tea.
Ingredients
281

grams

all-purpose flour

2 ¼ cups

10

grams

Cacao Barry extra brute cocoa powder

2 tbsp

1 ½

tbsp

ground coffee beans

I literally mean ground coffee beans, not instant coffee!

173

grams

unsalted butter

¾ cups, room temperature

50

grams

granulated sugar

¼ cup

1

tsp

pure vanilla extract

3

tbsp

whole milk (3.25 % fat)

50

grams

turbinado sugar

¼ cup

icing sugar

to stencil or sprinkle on top before serving
Instructions
Whisk together the all-purpose flour with the cocoa powder, salt, and coffee grinds. Set aside.

In the bowl of an electric mixer fited with the paddle attachment, cream together the butter and the sugar.

Add the vanilla and beat in, scraping down the sides of the bowl as needed.

With the mixer running on low, add the flour mixture gradually. Then add the milk. Beat until a dough forms.

Dump the dough onto a clean work surface and pat together into a 7 ½-inch log. I pressed my cookie dough into a a rectangle so that my cookies would be pretty square (about 1 ¾"x1 ¾"). Roll the log of cookie dough in turbinado, pressing into all sides. Wrap in plastic wrap and store in fridge over night.

Preheat the oven to 350ºF. Line a baking sheet or two with parchment.

Unwrap the cookie dough and slice to about ¼" thick. You should get about 30 thin-ish cookies. Space them out on your baking sheet and bake for about 15 minutes until the surface looks dry.

Cool a couple minutes on the baking sheet before transferring to a rack to cool completely.

Stencil or sprinkle with lots of powdered sugar. Watch the gif on Instagram to see what I mean!
Notes
Nutrition