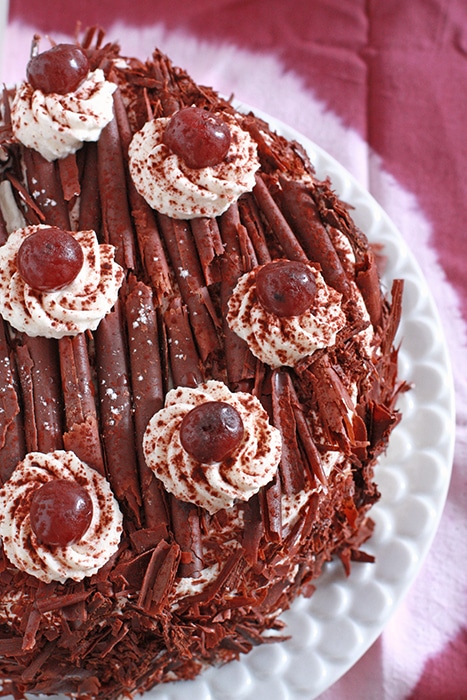 Black Forest cake originates in the black forest region of Germany, and that's where it gets its name "schwarzwälder kirschtorte." The French call it a gâteau Forêt Noire. Black forest cake is a classic layer cake taught in pastry school and ever popular in Europe.
Black forest cake components
The cake is made from layers of chocolate génoise. The layers are soaked with a kirsch flavoured simple syrup to moisten the chocolate sponge cake. The filling is lightly sweetened whipped cream, with a few boozy cherries soaked in kirsch (griottes is the French term for these sour cherries soaked in kirsch) dropped between the layers. The outside is coated with more whipped cream, and then darkchocolate shavings.
Making a chocolate génoise
I've been focusing on practicing génoise cakes. The génoise cake is another balloon-whisk recipe that I'm working on getting just right. The eggs and sugar are whisked over a double-boiler to 55°C, then whisked off the heat back to room temperature at which point the mixture is a very creamy light yellow and ribbony. Finally, you carefully but quickly fold in the dry ingredients (in this case flour and cocoa powder, double sifted so that it's extra light and without any lumps). Then you gently work in the melted butter.
If you fold the batter too much, your mixture will deflate and you risk making a rock-hard cake. If you don't fold the mixture enough, you end up with a cake with little flour rocks randomly dispersed throughout. There's a fine line between too mixed, and not mixed enough. Remember, with this sponge cake, the only
leavening agent
is the eggs. There's no
baking powder
, nor
baking soda
here, so the rise of the cake comes from the air incorporated into the batter with a little evaporation from the heat of the oven. This is quite a different recipe than the warm milk sponge, for example, which not only depends on eggs but also baking powder to rise.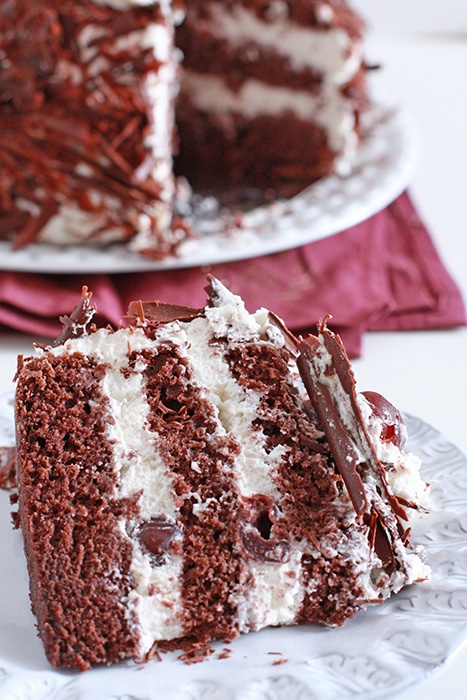 I'll leave you with a basic recipe for a black forest cake. You can obviously make it with a chocolate génoise sliced into three even layers (like I did in school), or you can use your favourite chocolate cake for the layers. This eggless chocolate cake would make great layers for this cake..
Black forest cake
A recipe for traditional German black forest cake made with layers of chocolate sponge cake, kirsch, whipped cream, and cherries. Feel free to make this cake with fresh raspberries if you prefer
Ingredients
For the whipped cream
625

mL

(

2 ½

cups

)

whipping cream (35 % fat)

60

mL

(

4

tbsp

)

icing sugar

sifted

1

tsp

(

1

tsp

) pure vanilla extract
For the soaking syrup
200

grams

(

1

cup

)

granulated sugar

200

mL

(

¾

cup

)

water

30

mL

(

2

tbsp

)

kirsch
For assembly
1

(

1

)

6-inch chocolate cake

sliced into three even layers

150

grams

(

1

cup

) boozy cherries

or maraschino

300

grams

(

⅔

lb

)

chocolate shavings
Instructions
For the whipped cream
In a large bowl with a balloon whisk (or in the bowl of a mixer fitted with the whisk attachment), whip the cream to soft peaks. Add the icing sugar and vanilla, and continue whipping to firm peaks. Set aside in the fridge until you are ready to use it.
For the soaking syrup
In a medium saucepan, combine the sugar and water. Heat the mixture over medium-high heat until the sugar is completely dissolved and the syrup comes just to the boil. Remove the pan from the heat and set it aside to cool.

When the syrup has cooled, add the kirsch to flavor it. Set aside.
To assemble the cake
Place the first layer of cake on a cake board (or a rotating cake stand like this one on Amazon) and brush generously with the soaking syrup (if working with a génoise cake, brush on enough syrup that when you press on the cake, the syrup comes up).

Top with a layer of whipped cream and a third of the cherries. Press the cherries in place lightly, then spread another thin layer of whipped cream over top to lock them in place.

Repeat steps 1 and 2 with the the second layer of cake.

Top the cake with the third layer, brushing it with syrup and topping it with a thin layer of whipped cream.

Spread whipped cream on the sides of the cake and smooth the surface.

Press chocolate shavings all over the sides.

Top the cake with more chocolate shavings and pipe on a few decorative rosettes with a star tip. Place a cherry in the middle of each rosette.

Sprinkle the cake with a little cocoa powder and icing sugar before serving.
Notes
For this recipe, you can buy boozy cherries like these on Amazon
Nutrition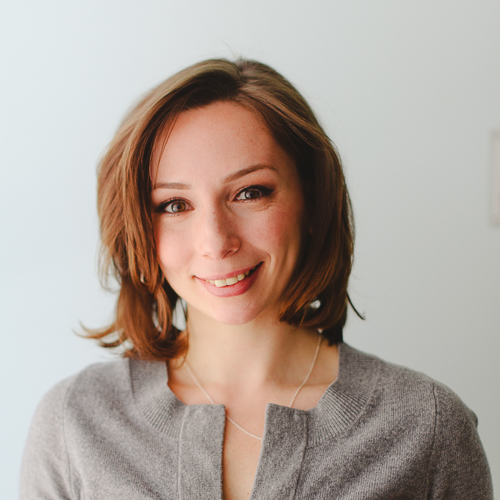 Janice Lawandi is chemist-turned-baker, working as a recipe developer in Montreal, Quebec, Canada. She studied pastry at Le Cordon Bleu in Ottawa and cooking at l'Académie Culinaire. She has a BSc in Biochemistry from Concordia University and a PhD in Chemistry from McGill University. Visit janicelawandi.com to see my portfolio.