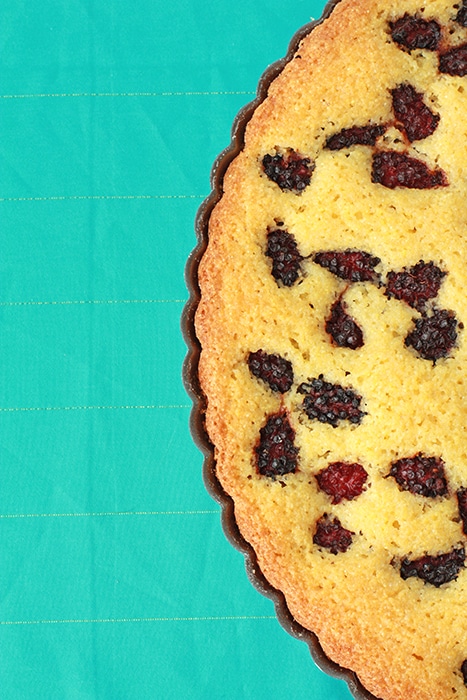 F and I were muffin- and loaf-cake-making machines at school. We were baking up loads of them most mornings. They were a huge hit with the staff and we certainly enjoyed making them. The opportunity to bake with a friend aside, who doesn't love baking muffins and experimenting with all different flavors, fruits, and spices?
Of course, there were a few bumps along the way…
Like the time the berries disappeared:
-F: I'll toss the berries in a little flour.
-Me: It seems to me you don't have to do that if the berries are frozen.
-F: Really? Well that's easier!
-Me: Yeah, I'm pretty sure last time I made a bundt cake with frozen berries, I just folded in the frozen berries without coating them in flour first.
-F: Okay then.
One hour later…
-F: Ummm, I think the berries sank to the bottom!
-Me: No?! Really?!
-F: I can't see them anymore. I think they're all at the bottom!
-Me: Uh oh!
Turns out I was remembering wrong. The berries sank to the bottom, and so we had four large berry-bottomed loaf cakes. Oops!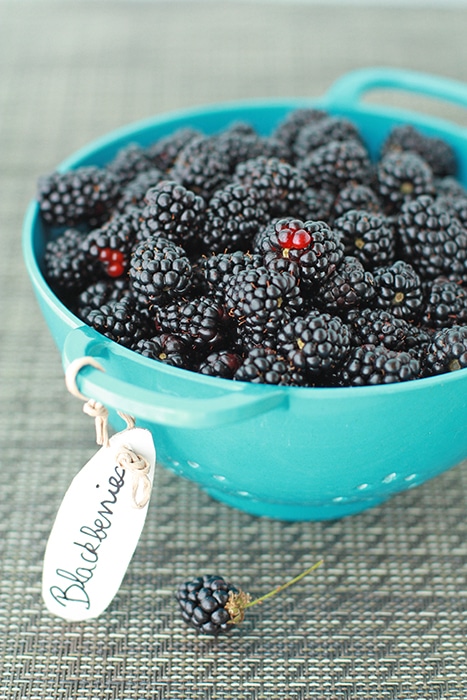 A couple days after the "disappearing berry incident", F and I whipped together a batch of cornmeal muffins, and that day, we had been handed the remnants of a pot of raspberry jam to use up. We were feeling adventurous that day, so we slipped it into the muffins as we filled the muffin trays:
-F: How should we do this?
-Me: Let's layer it in and alternate the cornmeal batter with the jam.
-F: This is going to be so good!
-Me: I know! I can't wait to try these!
One hour later….
-F: Didn't we swirl a spoonful of raspberry jam on the top of each muffin? I can't see the jam.
-Me: Really?
-F: I think it sank to the bottom!
-Me: Oh no! Not again? Let's not tell anyone…
Once again, our add-in disappeared and most of it sank to the bottom.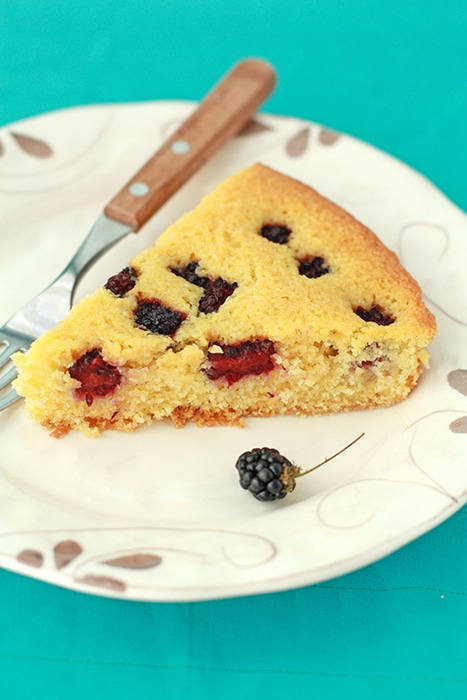 Turns out you can't just layer jam into any muffin recipe. Who knew! See, they don't teach you that sort of thing in pastry school.
For this cake, I scattered the berries over the cake batter just before baking because I wanted them to sink in just a little, but not too much. This worked! Personally, I really enjoy the gritty texture of a cornmeal cake/muffin that is rich in cornmeal (I used equal parts flour and cornmeal), but if you like a finer texture, reduce the amount of cornmeal and replace it with a little extra flour.
Blackerry cornmeal cake
Ingredients
125

grams

all-purpose flour

1 cup

125

grams

cornmeal

3/4 cup, fairly fine grind but not flour—mine's labelled as "yellow cornmeal #250″

6

g

baking powder

1 tsp

1/4

tsp

fine kosher salt

50

grams

unsalted butter

3.5 tbsp, room temperature

200

grams

granulated sugar

1 cup

1

large egg

room temperature

1

tsp

pure vanilla extract

180

mL

milk (2 % fat)

3/4 cups

200

grams

fresh blackberries

~1 1/4 cups
Instructions
Preheat the oven to 350°F. Butter and flour a tart pan (with removable bottom). Place the tart pan on a baking sheet.

Sift the flour, cornmeal, baking powder and salt into a medium bowl. Set aside for later

In a large bowl, cream the butter and the sugar. Add the egg and the vanilla and mix until well incorporated.

Add the dry ingredients to the batter, alternateing with the milk.

Pour the batter into the prepared pan, scatter the berries over top, and bake it for 45–50 minutes or until the middle is set and a cake tester inserted into the middle comes out clean.

Cool on a rack before serving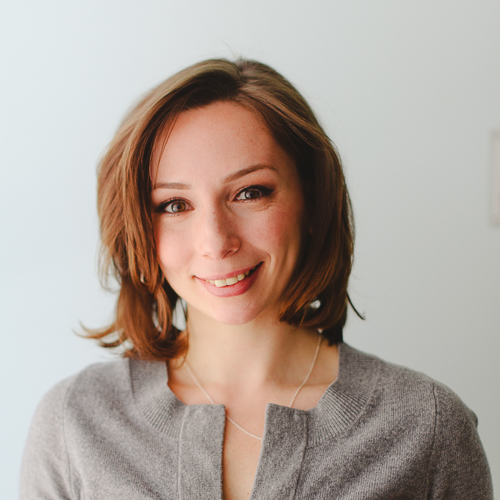 Janice Lawandi is chemist-turned-baker, working as a recipe developer in Montreal, Quebec, Canada. She studied pastry at Le Cordon Bleu in Ottawa and cooking at l'Académie Culinaire. She has a BSc in Biochemistry from Concordia University and a PhD in Chemistry from McGill University. Visit janicelawandi.com to see my portfolio.