Adding popcorn brittle to a brownie recipe makes the chewiest brownies ever!
I think people have very strong opinions about what the best brownie is. My favourite brownie is chewy, with a pronounced chocolate flavour. I love the edges and the corners the most and I could live without the centre pieces, which is why I dream of this brownie pan from Baker's Edge available on Amazon. I often bake brownies in mini muffin pans to maximize the number of edges (for example, these 3-ingredient brownie bites and these gluten-free peanut butter brownie bites). I suppose my ideal relationship would be with a guy who likes the squares in the middle. We'd never argue over who gets the corners. Our relationship would be perfect, and we'd share pans of brownies, happily. Or, maybe he prefers the corners, but he always lets me have them because he knows I love the corners too and he always wants to make me happy. Have I put too much thought into this?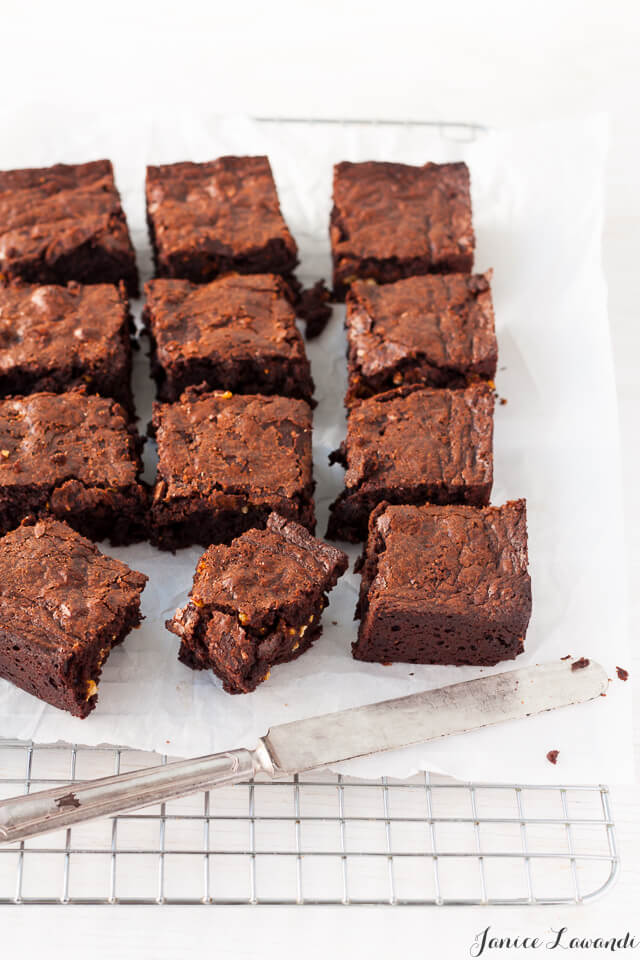 This popcorn brittle brownie recipe is not so much about the broken popcorn bits, but more about the brittle, so this would definitely work with any brittle you have. The brittle added to this brownie recipe provides a little extra chewiness and tiny bursts of salty caramel flavour where the brittle didn't completely melt and disappear into the brownies. Because I like really chewy brownies, I like to cut them ahead of time and leave them out to dry for the day. Then at night, I pack them into a container to store them, which softens them back up a bit. You end up with quite the chewy brownie this way, in my humble opinion, which is exactly how I like them. Skip the drying step if you like your brownies more fudgy, or if you can't wait that long.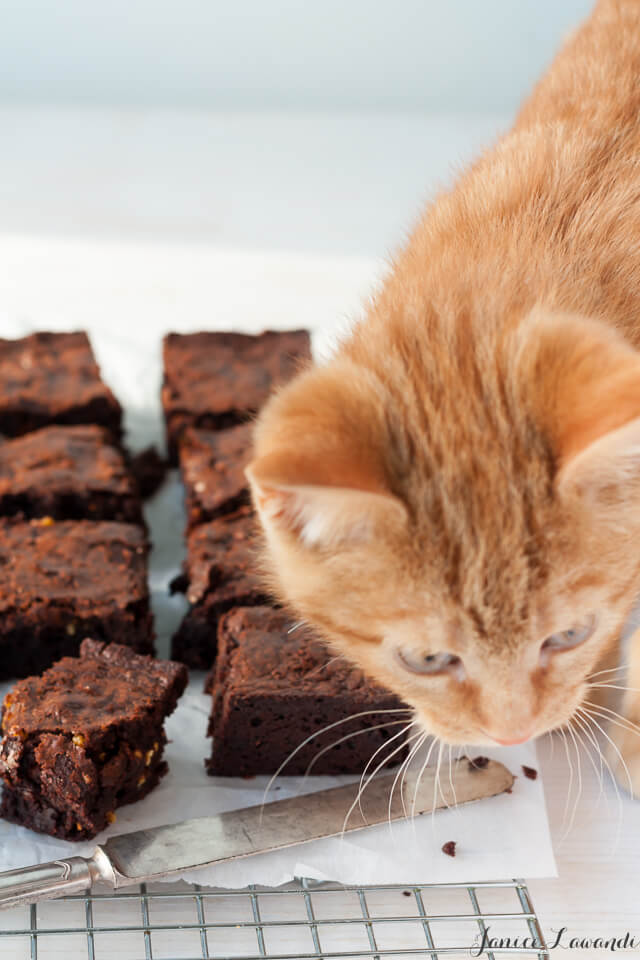 Chewy popcorn brittle brownies
Throw brittle into your brownies and you will make the best brownies ever with a lovely chewy texture.
Instructions
Preheat the oven to 350ºF. Butter a 9x9 brownie pan, fit the base with parchment, and sprinkle the sides with cocoa powder.

Melt the chocolate with the butter in a small saucepan, then set aside to cool.

Sift together the flour, cocoa, and salt.

In the bowl of an electric mixer fitted with the paddle attachment, beat together the eggs, sugar, and vanilla. Add the sifted dry ingredients, then the melted chocolate mixture.

Dump in the ground and chopped brittle (or fold it in to avoid crushing the chunks of popcorn brittle). Transfer the brownie batter to the prepared pan.

Bake the brownies in the centre of the oven until a cake tester inserted in the middle comes out quite clean (about 30 to 40 minutes).

Let cool 10 minutes before unmolding.

Cut into 16 squares to serve.
Nutrition
I do my best to bake with the finest ingredients. Stirling Creamery, a Canadian company, has provided the butter for this post.