Want to go directly to the layer cake recipe? click here to skip to the recipe for this chocolate caramel cake with chocolate frudge frosting and a caramel filling!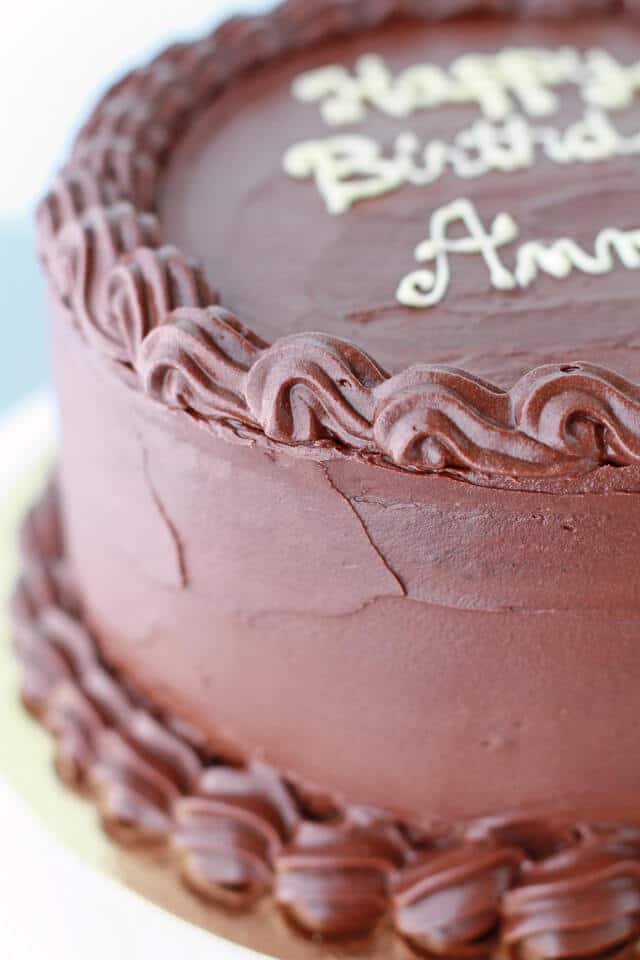 Piping. I want to be good at piping. I watch Sweetapolita's videos and I watch youtube videos, all with the volume on high. It looks so easy. It sounds so easy. Yet, when I pipe a border, or really anything, onto a cake, it's apparently not as easy as it seemed. The problem is that I have no opportunity to practice, and I maintain that piping on a piece of parchment is not the same as piping on a cake that you know is going to be ogled and served later that day.
Conclusion: I need more guinea pigs, who want a cake, and who will accept the not-so-perfect piping/finish of the cake. Any takers?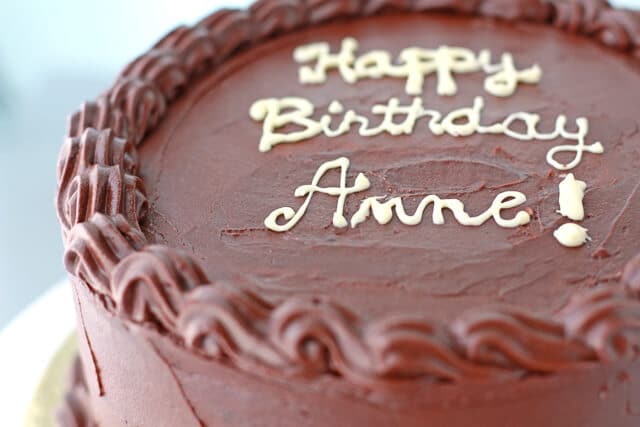 Lucky for me, it was my mommy's birthday last week, and she didn't mind if I made her an imperfect birthday cake, so I made her this chocolate caramel birthday cake. There's caramel hidden in between the layers of chocolate cakes! What's not to love about it?
This is actually my second attempt at a chocolate caramel layer cake and it held together MUCH better than the first. To make this version of the cake, I baked up three 8-inch chocolate cake layers (using another great recipe from Anna Olson's Back to Baking available on Amazon—I highly recommend this book if you don't have it!). Take the time to prepare the cake pans before baking, by buttering the pans, lining the bottom with parchment, and dusting the sides with flour. This way your cakes will slide right out, without getting stuck to the pan. I sandwiched caramel sauce (that I cooked down to thicken it first), and a delicious fudge frosting (also from Anna Olson's available on Amazon) between the layers.

Chocolate caramel birthday cake
This chocolate caramel cake is made with moist layers of chocolate cake, a dark chocolate fudge frosting and a caramel filling.
Ingredients
For the cake layers:
300

grams

(

2 1/3

cups

)

all-purpose flour

92

grams

(

1

cup

) Cacao Barry extra brute cocoa powder

1 1/2

tsp

(

1 1/2

tsp

)

baking powder

1/2

tsp

(

1/2

tsp

)

baking soda

1/2

tsp

(

1/2

tsp

)

fine kosher salt

170

grams

(

3/4

cup

)

unsalted butter

room temperature, plus a little extra melted butter for the pans

436

grams

(

2

cups

) light brown sugar

4

(

4

)

large eggs

room temperature

2

tsp

(

2

tsp

) pure vanilla extract

375

mL

(

1 1/2

cups

)

buttermilk
Caramel filling
200

grams

(

1

cup

)

granulated sugar

60

mL

(

1/4

cup

)

water

58

grams

(

1/4

cup

)

unsalted butter

room temperature and cut into cubes

125

mL

(

1/2

cup

)

whipping cream (35 % fat)

warmed on the stove
For assembly:
White chocolate

melted for writing on cake
Instructions
For the cake layers:
Preheat the oven to 350°F. Prepare three 8-inch cake pans by evenly brushing with melted butter, flouring, and lining the bottom of each with a parchment round. Set aside.

Sift the flour, cocoa, baking powder, baking soda, and salt into a medium bowl. Set aside.

In the bowl of an electric mixer fitted with the paddle attachment, cream the butter and the brown sugar.

Add the eggs, one at a time, beating between each addition until light and fluffy. Add the vanilla and beat again.

Add the sifted dry ingredients, alternately with the buttermilk. Be sure to scrape the sides and the bottom of the mixture with a spatula to make sure every ingredient is evenly incorporated.

Divide the batter between the three pans, smooth, and bake the cakes for about 30 minutes or until a cake tester inserted into the middle comes out clean.

Let the cakes cool for 20 minutes before unmolding onto a wire rack to cool completely.
Caramel filling
Set out all your ingredients before beginning. This is very important. Have the cream heating on a back burner so that is is warm, but don't let it boil.

In a deep 3 quart saucepan, pour the sugar, and then the water. Don't stir it.

Bring the mixture to a boil over medium–high heat. If there's sugar stuck on the sides of the pan, carefully brush it with a heat-resistant silicone brush dipped in a little water.

Continue to boil the caramel until it turns amber in color (the temperature will read somewhere between 350°F and 360°F with a candy thermometer). As soon as the caramel has reached the desired color, slide the pan off the heat, and turn the burner off.

Slowly and carefully drop in the cubed butter (it will bubble and erupt so be careful!). Pour in the cream, slowly and carefully, a quarter at a time.

When the bubbling has calmed down, begin to gently whisk the caramel until it is smooth and homogeneous.

Put the caramel saucepan back on the burner, and cook it to 242°F to thicken it.

Let the caramel cool to room temperature before sandwiching it between the cake and frosting layers.
Fudge frosting
Melt the butter and the chopped chocolate together in a small bowl over a double boiler. When completely melted and uniform, set aside to cool to room temperature.

In the bowl of an electric mixer fitted with the paddle attachment, beat together (starting on low) the cocoa powder, vanilla, half the icing sugar, the cooled melted chocolate mixture and the sour cream. When the mixture is smooth, add the rest of the icing sugar, and continue beating til it's smooth and fluffy.
To assemble:
Peel away the parchment and trim the layers using a serrated knife so that each is flat and leveled.

Begin assembling the cake directly on an 8-inch cake board placed on a cake turntable, beginning with the first layer of chocolate cake. Pipe on one even layer of frosting (using a 10-mm round piping tip). Smooth it with an offset spatula, then pipe a border of frosting (to hold in the caramel and better adhere the layers).

Dollop the caramel (or drop small spoonfuls) over the frosting but staying within the piped border.

Top with the next layer of cake, pressing slightly.

Again, pipe on a layer of frosting, smooth it, then pipe a border. Dollop with caramel (you may not want to use it all).

Top with the third layer of cake, pressing slightly.

Using an offset spatula, crumb coat the top and sides of the cake. Set the cake in the fridge to firm up for 20 minutes or so. Then frost the cake with an even layer of frosting. Again, put it in the fridge to set.

Transfer the cake (carefully) to the 10-inch cake board (I glued the two boards together with Elmer's white glue) or the serving plate. Pipe a border around the top of the cake, and along the base edge (I used a star tip—D7).

If desired, write a message on the cake with melted white chocolate.

Store the decorated cake in the fridge to set up. Pull out of the fridge 20 minutes or so before serving to let it warm slightly.
Notes
Calories calculated for one slice so one-sixteenth of the finished cake
I like to use an extra dark cocoa powder like the cocoa from Cacao Barry available on Amazon
Nutrition
Calories:
657
kcal
|
Carbohydrates:
87
g
|
Protein:
7
g
|
Fat:
34
g
|
Saturated Fat:
20
g
|
Cholesterol:
116
mg
|
Sodium:
178
mg
|
Potassium:
380
mg
|
Fiber:
5
g
|
Sugar:
65
g
|
Vitamin A:
936
IU
|
Vitamin C:
1
mg
|
Calcium:
122
mg
|
Iron:
4
mg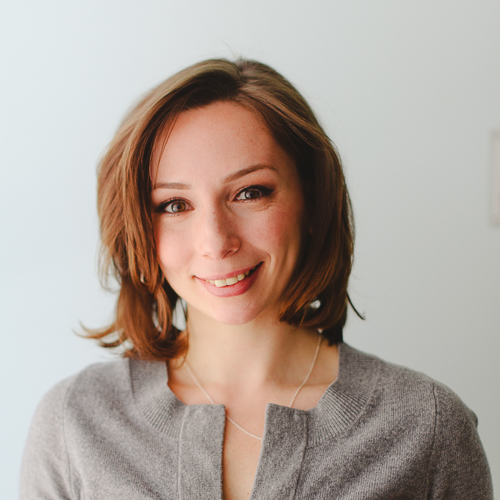 Janice Lawandi is chemist-turned-baker, working as a recipe developer in Montreal, Quebec, Canada. She studied pastry at Le Cordon Bleu in Ottawa and cooking at l'Académie Culinaire. She has a BSc in Biochemistry from Concordia University and a PhD in Chemistry from McGill University. Visit janicelawandi.com to see my portfolio.