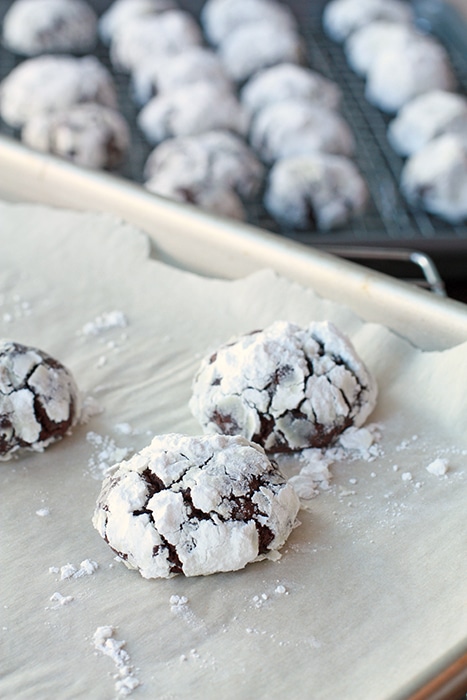 It finally snowed in Montreal, just in time for Christmas. If I had known we were going to have a white Christmas in the end, I wouldn't have fretted so much for the entire month of December.
It snowed on Christmas Eve and Christmas Day. The snow was fluffy and light. By mid-January, I will have had enough of it, but for this week, I can't get enough of the snow.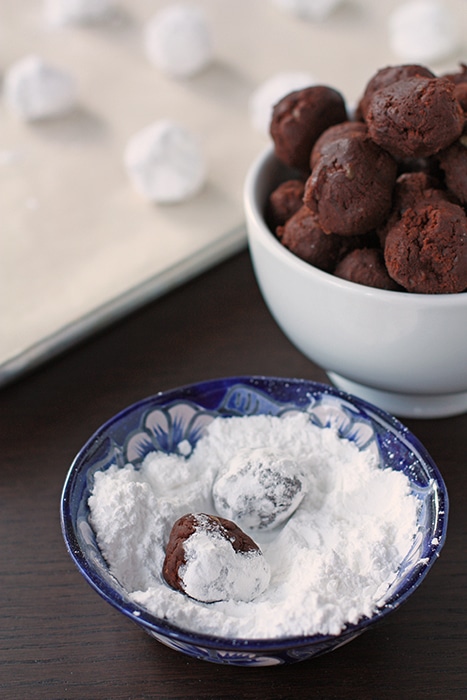 These snowy white crackle cookies are perfect for celebrating the white season. They are like fudgy brownie bites on the inside, and powdery white on the outside. With every bite, a little of the powdery sugar falls, just like the snow.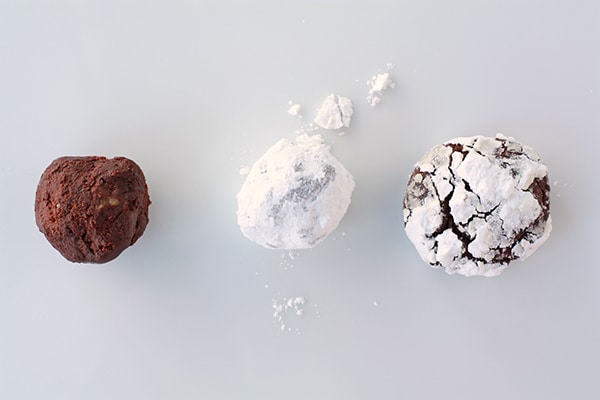 These cookies are easy to make, and I actually made the dough a few days ahead of time before rolling and baking them. I think that helps develop the flavor and the texture. These crackle cookies are super chocolaty and not too sweet, even with all that powdered sugar. The texture is amazing, fudgy but light, and the chopped walnuts add a little bit of a soft crunch to them (just like for brownies).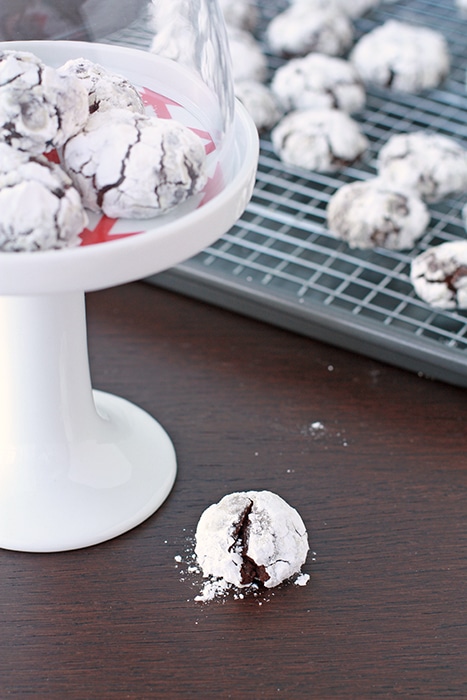 As you've probably noticed, I've been quite smitten with many of the cookbooks that Canadian writers have put together this year. This recipe is yet another example of why, and it comes from à la di Stasio 3, the third book of cookbook author Josée di Stasio of Quebec. It's the best crackle cookie recipe I've tried thus far, and I think it will become a staple on our ever-growing list of Christmas-baking.
Chocolate crackle cookies
Chocolate crackle cookies are very easy to make. Also called chocolate crinkle cookies, they have a rich chocolate flavor, a chewy texture, and a powdered sugar exterior that cracks in the oven.
Ingredients
225

grams

semi-sweet chocolate

8 oz, roughly chopped

1 1/4

cups

all-purpose flour

2

tsp

baking powder

1/4

tsp

Diamond Crystal fine kosher salt

1/2

cup

unsalted butter

room temperature

1

cup

light brown sugar

packed

2

large eggs

room temperature

1

tsp

pure vanilla extract

1/3

cup

milk (2 % fat)

80 mL, room temperature

2/3

cup

chopped walnuts

1

cup

icing sugar

or more
Instructions
Melt the chocolate in a small bowl over a double-boiler. Set aside to cool slightly.

In a medium bowl, whisk together the flour, cocoa, baking powder and salt. Set aside for later.

In the bowl of an electric mixer fitted with the paddle attachment, cream the butter and the brown sugar until the mixture has lightened slightly.

Add the eggs, one at a time, beating between each addition and scraping down the bowl as needed. Add the vanilla, and beat the mixture again. Now add the melted chocolate, mixing well.

With the mixer on low, add the flour, alternating with the milk. When all the ingredients are well blended, add the walnuts.

Cover the bowl and refrigerate the cookie dough for a couple hours, if not overnight.

Form the dough into 1 inch balls, and refrigerate the dough again so that it is nice and firm.

When you are ready to bake the cookies, preheat the oven to 350°F. Cover your baking sheets with parchment.

Roll the balls of cookie dough in powdered sugar to generously coat them. Place them on a baking sheet, about 2 inches apart.

Bake the cookies for 11–13 minutes, or until the cookies have crackled on top (and not just on the sides).

Let cool a couple of minutes on the baking sheet before transferring the cookies to a rack.
Nutrition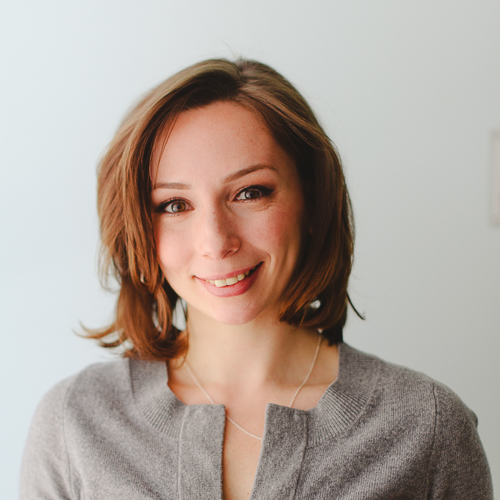 Janice Lawandi is chemist-turned-baker, working as a recipe developer in Montreal, Quebec, Canada. She studied pastry at Le Cordon Bleu in Ottawa and cooking at l'Académie Culinaire. She has a BSc in Biochemistry from Concordia University and a PhD in Chemistry from McGill University. Visit janicelawandi.com to see my portfolio.