Mini chocolate cupcakes with raspberry frosting. These moist cupcakes are very easy to make and the frosting is flavored with real raspberry purée that is cooked down into a very concentrated syrup. You can make this raspberry frosting with frozen raspberries or even fresh. The pink frosting is very flavorful and with an intense raspberry flavor.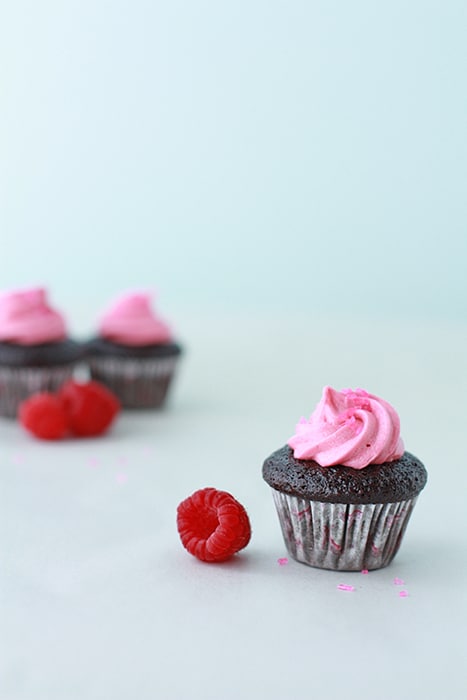 My good friends G & H are getting married this summer, and of course, just before any wedding, there was a bachelorette party. H's bacheloretty party was jam packed with activities including a belly-dancing lesson on a rooftop in Montreal (yikes!), karaoke, and of course cupcakes (courtesy of yours truly). One of H's wedding colors is pink, and I know she loves chocolate anything. So, I decided to make these mini chocolate cupcakes with raspberry frosting. Plus, I selfishly love the combination of raspberry and chocolate. I'm pretty sure my cupcakes were much better than my karaoke singing (at least I really hope so).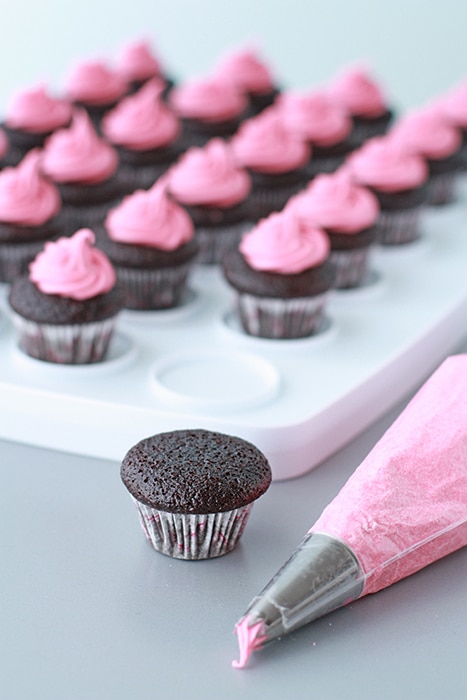 Cupcakes are something I hardly ever make any more. I don't know why because they are actually a lot of fun to bake. When I do make cupcakes, I find it important that the frosting say something. It can't just be a pretty blob of buttery sweetness. The frosting needs to have flavor. This is why I was particularly excited to try this recipe for raspberry frosting from the blog Making Life Delicious.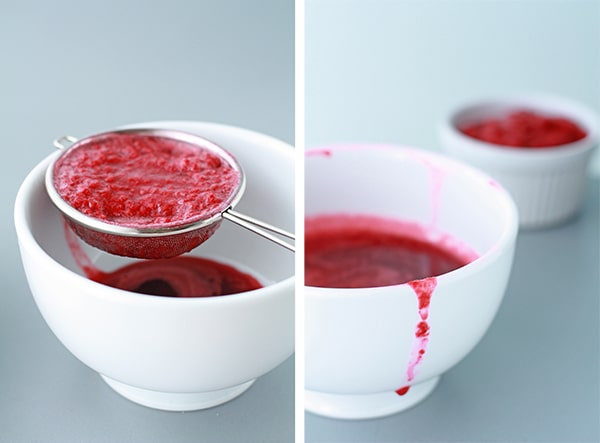 Ways to add raspberry flavor to frostings and buttercreams
The trouble with fruit-infused frostings is the fruit. Fruit and berries (like raspberries) have a high water content and the flavor is rather weak if you stir the raw fruit directly into a frosting or buttercream. For a strong flavor, you would have to add a ton of fruit to properly flavor the buttercream, but that would probably curdle the frosting because fruit contains a lot of water. There are a few ways to make raspberry flavored frosting without compromising on texture or taste:
Emulsions and extracts: Just like vanilla extract, you can buy fruit emulsions, flavor oils, and extracts. For example, there's a raspberry emulsion you can find on Amazon for flavoring baked goods. These provide an easy way to add flavour without having to add tons of fruit. Extracts and emulsions can be added in the same way as vanilla extract, in teaspoon amounts.
Cooked purées and jams: if you bring the mashed fruit to a boil (with or without sugar), you can cook the mixture to reduce it and remove much of the water. The cooled fruit concentrate or jam can then be added to a buttercream or frosting, without affecting the texture too much. Concentrated fruit purées and jams are a good way to add berry flavor to buttercream. For this method, both fresh and frozen raspberries work very well.
Freeze-dried fruit powders (like this freeze-dried raspberry powder on Amazon): this is another great way of adding flavor without adding water. Freeze-dried fruit are sold whole or in powder form. I'd get the powder if I had a choice. With a freeze-dried raspberry powder, all you have to do is add it to your buttercream recipe by the spoonful. This is a great way of adding raspberry color and flavor to a frosting.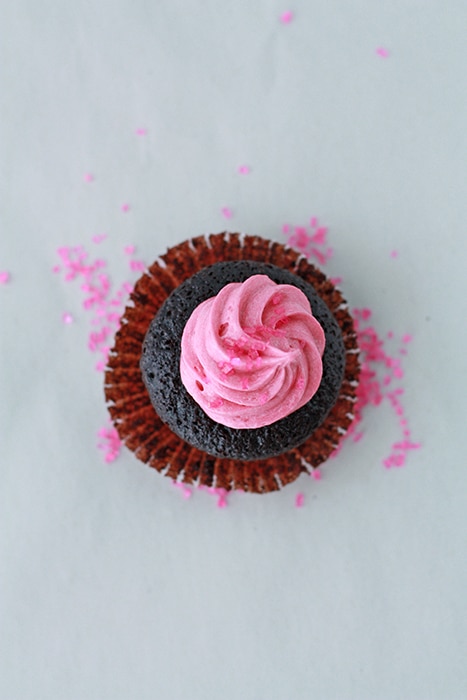 Making raspberry buttercream with fresh or frozen raspberries
The frosting recipe involves cooking/mashing fresh (or frozen) raspberries in a small saucepan so that they release their raspberry juice. Then you strain the juice and put it back on the stove to cook it down into a thick raspberry concentrate that is used to color and flavor the cupcakes. It's genius. The frosting tastes intensely of raspberry. The color is genuine, from the fruit. No dyes or food coloring needed. I would do this again with other berries for sure. Oh and I saved the leftover raspberry pulp to spread on buttered toast with a drizzling of honey or maple syrup. Yum. This is an American style buttercream, meaning it's made from icing sugar and butter. This differs from an Italian meringue buttercream, which is made with egg whites, a sugar syrup, and butter. This technique of making a concentrated raspberry purée would also work to flavor Italian meringue buttercream, as would freeze-dried raspberry powder.
Recipe for moist mini chocolate cupcakes
The cupcake recipe (adapted from Martha Stewart one-bowl chocolate cupcakes) is what I refer to as a cake mix cake recipe (cake mix made from scratch, of course). It is the easiest cupcake recipe you can make and doesn't require a mixer! You combine all the dry ingredients in one bowl. Combine all the wet ingredients in another bowl. Then mix the two together. Very easy. If you are feeling lazy, you can even just measure out the wet ingredients and place them directly into the bowl with the dry ingredients, in a one-bowl process. Super easy. You can do this with a mixer, but a spoon or whisk will also do the trick.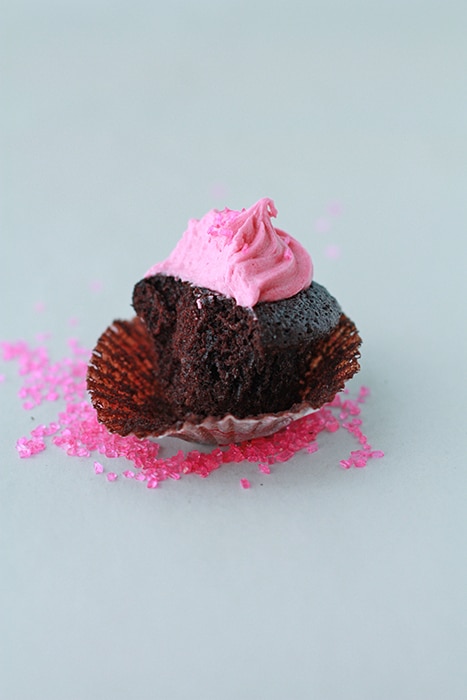 Chocolate cupcake recipe with oil not butter
Normally, I'm an all-butter kind of girl, but I find with chocolate cakes, butter-based recipes, sadly, can be a bit dry. So, this cake recipe calls for oil, not butter, but it yields a light, moist cake that everybody loves and its texture makes up for the absence of butter. Of course, if you have a moist all-butter alternative for me, do send it my way! I'd really appreciate that. In the meantime, here is an easy moist chocolate cupcake recipe that works every time.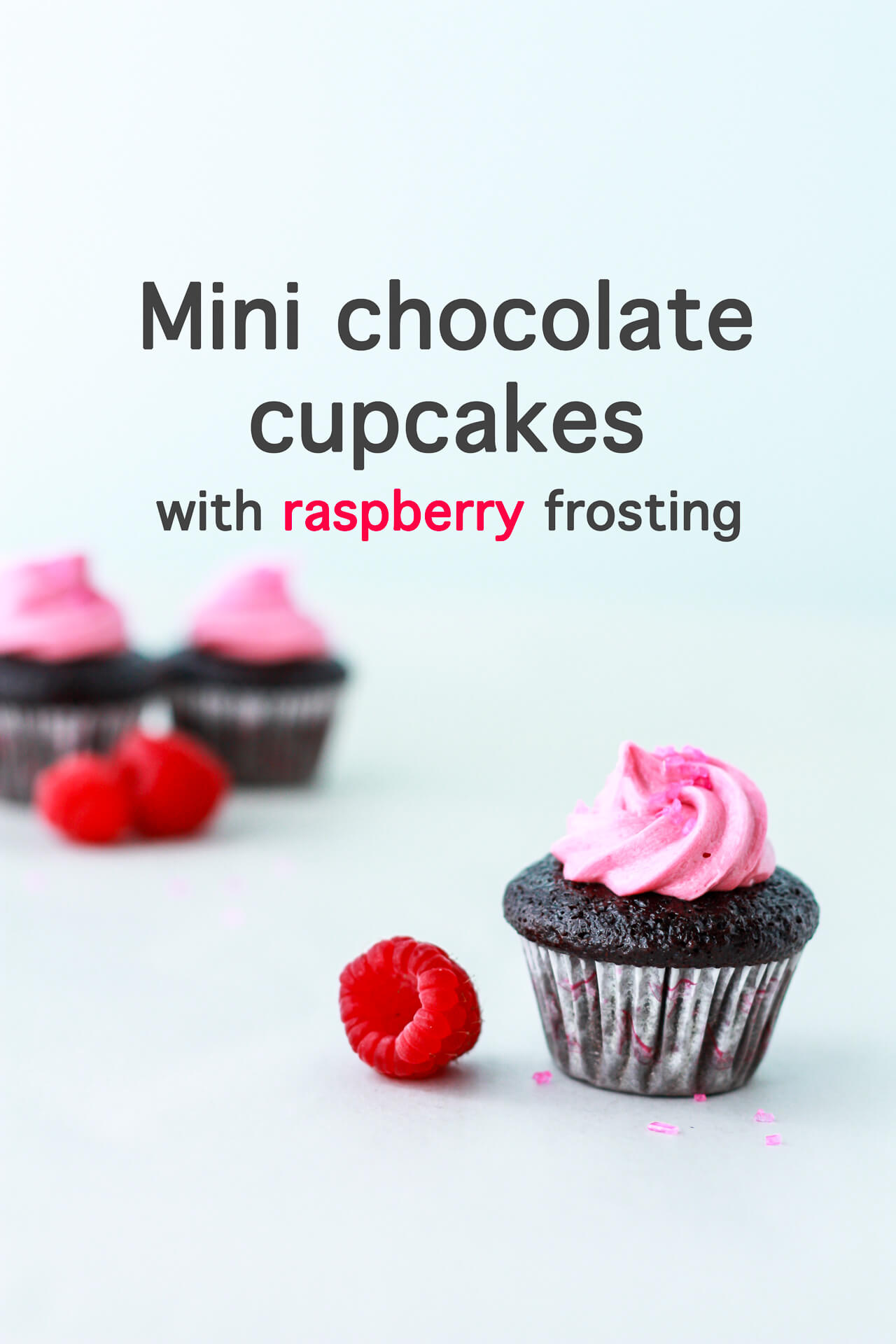 I love the combination of chocolate and raspberry. These cupcakes are a perfect example of why this works. If you are a fan of this flavor pairing, here's a raspberry chocolate tart that you can also try, or a berry chocolate cake with cream cheese frosting.
Easy chocolate cupcakes with raspberry frosting recipe
Chocolate cupcakes with raspberry frosting
Mini chocolate cupcakes with raspberry frosting. These moist cupcakes are very easy to make and the frosting is flavored with real raspberry purée that is cooked down into a very concentrated syrup. You can use either fresh or frozen raspberries for this recipe. The pink frosting is very flavorful and has an intense raspberry flavor.
Servings
50
mini cupcakes
Ingredients
Chocolate cupcake ingredients
69

grams

(

¾

cup

) Cacao Barry extra brute cocoa powder

sifted

195

grams

(

1 ½

cups

)

all-purpose flour

sifted

300

grams

(

1 ½

cups

)

granulated sugar

1 1/2

tsp

(

1 1/2

tsp

)

baking soda

3/4

tsp

(

3/4

tsp

)

baking powder

3/4

tsp

(

3/4

tsp

)

fine kosher salt

2

(

2

)

large eggs

178

grams

(

¾

cup

)

buttermilk

178

grams

(

¾

cup

)

warm coffee

or warm water

3

tbsp

(

3

tbsp

)

canola oil

1

tsp

(

1

tsp

) pure vanilla extract
Raspberry frosting ingredients
340

grams

(

¾

lb

)

fresh or frozen raspberries

115

grams

(

½

cup

)

unsalted butter

room temperature

400

grams

(

3 ¼

cups

)

icing sugar

sifted

pink sanding sugar

optional
Instructions
To make the chocolate cupcakes
In the bowl of an electric mixer fitted with the whisk attachment, combine the cocoa, flour, sugar, baking soda, baking powder and salt.

In a separate bowl, whisk together the eggs, buttermilk, coffee (or water), canola oil, and vanilla.

Pour the liquid ingredients over the dry ingredients in the mixer bowl, and mix them on low until the batter is liquid, glossy, and without lumps.

Transfer the batter to a measuring cup (or a bowl) that has a spout, and pour it into each of the liners until they are evenly filled to about 3/4 the height of the liner.

Bake the cupcakes for about 12–15 minutes or until a cake tester inserted in the middle of a cupcake comes out completely clean. The cakes should spring back when tapped lightly.

Let the cupcakes cool partly before transferring to a wire rack. Only frost them when they are completely cooled.
To make the raspberry frosting and decorate
In a small saucepan, heat the raspberries on low to extract the raspberry juice, mashing with a potato masher or the back of a spoon.

Strain out the seeds and fruit pulp using a fine-meshed sieve and transfer the strained juice back to the pot. Save the raspberry pulp for breakfast!

Heat the juice on medium to cook it down to about 1/4–1/3 cup. Let cool completely before using.

In the bowl of an electric mixer fitted with the paddle attachment, combine the butter with about 230 grams of icing sugar. Cream them together on low, then add the concentrated raspberry juice.

Adjust the consistency of the frosting with the last 170 grams of icing sugar, beating well to make sure that it is smooth.

To decorate: fill a piping bag fitted with a star tip (like a 1M tip you can get on Amazon) with the frosting. Pipe a rosette of frosting over each mini cupcake. Top with a pinch of sprinkles if using. Please note that the frosting will change colors slightly as it sits.
Notes
Cocoa powder from Cacao Barry on Amazon
Nutrition
Please note this post contains affiliate links to Amazon. If you buy a product I recommend, I will get a small commission, and the price you have to pay will not change in any way.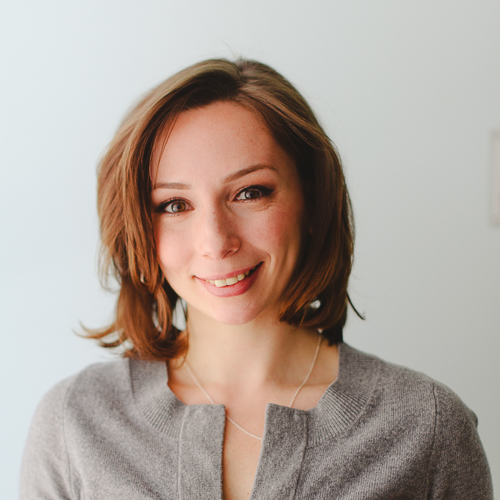 Janice Lawandi is chemist-turned-baker, working as a recipe developer in Montreal, Quebec, Canada. She studied pastry at Le Cordon Bleu in Ottawa and cooking at l'Académie Culinaire. She has a BSc in Biochemistry from Concordia University and a PhD in Chemistry from McGill University. Visit janicelawandi.com to see my portfolio.