Want to go straight to the recipe? Click here to get to the Concord grape and rosemary focaccia recipe.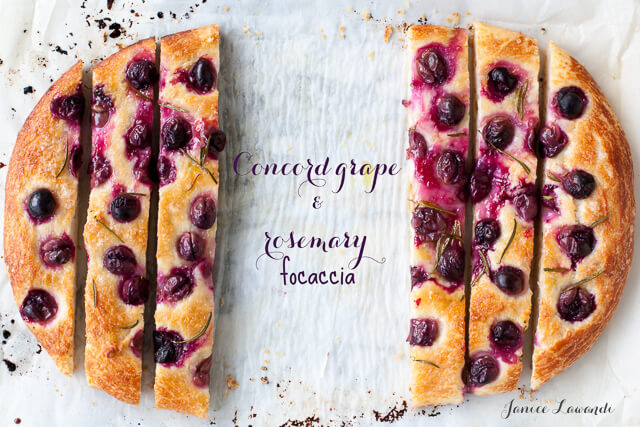 I'm taking classical ballet for adults at my gym. I've been going once a week for almost 9 months. The instructor might be the best ballet teacher I've ever had, and each class is very challenging. He really pushes us forward even though many in the class are quite new to classical ballet. No babying in this ballet class!
I've actually taken ballet classes off and on my entire life. There were times in my late teens/early twenties when I'd cry after most every class because I just couldn't pirouette the way I should, or because I just wasn't as advanced as the others, and most of the time, I cried because I felt like a whale in my pink tights and leotard. When you are a pudgy teen, the last thing you want to do is prance around in a leotard, when you fail to prance properly, on top of being squished into a form-fitting leotard and tights. It's the worst. I never felt graceful like the pretty ballerina I wished I was.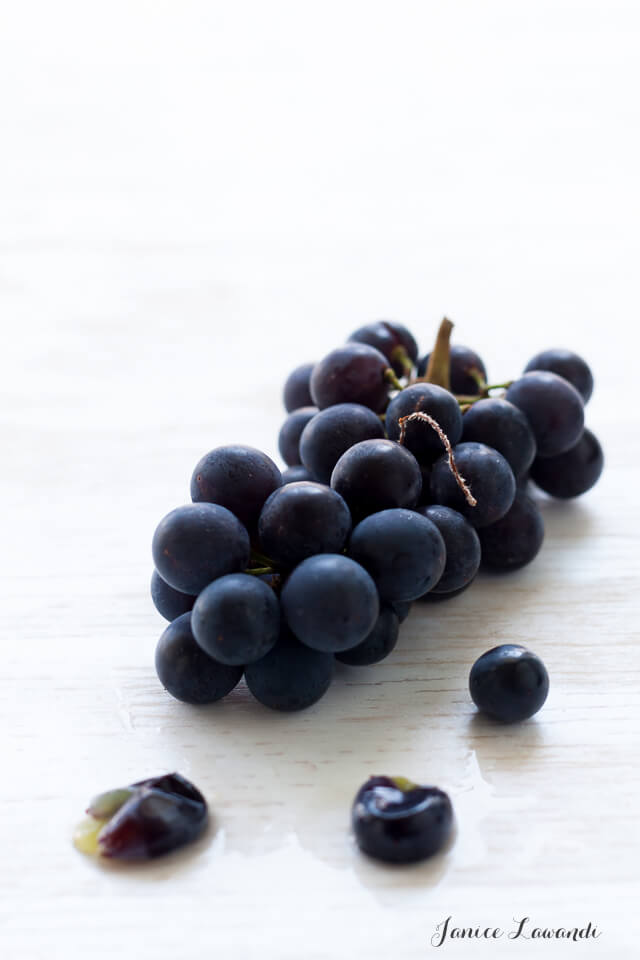 My instructor knows that I know how to point my toe, and that I know what a piqué turn is or a pas de bourrée, so he corrects me for different reasons. But most every class, he exclaims to me "Close your stomach!" or "Cachez votre petit déjeuner!" I don't notice him telling this to the other women (or the skinny man) in the class, so I assume it's because I need to suck in my gut. If only I could, mister ballet instructor! I'd like to play the food blogger card on this one: do you know how hard it is to maintain a stable weight while running a food blog, testing your own recipes, testing other people's recipes, working with food day in and day out? So yeah, I have no willpower and I've lost all boundaries and self-control when it comes to food and eating, so I have a belly! Of course, my ballet instructor doesn't know about the food blog. He just knows about the belly… and the thighs… both of which, over 10 years later, still cannot be hidden behind pink tights and a form-fitting black leotard. Nope.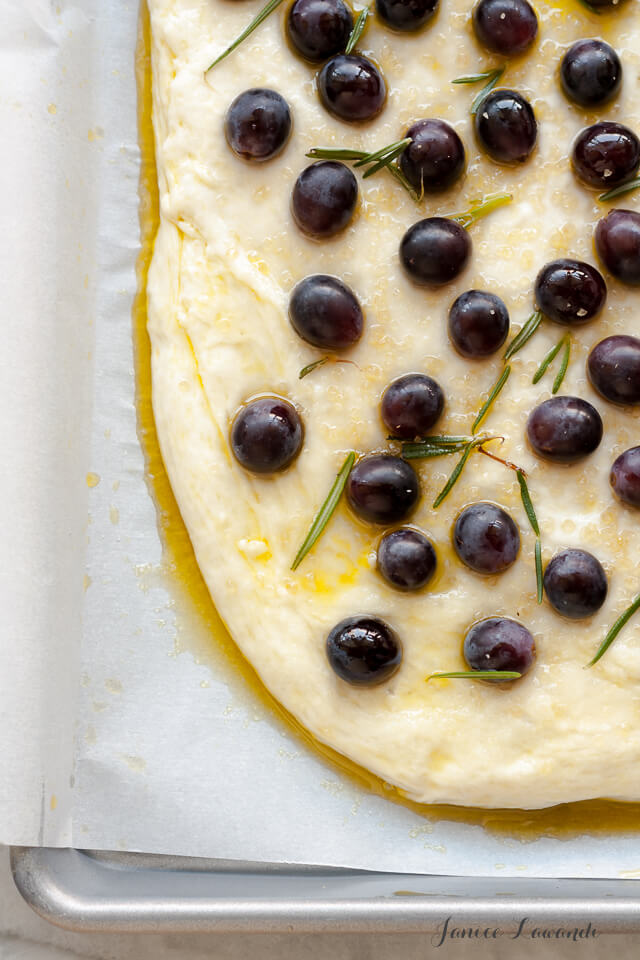 Tuesdays are "ballet day", and I went to the market for apricots this last Tuesday. And instead of coming home with a bagful of apricots, I returned with a big basket of Concord grapes. It wasn't that I forgot about the apricots, but rather I think I missed the season. Baskets of Concord grapes were tucked away in the corner of just about every market stall selling fruit. Oddly enough, before this year, I had never noticed the Concord grapes, but this week, they popped up everywhere: at the markets and grocery stores, even on the menus of my favourite restaurants. I figured I might as well give them a try. When I slipped a basketful into my market bag, I picked up some ricotta cheese and rosemary. I was thinking grape pizza, mainly because I had a good-sized ball of dough leftover in the fridge. Then when I sampled a grape, I decided to scale back my pizza plans and turn the pizza dough into a sweet focaccia.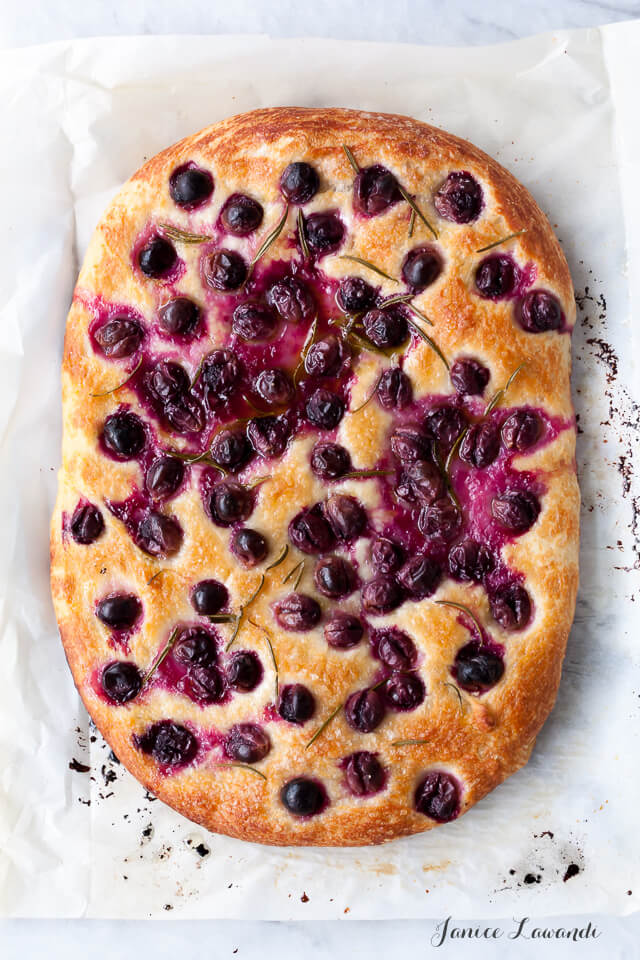 Well, turns out I really like Concord grapes if you scatter them over a generously olive oiled pizza dough with sugar and rosemary. In fact, I loved it so much, I kinda ate the whole thing that very day, which happened to be "ballet day". I had one of those afternoons, where I ate a slice and walked away, you know, for the sake of being "healthy," and then I went back for another. And then another. And then another until there was one piece left, at which point I said "screw it!" and I finished it off. Really, this is best eaten fresh the day it's made, right? Right! And then I wonder why my ballet teacher tells me to "Cachez votre déjeuner". Funny how I decided to make and eat an entire focaccia on "ballet day" when I know fully well that at the end of the day, I'm going to have to squeeze my carbo-bloated waistline into pink tights and a leotard so that I can then get hounded for my puffy belly.
Go figure, the day I ate the entire Concord grape focaccia, my ballet instructor didn't tell me to suck in my belly, but he did say "Votre pose est comme une poésie!" which had me speechless. How was he not making a comment about my obviously carbo-loaded belly? I'm thinking I should eat a focaccia before ballet class every Tuesday. This is the only logical solution.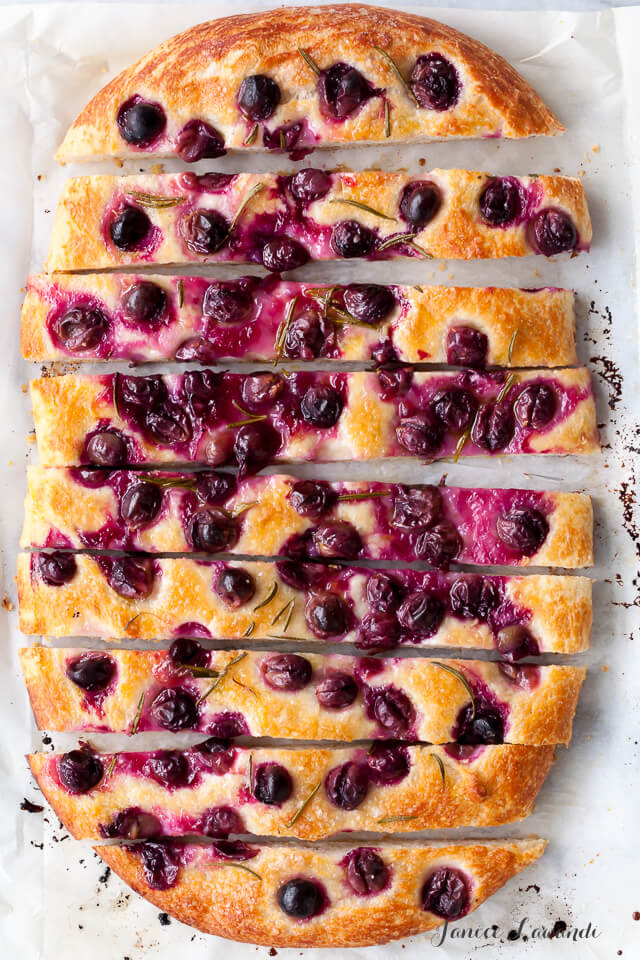 If you have more Concord grapes to bake with, I highly recommend this Concord grape peanut butter crumble, which is a ridiculously good dessert and not difficult to make. Or if you are looking for other focaccia recipes, try this apricot cherry focaccia, or a savoury focaccia, like this carrot focaccia
Concord grape and rosemary focaccia recipe
Concord grape & rosemary focaccia
This grape & rosemary is super easy: scatter Concord grapes over a generously olive oiled pizza dough with sugar and rosemary
Ingredients
454

g

homemade pizza dough

1 pound

200-300

g

Concord grapes

25

g

olive oil

2

tbsp

granulated sugar

2

branches rosemary

2

tsp

turbinado sugar
Instructions
Spread/roll the pizza dough until it's about 1/2 inch thick then transfer to a parchment lined baking sheet. Cover and let rise 10 minutes.

Drizzle the olive oil over top and massage it into the dough, tucking a little of the oil under the edges of the dough too.

Let the dough rest 10 minutes. Meanwhile preheat the oven to 400ºF.

Sprinkle the granulated sugar over the oiled focaccia dough and scatter the grapes over top and then the leaves of rosemary (discard stems). Top with turbinado.

Bake for a good 30 minutes, until it is a nice golden brown color. Let cool slightly before slicing and serving.
Nutrition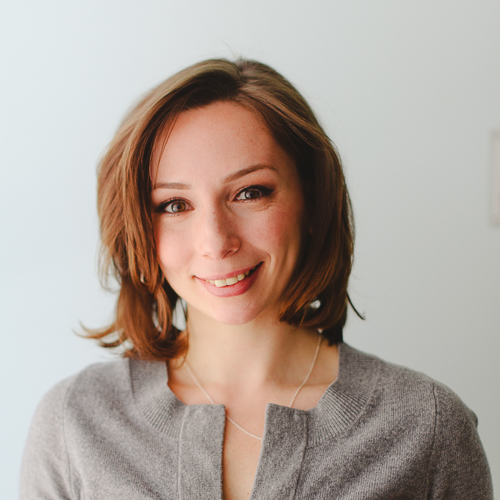 Janice Lawandi is chemist-turned-baker, working as a recipe developer in Montreal, Quebec, Canada. She studied pastry at Le Cordon Bleu in Ottawa and cooking at l'Académie Culinaire. She has a BSc in Biochemistry from Concordia University and a PhD in Chemistry from McGill University. Visit janicelawandi.com to see my portfolio.