I love sugar pie. Sugar pie and I go way back. Every year, during sugaring off season in Quebec, I take a trip to Sucrerie de la Montagne where you can enjoy an authentic Quebec "sugaring off" meal: pea soup to start, followed by a big meal with fluffy omelette, thick strips of bacon, meatballs, mashed potatoes, fèves au lard (baked beans of sorts), tourtière (Quebec meat pie), served with pickled beets, bread & butter pickles, and crusty bread. Dessert is my favourite part and includes all-you-can-eat sugar pie and pancakes with maple syrup.
What is Crack Pie?
I love sugar pies. My all time fave sugar pie is the maple pie, like this gorgeous maple syrup pie that is a real treat if you are a fan of maple syrup, like me. Another form of sugar pie is Christina Tosi's infamous "crack pie." Once you start eating crack pie, you can't stop. Though not made with maple syrup like a Quebec sugar pie, crack pie is most definitely a sugar pie, made with an oat cookie crust and a filling containing brown sugar, granulated sugar, powdered milk, cream, and egg yolks. Crack pie is a bestseller at Milk Bar, along with the Momofuku Milk Bar birthday cake, the birthday cake truffles, and the compost cookies (which have since been transformed into a compost pound cake too).
How to make Crack Pie at home
Making crack pie at home takes a fair bit of time because the recipe has a lot of steps. I took a few photos so that the steps were a little clearer.
Make one giant oat cookie. Many of the Bon Appétit readers mentioned in the reviews to not bake the cookie too long or upon re-baking it, it would burn. I baked the giant cookie til it was golden and crispy on the edges, but still soft in the middle (next time I might let it crisp up a bit more). Then you cool the cookie, and crumble it into oat cookie crumbs. This is a lot like if you were to first make a giant homemade graham cracker from scratch, which you then crumble into graham cracker crumbs to make a crust.
Make the oat cookie crust. Combine the cookie crumbs with butter, and press them into the pie plate to make the oat crust.
Make the pie filling by whisking together all the ingredients. Pour it into the crust.
Bake the crack pie. The pie filling puffs up quite a bit in the oven. The crust becomes a deep golden color
Cool the pie for a couple hours on a cooling rack, then overnight in the fridge. As the pie cools, the filling sinks.
After chilling overnight, and sampling a slice, this is what it looks like.
Step-by-step photos of how to make it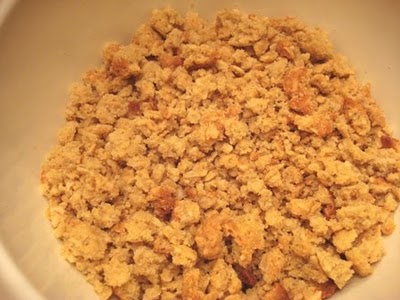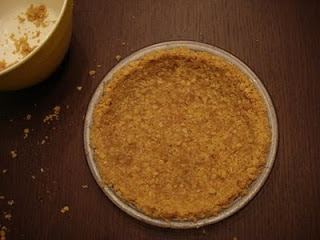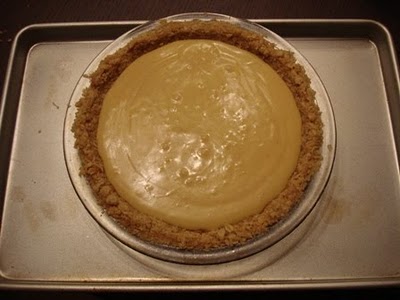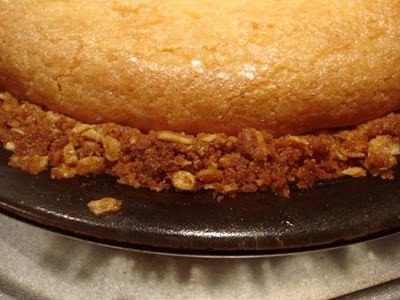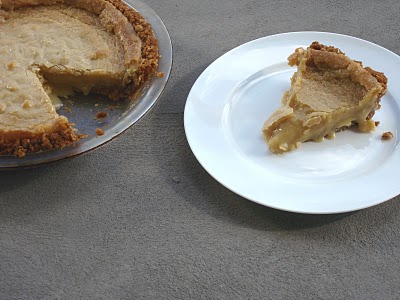 When you zoom in, note the filling has a lovely crispy top that hides a luscious gooey centre! It's like sugar-heaven!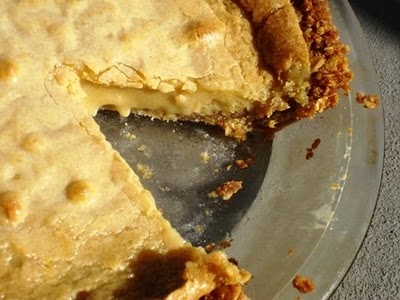 All I can say is "wow!"
This crack pie recipe makes a pie that is wonderfully sweet, and not for the faint of heart. If you are addicted to sugar like a crack addict is addicted to crack, this pie is definitely for you. Some Bon Appétit readers described the filling as resembling that of a pecan pie. Although I am no expert and it has been a very long time since I've made one, my pecan pie fillings do not have this light, creamy color to them. It is more like a Quebec sugar pie which is typically made with mixture of brown sugar and maple syrup.
Crack pie
Crack pie is most definitely a sugar pie, made with an oat cookie crust and a filling containing brown sugar, granulated sugar, powdered milk, cream, and egg yolks. Crack pie is a bestseller at Milk Bar!
Ingredients
Oat cookie crust:
126

grams

(

9

tbsp

)

unsalted butter

divided, room temperature

77

grams

(

5 ½

tbsp

) light brown sugar

divided

34

grams

(

2

tbsp

)

granulated sugar

1

(

1

)

large egg

78

grams

(

¾

cup+2 tbsp

)

rolled oats (or large flake oats)

70

grams

(

½

cup

)

all purpose flour

⅛

tsp

(

⅛

tsp

)

baking powder

⅛

tsp

(

⅛

tsp

)

baking soda

¼

tsp

(

¼

tsp

) Diamond Crystal fine kosher salt
Instructions
Giant oat cookie
Preheat oven to 350°F. Line 13 x 9 x 2-inch metal baking pan with parchment paper.

Using an electric mixer, beat together 84 grams (6 tbsp) butter, 4 tbsp brown sugar, and 2 tbsp sugar in a medium bowl, until light and fluffy, occasionally scraping down sides of bowl as needed, about 2 minutes.

Add egg and beat until pale and fluffy. Add oats, flour, baking powder, baking soda, and salt and beat until blended.

Turn oat mixture out onto prepared baking pan and press out evenly to edges of pan. Bake until light golden on top, 17 to 18 minutes. Transfer baking pan to rack and cool cookie completely.
Oat cookie crust
Using fingertips, crumble oat cookie into large bowl.


Add 3 tbsp butter and 1 ½ tbsp brown sugar. Rub in with fingertips until mixture is moist enough to stick together.

Transfer cookie crust mixture to 9-inch-diameter glass pie dish. Using fingers, press mixture evenly onto bottom and up sides of pie dish. Place pie dish with crust on rimmed baking sheet.
Fillling
Position rack in center of oven and preheat to 350°F.

Whisk together granulated sugar, brown sugar, milk powder, and salt in medium bowl. Add melted butter and whisk until blended. Whisk in the cream, then the egg yolks and vanilla.

Pour filling into crust. Bake pie 30 minutes (filling may begin to bubble). Reduce oven temperature to 325°F. Continue to bake pie until filling is brown in spots and set around edges but center still moves slightly when pie dish is gently shaken, about 20 minutes longer.

Cool pie 2 hours in pie dish on rack. Transfer to refrigerator and chill uncovered overnight.
Notes
DO AHEAD: Can be made 2 days ahead. Cover; keep chilled.
This Crack Pie recipe is adapted from Bon Appétit Magazine where the original Christina Tosi's recipe was reprinted. You can also find it in Tosi's Milk Bar cookbook, available on Amazon.
Bon Appétit Magazine suggests to dust the pie with powdered sugar, but that seems unnecessary to me considering the filling is mostly sugar!
Nutrition
Calories:
365
kcal
|
Carbohydrates:
40
g
|
Protein:
3
g
|
Fat:
21
g
|
Saturated Fat:
13
g
|
Cholesterol:
133
mg
|
Sodium:
131
mg
|
Potassium:
84
mg
|
Sugar:
30
g
|
Vitamin A:
745
IU
|
Calcium:
47
mg
|
Iron:
0.9
mg
This recipe and many other recipes have been compiled in the Milk Bar cookbook available on Amazon.
For the original recipe, click here.