Want to go directly to the layer cake recipe? click here to skip to the recipe for this cranberry cardamom cake with cream cheese frosting!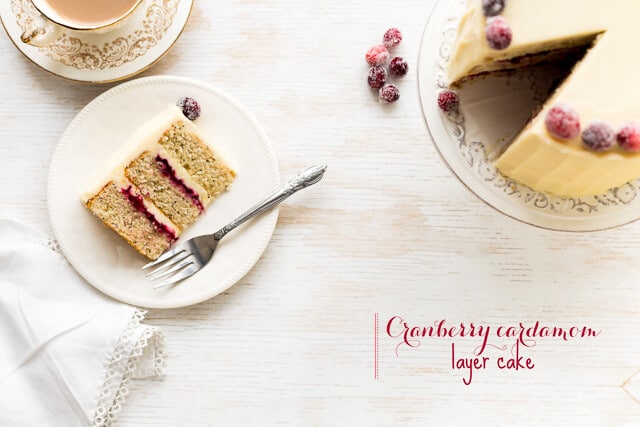 I made this cranberry cardamom cake with cream cheese frosting partly because I wanted cardamom cake (when do I not want cake?) and partly because I had to celebrate my 34th birthday in style because I am a very stylish girl who must have a very stylish birthday cake. Actually, that's not true. I did turn 34, but I'm not so stylish. I'm more of a stretchy-pants-and-comfy-sweaters kind of girl. Maybe when I'm all grown up, I will be as stylish and "put together" as this cake. Maybe. I'll wear pencil skirts and stilettos. I'll brush my hair and use all sorts of fancy skin products. My nails will always have a perfect manicure because I'm too stylish for manual labour and dishwashing. My mature adult self drinks sparkling water with my healthy lunch salads, while wearing pencil skirts and stilettos with perfectly manicured nails and flawless makeup. A girl can dream. Ironically, as I write this, I am sitting on the floor wearing sweatpants, oversized socks, and my eyeliner is actually yesterday's mascara. I bought the sweater I'm wearing from the discount rack at the grocery store. No joke. I guess I have quite a ways to go before my adult self matches my dream self… I don't even like sparkling water!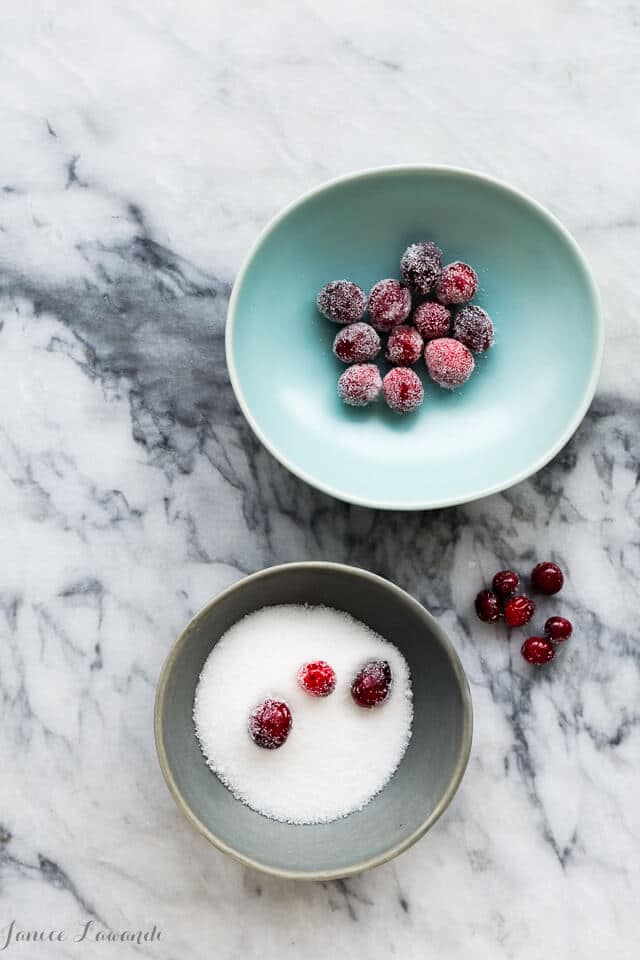 Anyway, I also made this cake because I fell in love with sugared cranberries at the end of last year. I'd honestly never eaten them before I made a batch to top that chestnut cake in November (remember that cake? It was so cute!). I thought sugared cranberries were a fad, something cute to put on top of a layer cake. Turns out that yes, they are certainly pretty to look at, but they are also easy to make and a treat to eat. My birthday seemed like the perfect opportunity to make them again and to use them to dress up a layer cake. It's amazing how simple it is to transform a plain layer cake into something fancy when you have sparkly sugared cranberries. And a quick icing technique with a spatula pulls it all together. I am not a professional cake decorator, but THIS, I can handle, and so can you! If only dressing myself were as easy as throwing on a set of sparkly sugared cranberries and calling it a day.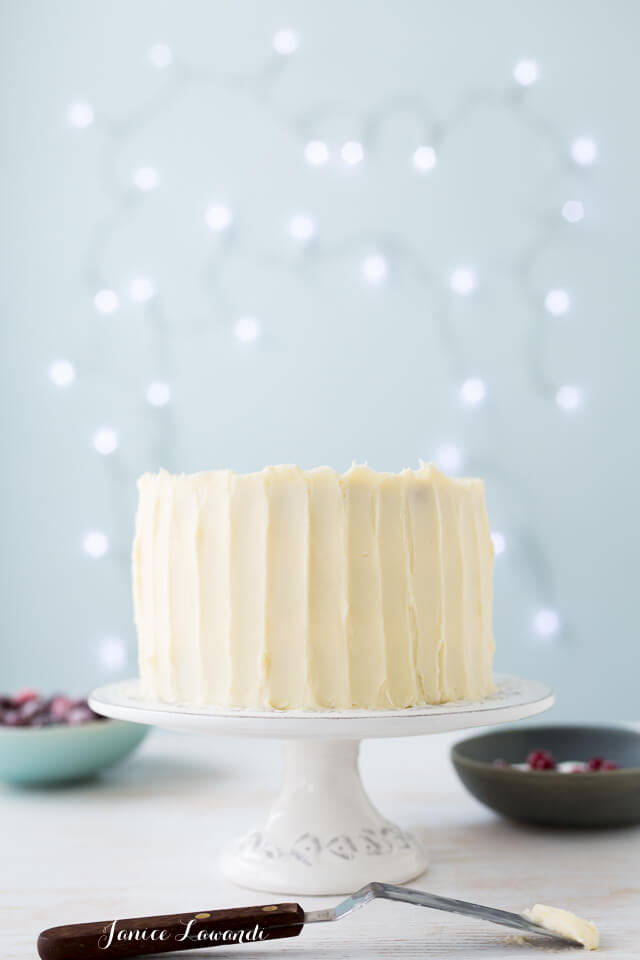 Part of the success of this cake comes from the cranberry filling. Sandwiching a filling between cake layers seems like a straightforward step, but it's actually quite tricky. If the filling is a little on the liquidy side, or if it's temperature sensitive (thinning out as it warms), a tear-jerker of a cake flop is pretty much guaranteed. Trust me. I've been there several times. Have you ever had to take apart a layer cake to try and salvage it because the filling was leaking out? I have. I shake my fist at you, lemon curd! Lemon curd is the filling I want to sandwich between layers of cake the most, and yet, over the years, I haven't quite figured out how. The best way seems to be to go the Momofuku Milk Bar route, stabilizing the curd with gelatin and freezing the assembled cake to set it all firmly in place. With a cranberry filling, thankfully, cranberries have a good amount of pectin that gels the filling just enough that it stays put while you go through the daunting cake assembly steps. No tears. I made this cake twice just to be sure. Both held up beautifully, and one even survived a bumpy metro ride in a plastic container, the ultimate stability test.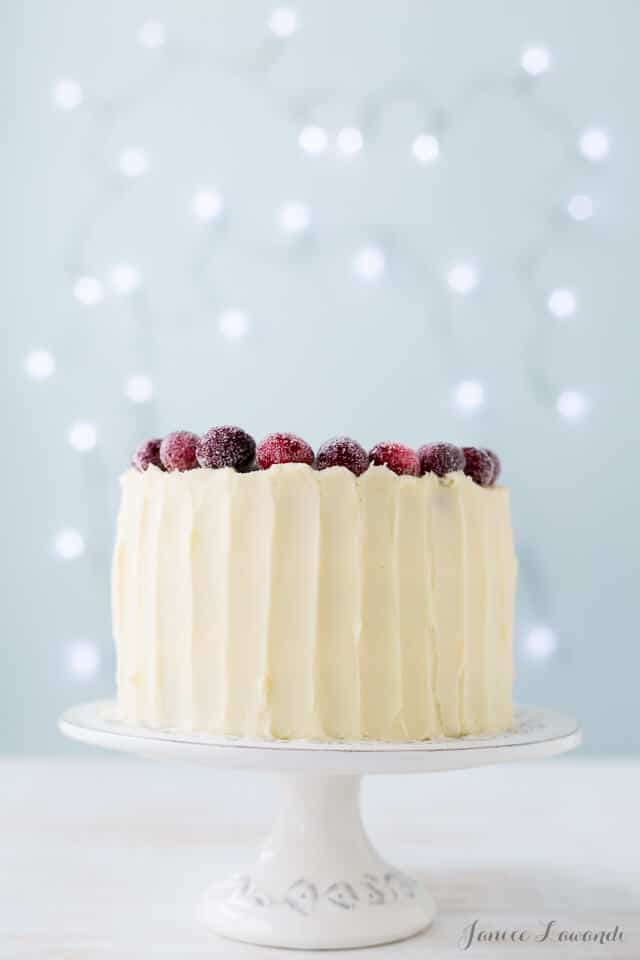 The filling recipe makes the perfect amount of cranberry filling to make this cake. The frosting too. If you follow my recipe for sugared cranberries though, you'll have a few extra to decorate with and to serve with the cake. People like to munch on these so I don't think it's a problem, really. Just candy 20 or so berries if you want to be more exact. Scale down the syrup accordingly.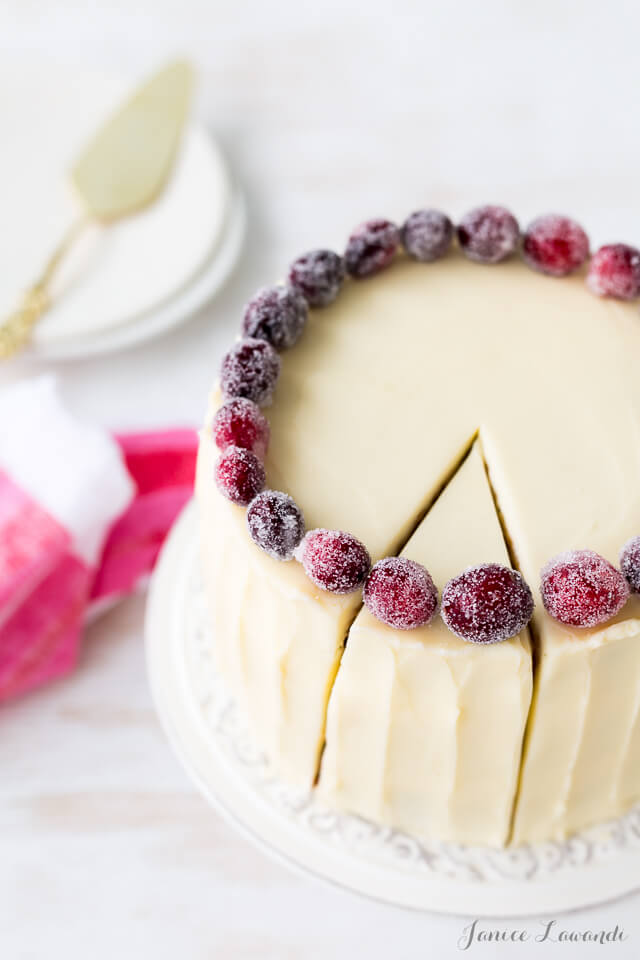 To make this layer cake, I started with the best vanilla cake recipe, which I modified with poppy seeds and ground cardamom to add tons of flavour. I split the batter between three 6-inch cake pans. Take the time to prepare the cake pans before baking, by buttering the pans, lining the bottom with parchment, and dusting the sides with flour. This way your cakes will slide right out of the pan, without any tearing.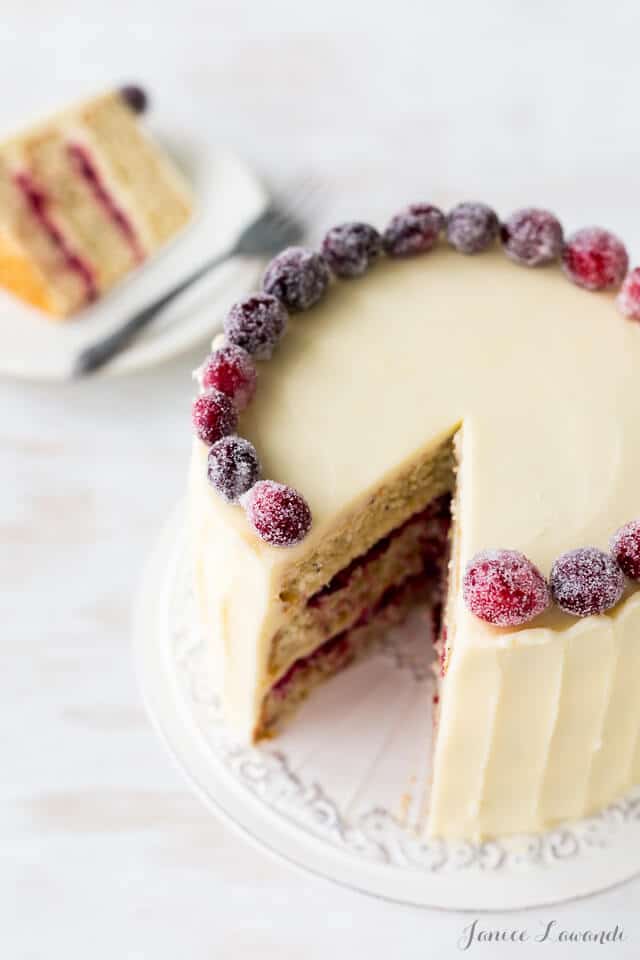 If layer cakes aren't your thing, you can always make this cranberry chestnut loaf, or these cranberry chestnut financiers, which are infinitely faster to bake. I've also got a recipe for gingerbread cranberry muffins to snack on and a fancy, make-ahead cranberry eggnog trifle that could work for you too.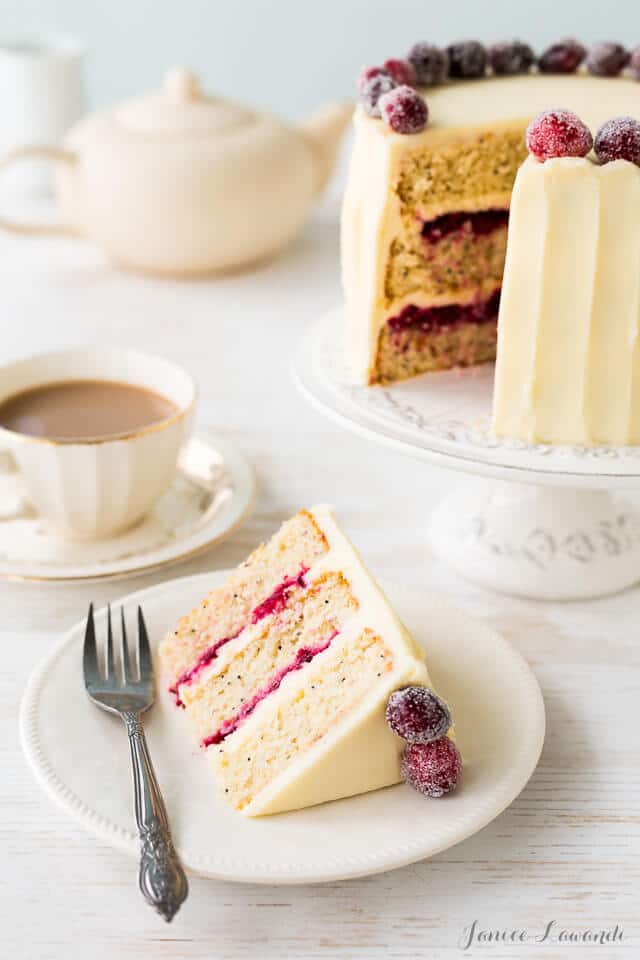 Cranberry cardamom cake with cream cheese frosting recipe
Here are some of my favourite tools to make layer cake recipes like this one (Note As an Amazon Associate I earn from qualifying purchases):
Cranberry cardamom cake with cream cheese frosting
Poppy seed cake layers are topped with cranberry filling and the best cream cheese frosting
Ingredients
For the sugared cranberries
250

grams

water

1 cup

200

grams

granulated sugar

1 cup

150

grams

fresh cranberries

1 1/2 cups

50

grams

granulated sugar for dusting the cranberries

1/4 cup
For the cranberry filling
100

grams

fresh cranberries

1 cup

1/4

tsp

fine kosher salt

50

grams

granulated sugar

1/4 cup

30

grams

water

2 tbsp

1/4

tsp

pure vanilla extract
For the cake
250

grams

all-purpose flour

2 cups

2

tsp

baking powder

1/2

tsp

ground cardamom

1/4

tsp

fine kosher salt

2

tsp

poppy seeds

173

grams

unsalted butter

3/4 cup, room temperature

250

grams

granulated sugar

1 1/4 cups

3

large eggs

room temperature

1

tsp

pure vanilla extract

188

mL

whole milk (3.25 % fat)

3/4 cup
For the frosting
173

grams

unsalted butter

3/4 cup, room temperature

218

grams

icing sugar

1 3/4 cup, sifted

500

grams

Philadelphia cream cheese (full fat, regular)

2 blocks, stick to Philadelphia brand because it's the best!, fridge cold
Instructions
To make the sugared cranberries
Heat together the water and the cup of granulated sugar on medium–low to dissolve the sugar.

Transfer the syrup to a heat proof bowl and let cool 15 minutes.

Add the cranberries, cover the bowl, and chill in the fridge overnight, stirring every few hours.

The next day, transfer the cranberries to a wire rack.

Sprinkle with half the remaining 1/4 cup of sugar. Toss the cranberries in the rest of the sugar to coat all sides. Let dry on rack before assembling the cake.
To make the cranberry filling
In a small saucepan, heat the cranberries, sugar, water, and salt on low to dissolve the sugar (5–8 minutes).

Increase the heat to medium, and boil to thicken the filling (another 5–8 minutes). The filling is thickened enough when you can run a spatula through the centre of the pan and it takes a few seconds before the filling flows back.

Transfer the filling to a container and refrigerate overnight.

Just before assembling the cake, stir in the vanilla extract.
To make the cake layers
Preheat the oven to 350ºF. Grease, flour, and line the bottoms of three 6-inch cake pans (I like these pans from Wilton available on Amazon) pans. Set aside.

Whisk together the flour, baking powder, cardamom, salt, and poppy seeds. Set aside.

In the bowl of a mixer fitted with the paddle, cream together the butter and sugar for 3 minutes. Scrape down the bowl as needed. Add the eggs, 1 at a time, beating well between each addition and scraping down the bowl as needed.

Mix the vanilla with the milk in a spouted cup.

Add the dry ingredients alternately with the wet, beginning and ending with the dry ingredients. Finish stirring the last bit of flour into the batter by hand.

Divide the batter between the prepared pans (~330 grams per pan). Tap pans on the counter and smooth the tops with a spatula. Bake the layers for 28 minutes or until a cake tester comes out clean.

Let cool on a wire rack completely, then wrap in cling film to store.
To make the cream cheese frosting
Cream together the butter and the icing sugar first until they are fluffy and creamy. When these two ingredients are well mixed, then you can add the cream cheese, all at once. Beat for several minutes until you have a thick, smooth frosting.
To assemble the cake
Unwrap the three cakes, removing the parchment paper. Level the tops of the cakes so they are flat.

Fill a piping bag fitted with an 8–10 mm round tip) with frosting.

Place one layer of cake on the cake stand, pipe a rim of frosting, and fill with half the cranberry filling, smoothing with a spatula.

Pipe frosting over top to completely cover the rim and filling, smoothing with a spatula again.

Top with a second layer of cake and repeat the rim, filling, and frosting step.

Top with the third layer of cake. Dirty ice (crumb coat) the outside of the cake.

Chill the cake 30 minutes to set the layers before proceeding to frost the outside with the rest of the frosting.

Use your spatula to smooth and add texture to the sides of the cake, and top the cake with sugared cranberries just before serving.
Notes
Makes one 6-inch layer cake
Calories calculated based on one-twelfth of the cake+frosting+filling
Nutrition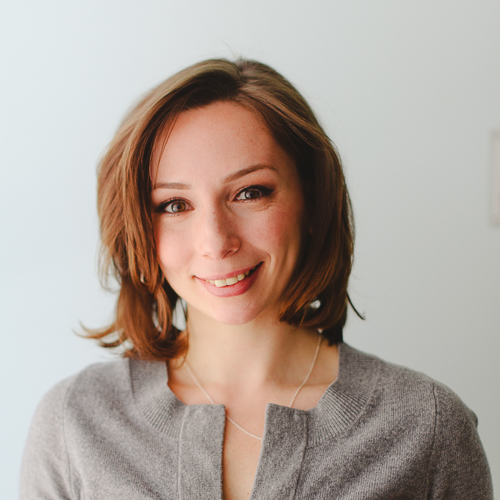 Janice Lawandi is chemist-turned-baker, working as a recipe developer in Montreal, Quebec, Canada. She studied pastry at Le Cordon Bleu in Ottawa and cooking at l'Académie Culinaire. She has a BSc in Biochemistry from Concordia University and a PhD in Chemistry from McGill University. Visit janicelawandi.com to see my portfolio.