In life, there are blue cheese lovers, and there are blue cheese haters. I happen to be a blue cheese lover. When I was in grad school, I found out the hard way that there are serious blue cheese haters out there who have zero tolerance for the stuff.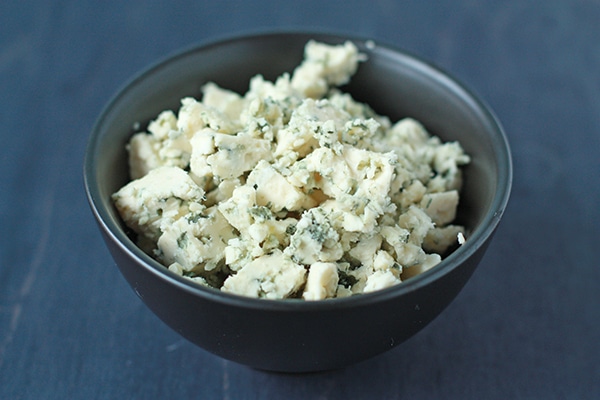 In the last few years of my thesis work, I pretty much ate breakfast, lunch, and dinner in the lab at school. I always brought a variety of snack options with me everyday along with my three meals, and I always had a snack drawer filled to the brim just in case I didn't pack enough. I went through a phase when my snack every day was a sliced apple with pieces of blue cheese. So, I brought a hunk of blue cheese to work to store in our fridge, and every day, I took in an apple to enjoy with it. Yum.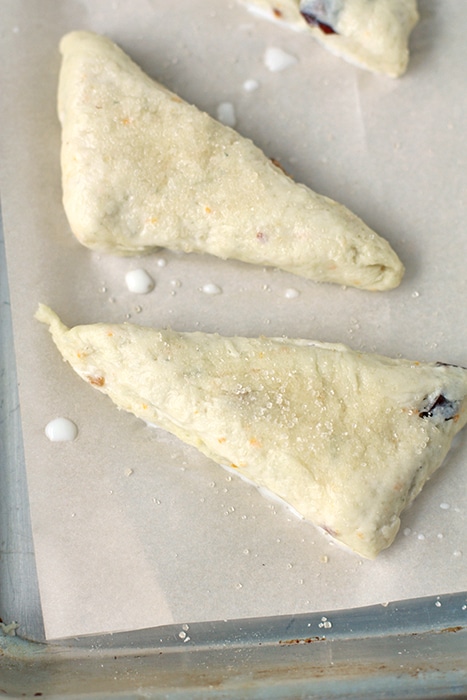 What I didn't realize was just how much a large hunk of blue cheese could stink up the itty-bitty fridge I was storing it in at school. In my defense, I don't mind the smell of blue cheese and, at home, I regularly store blue cheese without even noticing a smell, but my fridge isn't mini. Plus, I am a blue cheese lover, so it's not surprising that I didn't quite note the "slight" odor. Turns out my workmates were not a fan of the so-called stench that hunk of cheese generated in the fridge, and one day, I was seriously scolded and belittled for daring to bring in such a smelly food and for storing it at work.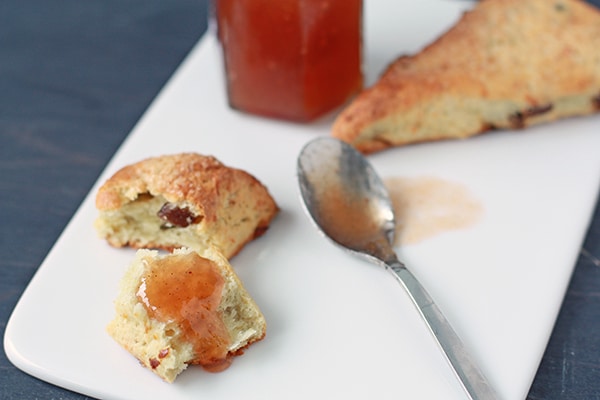 And so, my daily apple and blue cheese snack phase came to a serious halt. I never dared to bring blue cheese to work again.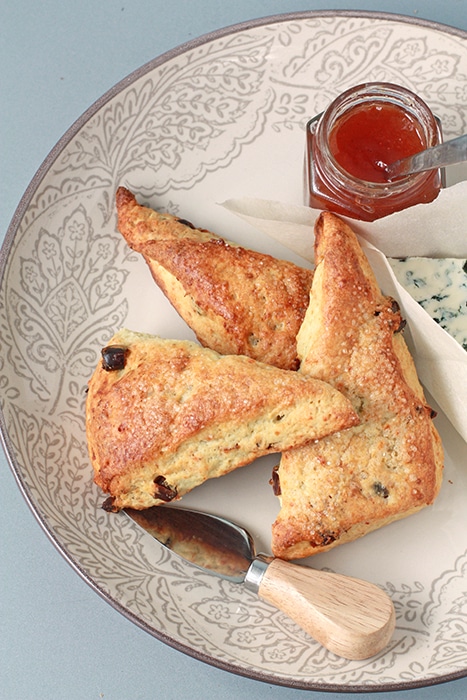 If you are a blue cheese lover, these scones are for you, but be forewarned that when they hit the heat of the oven, your kitchen will quickly fill with the scent of blue cheese. So, you have to be a hardcore blue cheese lover to make these, but if you're not, replace it with an equal amount of either cream cheese (as suggested by the initial recipe in Ricardo magazine, volume 10, number 8) or a crumbly goat cheese. You could also vary the ratio of butter to blue cheese. I went with equal parts (115 grams of each) but for a less "cheesy" flavor, maybe try using more butter (say 173 grams for 57 grams blue cheese). I recommend serving these scones with sweet fruit jam. I served them with a homemade quince and vanilla bean jam.
Date and blue cheese scones
Ingredients
125

mL

(

½

cup

)

whole milk (3.25 % fat)

1

(

1

)

navel orange

zested and juiced—make sure you have 60 mL of juice

280

grams

(

2 ¼

cups

)

all-purpose flour

50

grams

(

0.2

cup

) light brown sugar

2.5

tsp

(

2.5

tsp

)

baking powder

¼

tsp

(

¼

tsp

) Diamond Crystal fine kosher salt

115

grams

(

½

cup

)

unsalted butter

cubed and very cold

115

grams

(

½

cup

)

blue cheese

70

grams

(

½

cup

) pitted dried dates

chopped

1

tbsp

(

1

tbsp

)

milk (2 % fat)

for brushing

Turbinado sugar

for sprinkling
Instructions
Preheat the oven to 400°F. Line a large (or two small) rimmed baking sheet with parchment. Set aside.

In a small bowl, whisk together the milk with the orange zest and 60 mL of orange juice. Set aside.

In the bowl of a food processor, combine the flour, brown sugar, baking powder, and salt.

Add the butter and cheese, and pulse to combine.

Add the reserved milk mixture and pulse til a dough forms.

Turn out the dough on a generously floured work surface and with floured hands, work in the chopped dates.

Pat out the dough into a rectangle and cut out 16 scones. Place the scones on the prepared baking sheet, brush them with milk and sprinkle generously with the coarse cane sugar.

Bake them for about 20 minutes or until they are a deep golden color.