This easy sugar donut recipe comes from my grandmother and makes traditional baking powder donuts, so no yeast required to make these! You can coat these with cinnamon sugar to make sugar donuts, or a maple glaze to make maple glazed donuts. Up to you!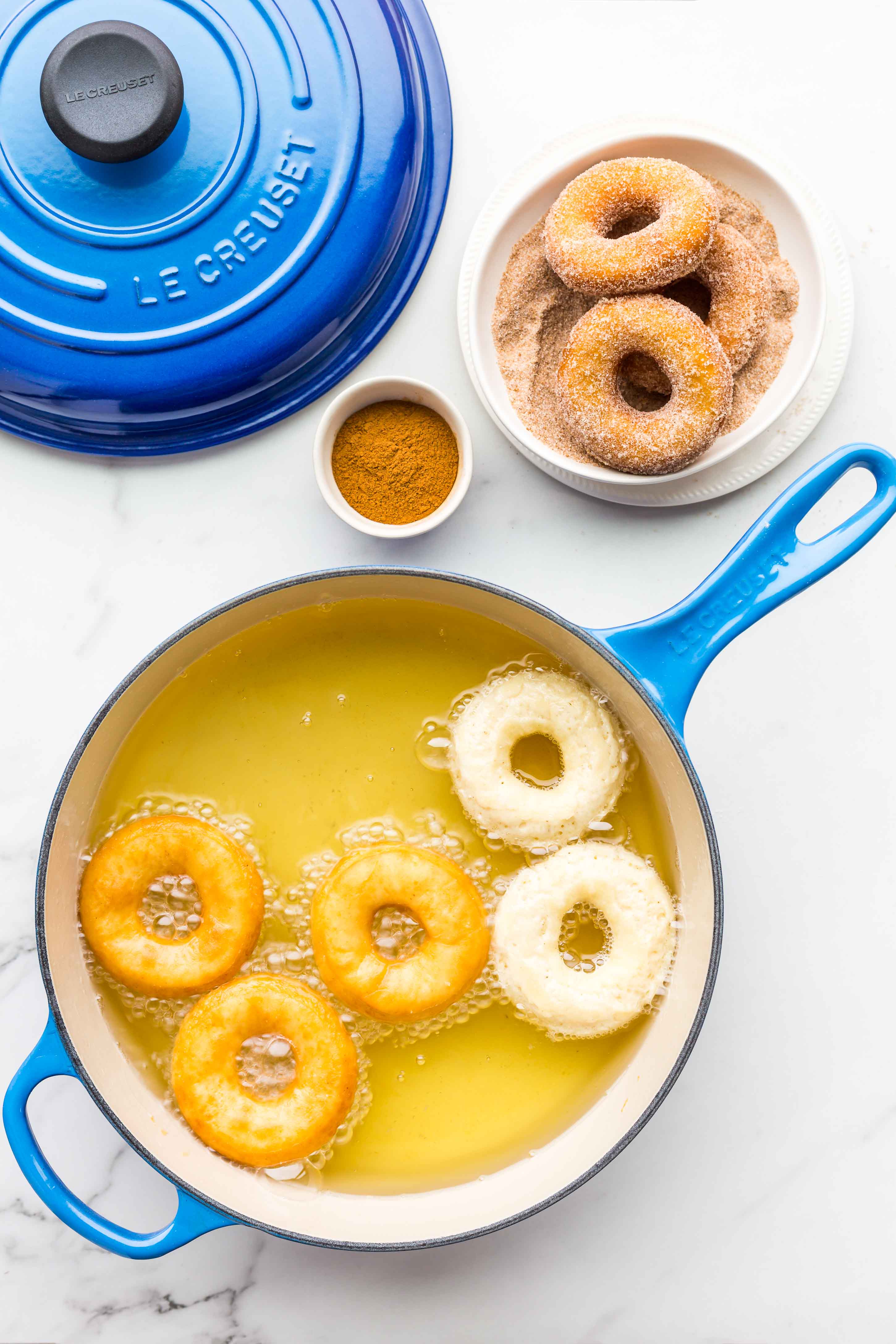 My grandmother spelled these as "doughnuts" on her recipe card, but I think most of us would nowadays probably spell them as "donuts." As you can tell from the photo, my grandmother wrote up this recipe years ago on a recipe card, like most of her other recipes. My mom estimates that the recipe is almost 100 years old. Almost all her recipe cards are contained in her metal recipe box that my mom has kept pretty much intact, perhaps with a few additions.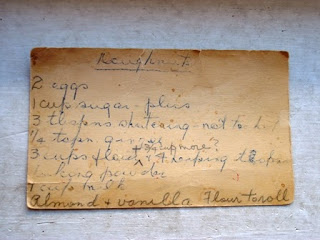 My mom has never made these doughnuts, and sadly, my grandmother is not here to coach me through my attempts to make her donuts. Her recipe card only has ingredients and amounts; no instructions or order of addition of the ingredients as you can see in the photo. I use the order of ingredients to know what order to combine the ingredients and what mixing method to use. Since all the wet ingredients are listed first, then all the dry, we can assume this uses the two bowl mixing method, also known as the muffin mixing method.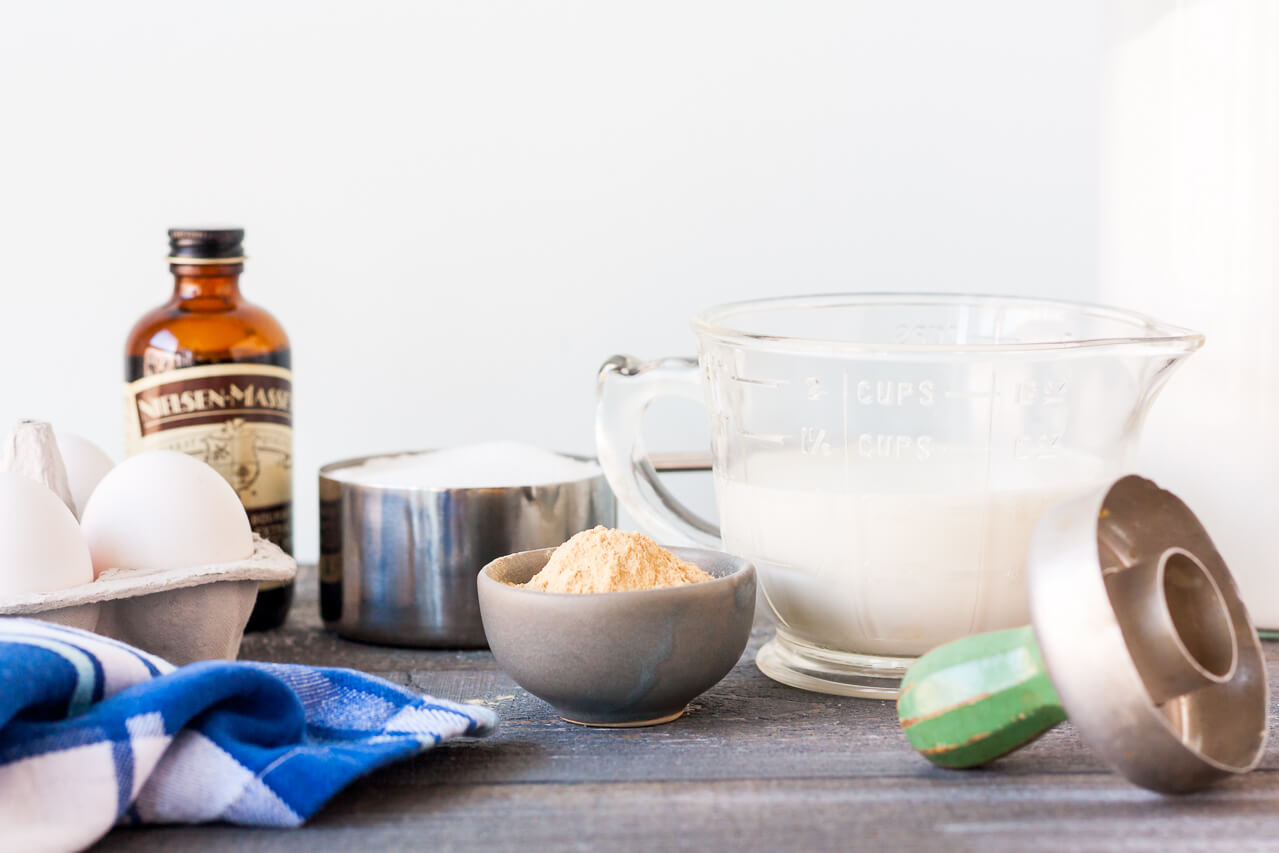 When you first mix the dough, it may seem like it's too sticky to do anything with. But once you've chilled the dough for 1 hour, the dough rolls out nicely on a floured surface.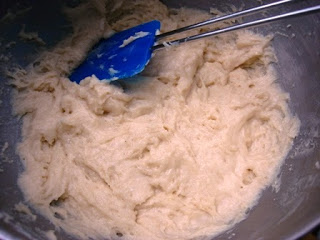 To cut out the donuts, you have two options:
use a donut cutter
use two round cookie cutters of different sizes.
Both work, but it might be easier to get the donuts out with two round cookie cutters because the dough can stick with some of the old donut cutters with handles and then it's harder to extract after.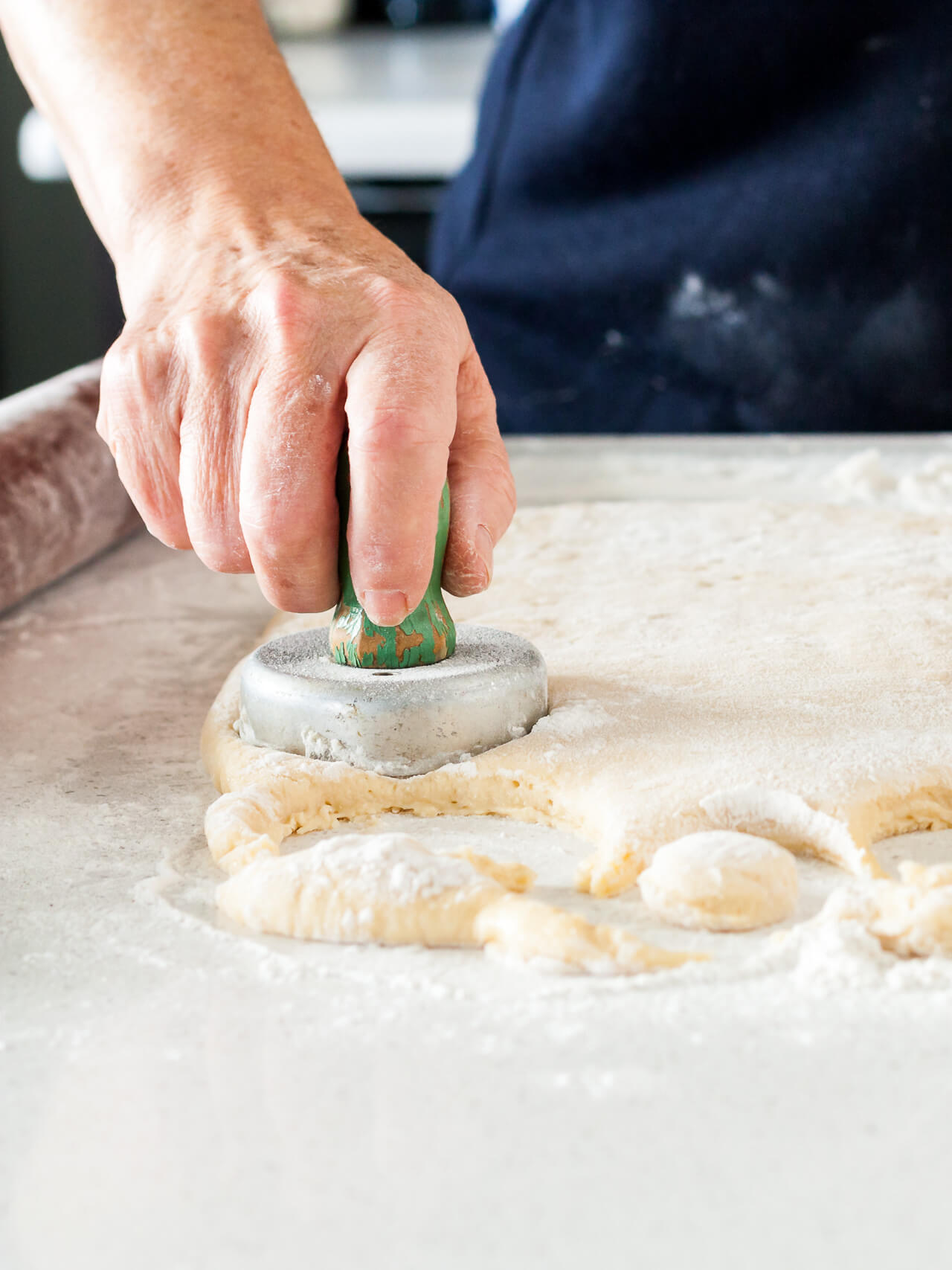 To deep fry donuts, I have tested two options: a deep fryer and a fry pan heated on the stove to 350ºF. I find with the deep fryer, you can set it and forget it, and once the fryer hits the correct temperature, it's quite stable. On the other hand, frying on the stove can be tricky because it takes so long to heat the oil, it's very tempting to crank up the heat. But if you do so, you run the risk of overheating the oil, which would burn the donuts right away, or worse, a fire. You have to be VERY careful when you deep fry on the stove. And if there's ever a fire, remember to smother it! Put the lid on the pan, turn off the heat, throw a cover over the fire. Sand also works and we should all have a bag of sand ready for any incidents….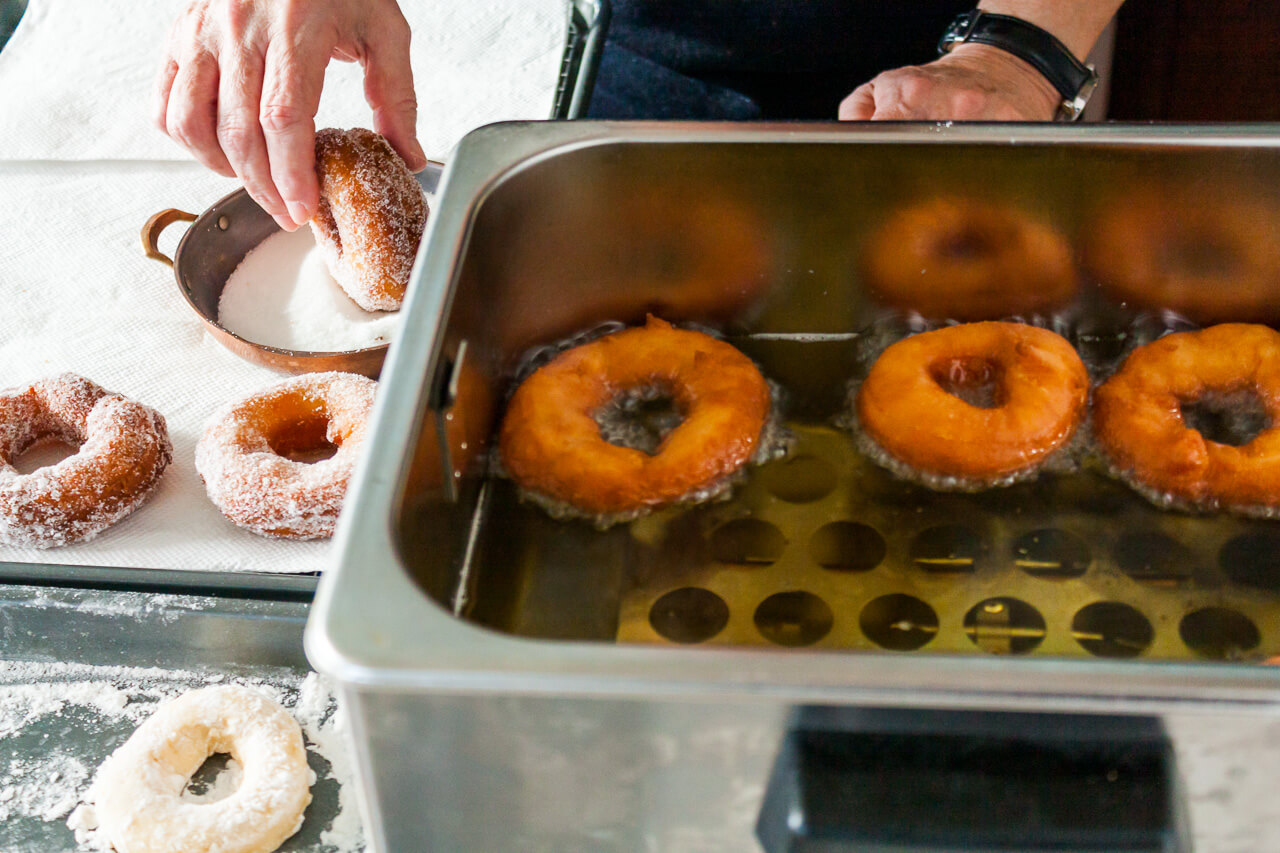 Maintaining the temperature of the oil can be difficult on a stovetop. That's for sure. To avoid that the oil get too hot, I alternated between having the saucepan on the burner and off the burner. I found this worked better than lower the stove setting, which I set to 4 once the oil was heated to the right temperature.
By the way, a great trick for flipping donuts: use chopsticks!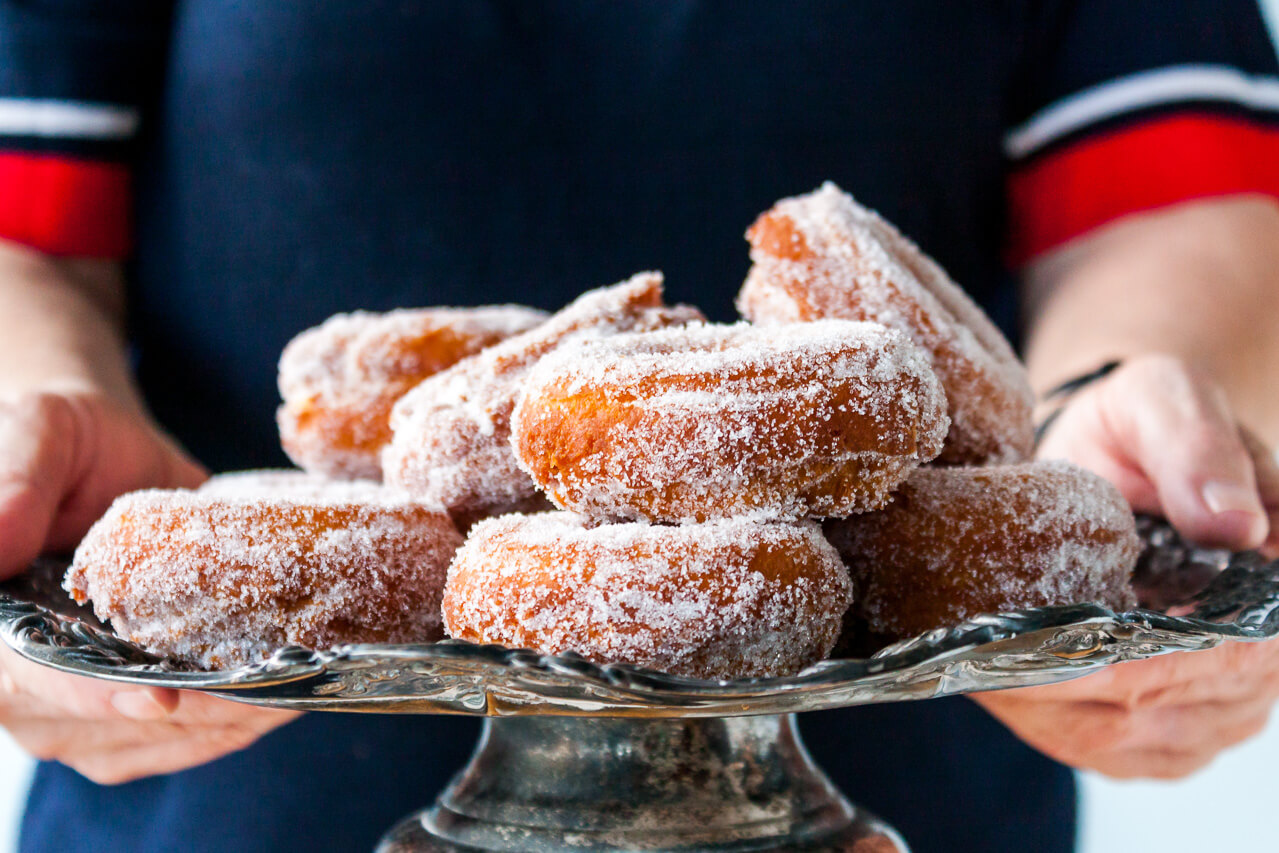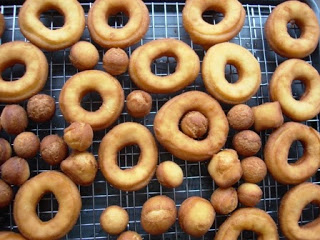 Here's a half-recipe for my grandmother's baking powder donuts. It makes about a dozen donuts. You can coat them in granulated sugar or cinnamon sugar to make sugar donuts. Or you can make a glaze like the optional maple glaze below. You can also try a
dark chocolate ganache glaze
, or this
chocolate amaretto glaze
.
I've updated the recipe to use butter instead of shortening. I don't usually have shortening in my pantry, but feel free to use whatever fat you prefer.
Sugar donuts
These sugar donuts are made from an easy baking powder donuts recipe so you don't need any yeast to make these!
Ingredients
1

large egg

100

grams

(

½

cup

)

granulated sugar

2.5

mL

(

½

tsp

) pure vanilla extract

22

grams

(

1½

tbsp

)

unsalted butter

melted and cooled

125

mL

(

½

cup

)

milk (2 % fat)

220

grams

(

1¾

cups

)

all-purpose flour

0.625

mL

(

⅛

tsp

)

ground cloves

10

mL

(

2

tsp

)

baking powder

1

L

(

4

cups

)

canola oil

for deep frying

200

grams

(

1

cup

)

cinnamon sugar
Maple glaze (optional)
125

grams

(

1

cup

)

icing sugar

60

mL

(

¼

cup

)

maple syrup

milk (2 % fat)

as much as needed for diluting the glaze
Instructions
Whisk together the egg, sugar, vanilla, butter, and milk in a bowl. Set aside.

In a separate bowl, whisk together the flour, baking powder, and ground cloves.

Combine the wet and the dry ingredients and stir to form a sticky dough.

Cover the bowl tightly and chill in the refrigerator for 1 hour.

Roll out the dough to ½–¾ inches and cut out donuts with round cutters (use 1 big and 1 small cutter to make traditional ring donuts).

Heat a deep sauté pan (like this pan from Le Creuset) half-filled with oil to 350 ºF. Prepare a sheet pan with a wire rack set over it. Line with a little paper towel.

Fry the donuts, 3 or 4 at a time until golden brown, then flip and continue frying until the colour is fairly even.

Transfer the fried donuts to the prepared rack and let them cool slightly before tossing in cinnamon sugar to coat. Note that if you want to glaze the donuts, you would skip the sugar coating.
Maple glaze (optional)
Whisk together the icing sugar, maple syrup, and a splash of milk to form a thick glaze.

Dip the donuts on one size and twist to coat the surface. Then flip over and place back on the wire rack so that the glaze sets. Repeat with the other donuts.
Notes
Calories for 1 unglazed donut.
Nutrition
Calories:
125
kcal
|
Carbohydrates:
23
g
|
Protein:
3
g
|
Fat:
2
g
|
Saturated Fat:
1
g
|
Cholesterol:
19
mg
|
Sodium:
11
mg
|
Potassium:
123
mg
|
Fiber:
1
g
|
Sugar:
9
g
|
Vitamin A:
82
IU
|
Calcium:
53
mg
|
Iron:
1
mg