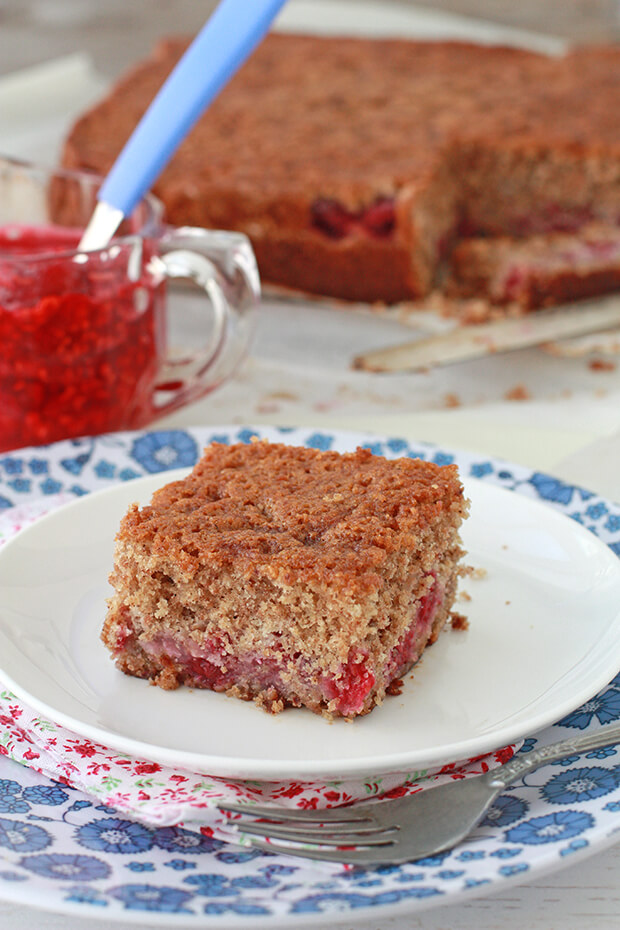 At the end of last week, I realized that I completely missed Kitchen Heals Soul's blogoversary. To be honest, I didn't even celebrate the 2nd year. For shame! My blog, Kitchen Heals Soul, is now three.
I've set myself a few new challenges as I embark on my fourth year of blogging. The first is to dabble with gluten-free baking, and maybe some vegan baking too. It's all the rage, and though I don't have a gluten-intolerance, I'd like to experiment a little more. We know I love buckwheat flour, but I want to explore other gluten-free options, and I really want an excuse to play with the ratios of starches to grain flours. I am a nerd, after all. So far, I've baked a gluten-free cake (made from mashed potatoes), gluten-free brownies, and gluten-free orange almond cakes.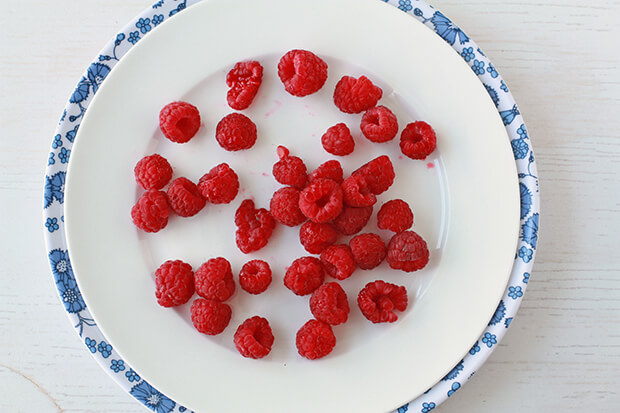 My second goal is to practice taking overhead shots of what I bake. I have a lot of trouble with this one right now because my tripod just isn't fancy enough for this task. For the overhead photos that I take, I freehand it. Unfortunately, I've become so dependent on my tripod that I'm much too shaky. It takes a lot of shots, over and over, til I can get one that is somewhat clear. I hope practice makes perfect.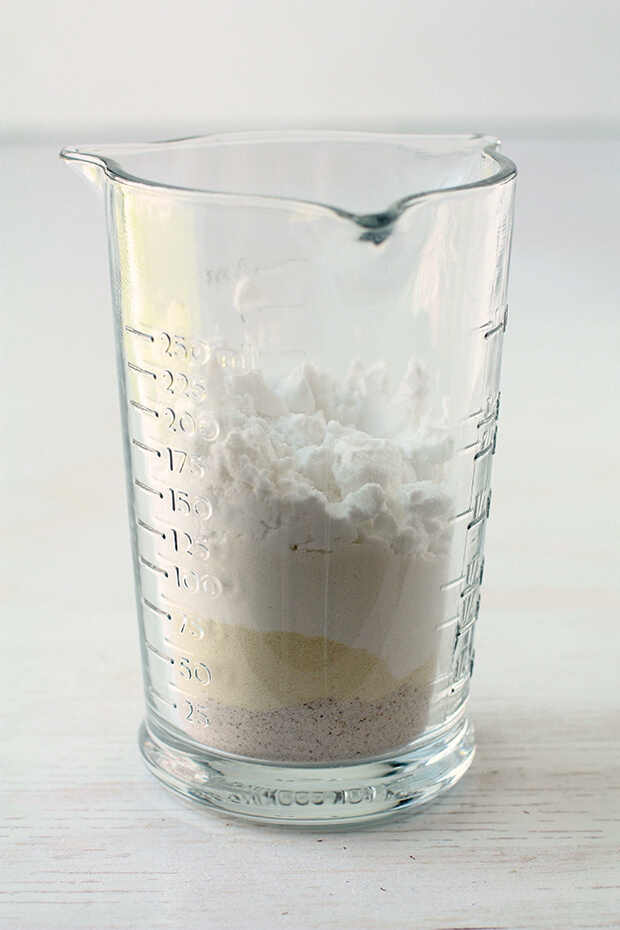 To render this Martha Stewart recipe gluten-free, I based myself on Gluten-Free Girl's post on making an all-purpose gluten-free flour mix. She suggests a ratio of 60:40 starches:whole grain flours (by weight), so that's what I did, using potato starch and rice flour as my "starches" and buckwheat flour and millet flour as my "whole grain flours". This worked very well, but perhaps the mouthfeel was just slightly starchier than I would've liked. Maybe next time, I'd do a 50:50 mix, or even 40:60. We'll see.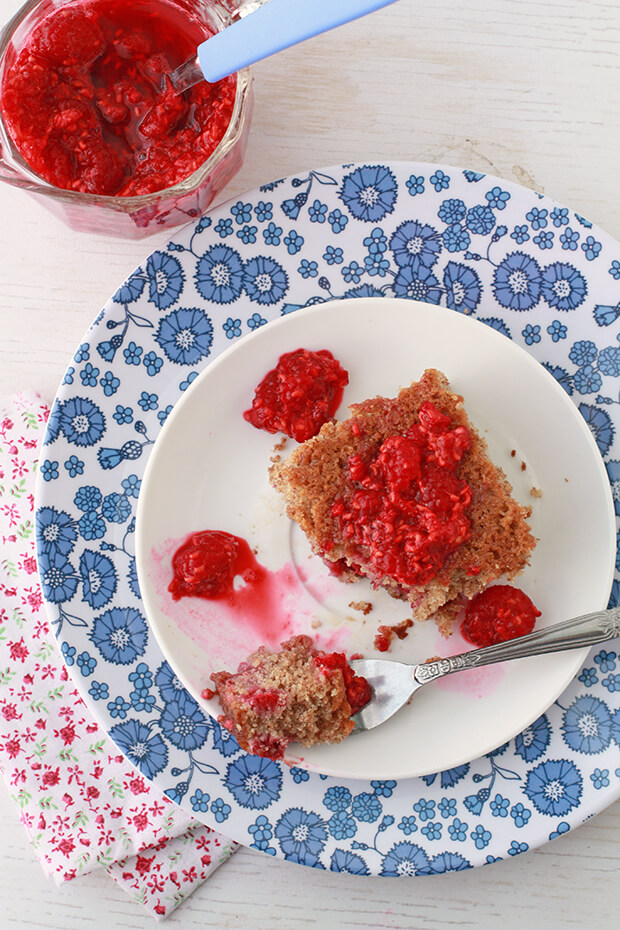 When I planned to make this cake, I had visions of a rustic-looking cake with a pool of cooked berries on top, with cake just creeping over the berries around the edges. Of course, that didn't quite pan out in my oven. The berries sank. You may recall, I have an ongoing problem with disappearing berries. I was basing myself on a Martha recipe, so I hoped my cake would end up looking like the one in the picture. Alas, I was wrong. I'm wondering if, since the cake was gluten-free, maybe the batter didn't have enough structure as it baked to support the berries. Just a thought.
It's okay—I splattered the squares of cake with heaps of smashed raspberries to make up for the disappearing berries.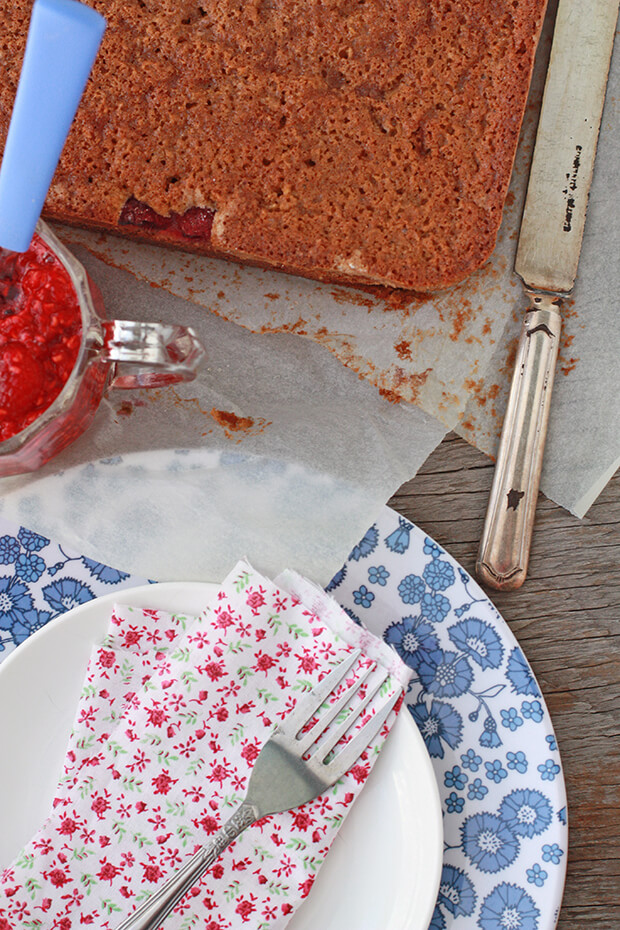 This cake has a lovely nutty flavor and is completely gluten-free. Its got berries on the inside, and it's topped with more mashed up berries. Don't fear the gluten-free. Just try it.
To bake this cake, I used an 8×8-inch square metal brownie pan, which I lined with parchment all over and with overhangs so the batter wasn't touching the pan at all. If you would prefer to properly prepare the pan before baking, butter the pan and dust with flour. You can also line the bottom with parchment to avoid it sticking.
Gluten-free raspberry cake
A recipe for gluten free cake with raspberries served with a fresh raspberry compote
Ingredients
125

grams

buckwheat flakes

1 cup

167

mL

milk (2 % fat)

2/3 cup

58

grams

unsalted butter

1/4 cup

100

grams

granulated sugar

1/2 cup

100

grams

light brown sugar

1/2 cup

1

large egg

1

tsp

pure vanilla extract

96

grams

all-purpose gluten-free flour mix

~3/4 cup, I used 19 grams of millet flour+19 grams of buckwheat flour+29 grams rice flour+29 grams potato starch

1/2

tsp

baking powder

1/2

tsp

baking soda

1/4

tsp

ground allspice

1/2

tsp

Diamond Crystal fine kosher salt

260

grams

raspberries

2 cup

130

grams

raspberries

1 cup

1

tbsp

granulated sugar
Instructions
Preheat the oven to 350°F. Line an 8-inch square metal pan with parchment, leaving an overhang on either side.

In a medium bowl, combine the milk and 2 cups buckwheat flakes and let sit for about 5 minutes.

Meanwhile, in the bowl of an electric mixer fitted with the paddle attachment, cream the butter and the sugars.

Add the egg, beat again, scraping down the sides as needed, and then add the vanilla. Beat until creamy and smooth.

Add the buckwheat flake/milk mixture and beat.

In a separate bowl, whisk together the flours, starches, baking soda and powder, salt, and the spice, and then add them into the mixer bowl. Beat on low to combine, then increase the speed to medium for one more minute.

Pour the batter into the prepared pan, sprinkle with 2 tbsp cane sugar and 2 tbsp buckwheat flakes, then scatter with raspberries, and top with the remaining cane sugar and flakes.

Bake for about 55 minutes or until a cake tester inserted into the center comes out clean.

Let cool before serving.

Prepare a raspberry topping before serving by lightly mashing the extra cup of berries with a tablespoon of sugar. Top pieces of the cake with this chunky raspberry sauce.
Nutrition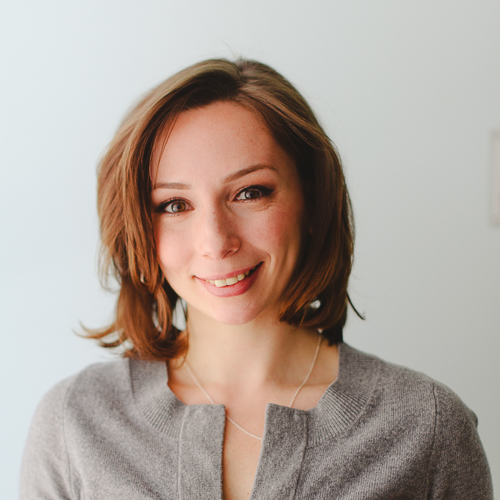 Janice Lawandi is chemist-turned-baker, working as a recipe developer in Montreal, Quebec, Canada. She studied pastry at Le Cordon Bleu in Ottawa and cooking at l'Académie Culinaire. She has a BSc in Biochemistry from Concordia University and a PhD in Chemistry from McGill University. Visit janicelawandi.com to see my portfolio.