This post was sponsored by the National Watermelon Promotion Board. If you'd like to go straight to the recipe? Click here to go to the frozen watermelon pops recipe. But if you want a few little tips, keep reading!
As an Amazon Associate I earn from qualifying purchases.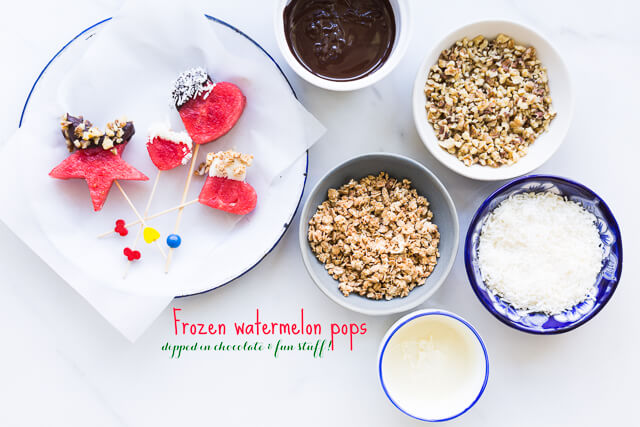 I have this thing for fruit dipped in chocolate. It's one of my fave snacks and desserts that satisfies the craving for something sweet, without going overboard. You know what I'm talking about. Plus it's so easy to do and look how cute frozen watermelon pops are!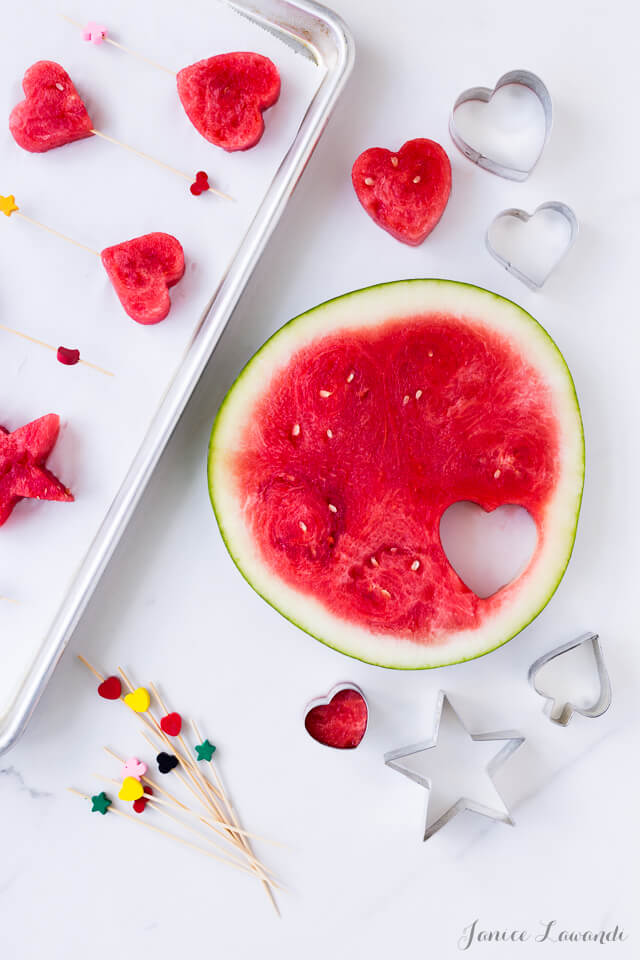 I was a little hesitant when I made these. I was worried about a lot of things: does chocolate go with watermelon? will the chocolate even stick to the watermelon? will the watermelon pops turn out super cute? Okay, so that last question is a little shallow, but remember when I made frozen bananas, a nod to Bluth's Original Frozen Banana Stand? Yeah, so those were super yummy, but they looked... "interesting". I wanted these to look better!
I did my best when I worked on this post to figure out the dos and don'ts for making frozen watermelon pops so that you can serve them to your family and make these frozen watermelon pops for parties too, without any stress!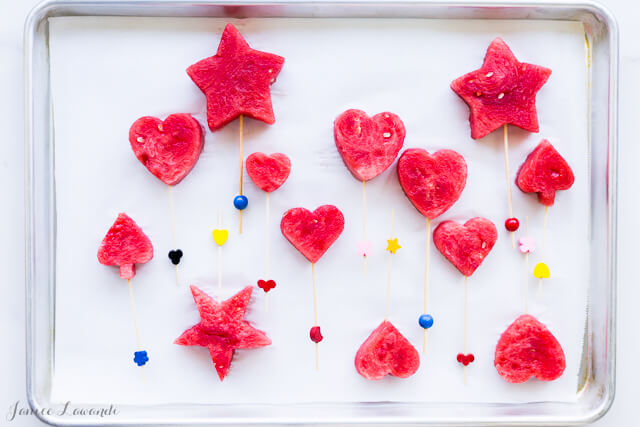 Tips for making frozen watermelon pops:
Buy a seedless watermelon: they are just as flavourful as the watermelon with seeds, in my humble opinion, and you won't have the hassle of dealing with seeds. The little white seeds in seedless watermelon are totally edible. I just leave them.
Make sure to slice your watermelon into thick slabs, but not too thick! Make sure the slab is no thicker than the height of your cookie cutters, otherwise cutting out shapes will be difficult.
To make slicing easier, try to cut the rind off of one "side" of the watermelon, lengthwise. This way, your watermelon can rest flat on your cutting board. Otherwise, cutting a whole watermelon is difficult because it rolls everywhere!
Invest in fun cookie cutters and sticks to make frozen watermelon pops even cuter (try a set of heart-shaped cookie cutters from Amazon and invest in good quality sticks on Amazon too while you are at it).
Freeze the watermelon pops for at least 20 minutes.
Keep frozen! Dip the frozen watermelon pops, garnish, and freeze again IMMEDIATELY! Trust me on this one. Everybody loves frozen watermelon. Nobody likes limp defrosted watermelon. You've got to keep them frozen and serve them frozen.
Waste not want not! I know what you are thinking: cutting out watermelon into fun shapes is great, but what about all the rest of the watermelon that's left behind? You can make sooooo many things with the leftover watermelon "scraps", like this watermelon granita to serve with white chocolate pots de crème or a watermelon Mediterranean salad or a watermelon Greek salad (which are my fave summer salads, so much so, I've been known to eat them for breakfast even because that briny cheese and olive flavour goes so well with sweet watermelon). You can always freeze the odds and ends to add to smoothies instead of ice! That's thinking ahead at it's best.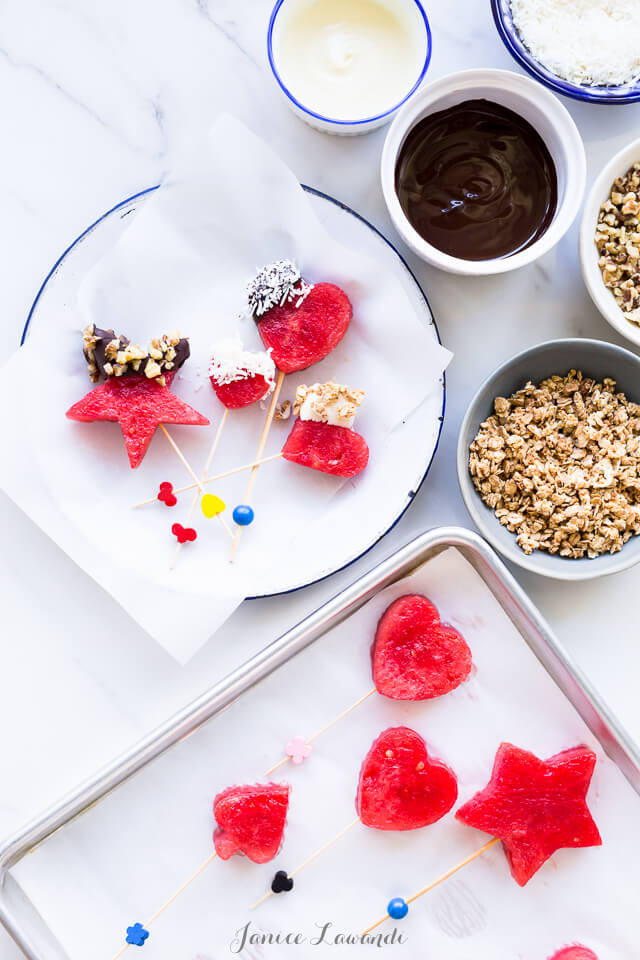 Here's how to make these watermelon popsicles at home!
Frozen watermelon pops
These frozen watermelon pops are very easy to make so this recipe makes a great summer activity with the kids (or the adults). Frozen watermelon pops make a healthy summertime treat!
Ingredients
1

(

1

)

seedless watermelon

100

grams

(

⅔

cup

)

dark chocolate

melted

100

grams

(

⅔

cup

)

white chocolate

melted

125

mL

(

½

cup

)

granola

homemade or store bought

125

mL

(

½

cup

) chopped nuts

125

mL

(

½

cup

) unsweetened shredded coconut
Instructions
Slice the rind off of one side of the watermelon, lengthwise. This is how you create a flat, stable base to proceed.

Slice the watermelon into slabs or disks of about 1 to 2 inches thick. Make sure that the watermelon slabs are no thicker than your cookie cutters!

Working with one slab at a time, lay each slab down and cut out as many fun shapes as you can from the flesh of the fruit, avoiding the rind. Depending on your cookie cutter sizes, you will probably get around 36 watermelon cutouts.

Slide a thick skewer through each watermelon pop. Lay on a parchment-lined baking sheets in a single layer. Freeze until frozen solid, about 20 minutes.

When the watermelon pops are frozen, dip them in melted chocolate, followed by granola, chopped nuts, coconut, etc. Serve immediately or freeze until ready to serve. Make sure to keep the watermelon pops frozen and serve frozen.
Nutrition
This post is sponsored by the National Watermelon Promotion Board for their #EatMoreWatermelon campaign. I was compensated monetarily. Thanks for supporting the companies that allow me to create content for Kitchen Heals Soul. As always, please know that I wouldn't work with a sponsor nor recommend a product if it wasn't worth it.
Please note this post contains affiliate links to Amazon. If you buy a product I recommend, I will get a small commission, and the price you have to pay will not change in any way.