If you are looking for a new desktop wallpaper to download, here's a free digital download of a pretty desktop calendar that you can use for the month of January! There's also a download for a smartphone wallpaper if you prefer. Keep reading to get your January 2019 desktop calendar or just scroll past all the text and download the file you want.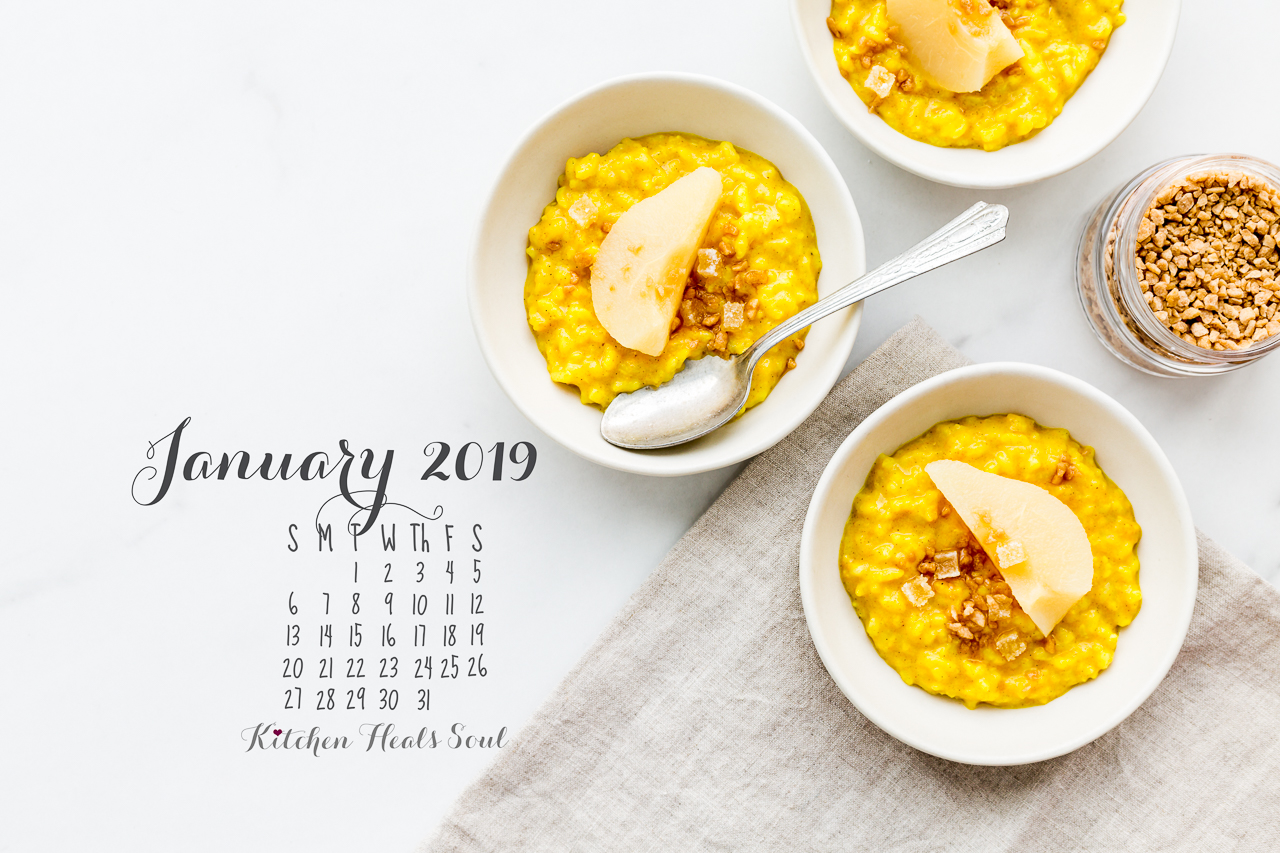 Bye-bye, 2018!
How did you do in 2018? I have mixed feelings about the past year.
The good:

I worked the entire year as a recipe developer and the work was very constant.
I liked the clients I had (and still have) and I could comfortably pay my bills throughout the year.
I collaborated with many brands in 2018 and I am proud of each project and the work I did:
I bought a new car in August after driving the same car for 16 years. Boy, have cars changed over the years! I miss my old car, but I love my new car!
I tried to wear lipstick in 2018, which was one of my corny resolutions for the year and it was fun testing different products and trying new brands.
I read a lot of great books and I learned a lot from many of them.
So many great things to show for 2018. What more could I ask for?
The bad:

My weekends were mostly non-existent in 2018. I failed miserably at work–life balance and life in general. During the week, I worked every day and then I went to the gym, and that was about it. On weekends, I cleaned my apartment and I worked more. I went for breakfast usually once on the weekend and did groceries for the week. If it weren't for my weekend breakfasts out, most of my weeks would have been all work, no play. I don't think 2018 had any kind of balance.
I struggled to find enough time for this blog, for the social media, for all the things that I should do to run this website and make this space better. That left me feeling sad and VERY frustrated.
I continued to bake and put out the best recipes I could all year long, but I feel like I lacked a greater purpose on the blog.
I took time off at the end of December because I was exhausted and unproductive by the end of the year. I felt burnt out, like I couldn't do more.
To top it all off, because I leave my car parked on the street every day as I don't have a parking spot, my shiny new car was hit, not once, but twice, and the week before Christmas, I was forced to have the side-view mirror replaced because it was so broken. Bummer!
Good riddance, 2018!
Hello, 2019?
It's the beginning of a new month and a new year. Do you make goals for the new year? Do you write resolutions or come up with a guiding word for the year? I need to make plans for 2019 for my work, for my blog, for my life, to better guide the decisions I make and the content I put out throughout the year. Of course, upcoming deadlines make it difficult, once again, to sit down and plan when I have contracts to fulfill, deliverables to submit, bills to pay. Therein lies the ongoing problem: I put off the thinking to plough forward with the work. I do, do, do. I get "stuck in the weeds," as they say. Not ideal. I end up working FOR my business instead of working ON my business. With that in mind, in 2019:
I need to write a business plan of sorts for this blog so I can have a better idea of where I am going with my website and so I can produce better content.
I need to start asking for help and contracting out some of the work. No, I don't want other contributors for the blog. That's not my point at all. I need to find people to help me run the little things behind the scenes that suck up all of my time so that I can finally focus on the content on the blog and achieve some form of balance.
I rented a parking spot nearby to avoid having to replace the mirror again and to make my life easier on photoshoot days when I have 6 or 7 heavy bags of groceries to lug back and forth between my car and my condo.
I think I'm going to hire a cleaning company to give me back those 3 hours every weekend so that I can do more fun things with that extra time instead of cleaning.
I'm going to continue to read and wear lipstick off-and-on because why not?
I'm going to try to have more fun and go out more so that I spend less time alone.
December reading list
The one thing I did achieve in 2018, on a personal level, was reading. I read over 60 books in 2018, which is more books than I had hoped. The main reason I read so much was that, by the end of the year, instead of mindlessly flipping on the tv to watch hours of Netflix to unwind at night, I practiced reading. And come December, I had replaced Netflix with books. I had zero desire to turn on the tv and I was addicted to reading. Turns out reading is a muscle you can train. The more you read, the more you want to read. In 2019, maybe I should read less and go out more though… that's a whole other problem for another time! Here's what I read last month:
January 2019 DESKTOP CALENDAR AND SMARTPHONE WALLPAPER
If you are looking for a new desktop wallpaper image, I made this January 2019 desktop calendar (and Smartphone wallpaper) just for you! This digital download can be used as a free desktop background for your computer (or smartphone). Simply click the size of the image you need below and the image will open in a new tab. Go to the new tab with the image and download that image by right clicking on the image to save it to your computer (or do what you've got to do to save it to your phone). Find the file in your folder of Downloads (or Photos) and right click on the image title to set the image as your wallpaper/desktop image. Note the file may have also been saved to your desktop depending on the settings of your computer.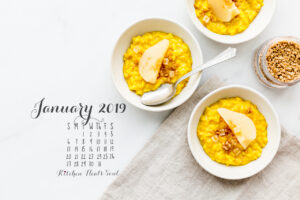 1024×768 | 1280 x 800 | 1920 x 1080 | Smartphone
Image source & recipe: Easy golden milk rice pudding
Please note this post contains affiliate links for Amazon and Le Creuset. If you buy a product I recommend, I will get a small commission, and the price you have to pay will not change in any way.