These matcha tea crêpes are stuffed with black sesame pastry cream and fresh raspberries.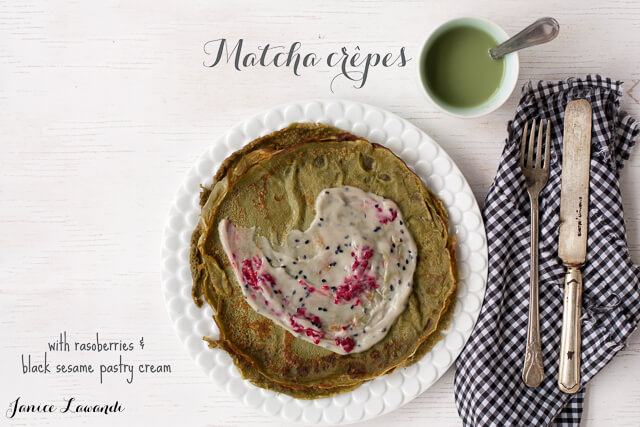 I love drinking tea and also baking with tea. Matcha powder allows you to infused baked goods with a strong green tea flavour, without adding any liquid to a recipe.
You can incorporate matcha in:
Of course, one of my favourite ways (and the easiest way) I know to make a matcha treat (besides a matcha latte) is to sprinkle the tea powder over scoops of vanilla ice cream, perfect for summer's warm temperatures.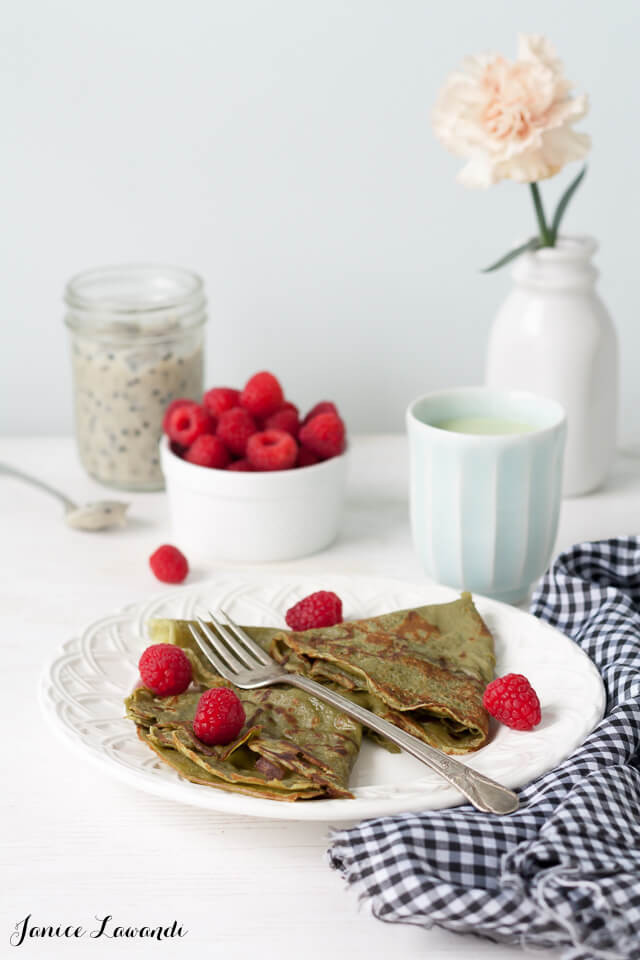 I incorporated my stash Kiss Me Organics matcha (Amazon) in a crêpe recipe, which is a unique way of cooking with matcha tea. These matcha tea crêpes are great with whipped cream, but they are even better with this black sesame pastry cream and mashed raspberries.
I find the pastry cream brings out the green tea flavour of the crêpes, and the tang of the berries makes this breakfast (or dessert) pretty perfect, if you ask me. The Kiss Me Organics matcha powder works great in cooking and baking because it has a strong green tea flavour that really shines through. This recipe is an adaptation of those strawberry crêpes that are my all-time favourite brunch.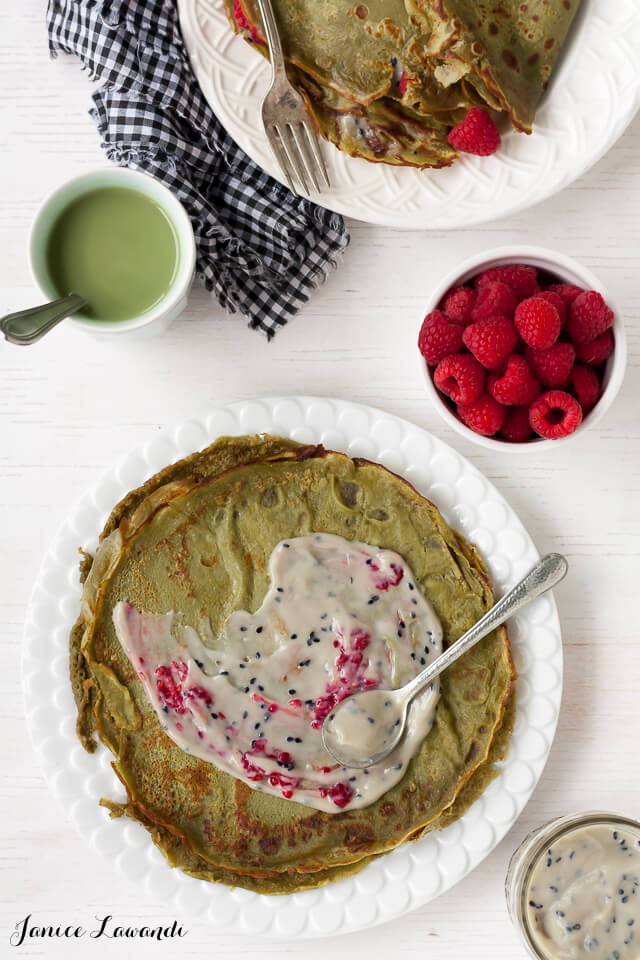 Like for my vanilla bean pastry cream recipe, to thicken the custard, I used a combination of cornstarch and flour because cornstarch is a better binder, but the flour makes the pastry cream easier to make and work with, without the custard being overly gelled or thick.
You can make the pastry cream ahead and chill it until you are ready to serve. Just whip it to loosen the custard before dolloping on the crêpes.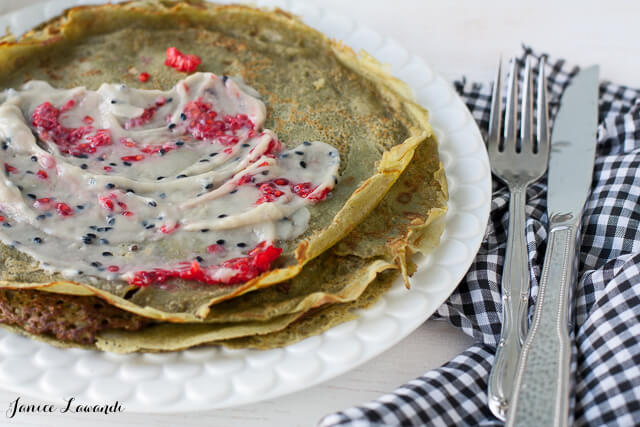 Make sure to use fresh black sesame seeds (as opposed to the jar of them that's been sitting at the back of your cupboard for far too long). I kept the black sesame seeds whole for this recipe, but if you want to extract the maximum flavour, try crushing the sesame seeds with a mortar and pestle before mixing them in the saucepan with the milk. You'll get better flavour extraction that way!
If you don't want to see the seeds, you can strain the pastry cream right after cooking it through a fine-mesh sieve to remove the seeds.
And for the tea-fans out there, remember you can also bake with other kinds of tea:
Matcha green tea crêpes with sesame pastry cream
These matcha tea crêpes are great with whipped cream, but they are even better with this black sesame pastry cream and mashed raspberries
Ingredients
Pastry cream
500

mL

(

2

cups

)

milk (2 % fat)

100

g

(

½

cup

)

granulated sugar

30

mL

(

2

tbsp

)

black sesame seeds

45

mL

(

3

tbsp

)

all purpose flour

15

mL

(

1

tbsp

)

cornstarch

2

large eggs

1.25

mL

(

¼

tsp

) pure vanilla extract
Matcha crêpes
250

mL

(

1

cup

)

milk (2 % fat)

1 cup

250

mL

(

1

cup

)

water

1 cup

30

mL

(

2

tbsp

) matcha green tea powder

50

grams

(

¼

cup

)

granulated sugar

4

large eggs

125

grams

(

1

cups

)

all-purpose flour

1 cup

unsalted butter

for frying the crêpes

375

grams

(

¾

lb

)

Fresh raspberries

for serving
Instructions
For the black sesame pastry cream
Whisk together the milk with the sesame seeds and half the sugar over medium-high heat.

Meanwhile in a separate bowl, whisk together the eggs with the rest of the sugar, then add the flour and cornstarch and whisk to combine and get rid of the lumps.

When the milk is steamy and hot, pour it over the egg mixture, and whisk to temper the eggs. Pour everything into the saucepan.

Heat the sesame pastry cream, whisking constantly, until it boils then boil for 1 minute.

Remove the mixture from heat, transfer to a bowl and cover with plastic wrap directly in contact with the pastry cream. Cool completely in the fridge.

Whisk in the vanilla just before serving.
For the matcha crêpes
Using a hand blender, combine the milk, water, sugar, matcha and eggs. When everything is well blended, add the flour and blend to combine. Cover and refrigerate the crêpe batter for 30 minutes or overnight.

Fry up the crêpes in a nonstick skillet (7 to 8 inch diameter pan will yield 18 to 20 crêpes) with butter.

Serve the crêpes with the pastry cream and fresh raspberries.
Notes
For this recipe, I used Kiss Me Organics matcha powder
To cool the pastry cream faster, pour it on a sheet pan lined with plastic wrap and spread it out thin. Top with another layer of plastic wrap to minimize air exposure, and chill in the fridge. Spread out as a thin layer (as opposed to in a bowl), the custard will cool faster.
Alternatively, you can place the bowl of pastry cream over an ice bath and whisk the custard to chill it quickly.
Nutrition
Calories:
170
kcal
|
Carbohydrates:
26
g
|
Protein:
7
g
|
Fat:
5
g
|
Saturated Fat:
2
g
|
Cholesterol:
70
mg
|
Sodium:
48
mg
|
Potassium:
150
mg
|
Fiber:
2
g
|
Sugar:
14
g
|
Vitamin A:
284
IU
|
Vitamin C:
7
mg
|
Calcium:
93
mg
|
Iron:
2
mg
NOW FOR THE BEST PART | THE GIVEAWAY! Please note this giveaway is now closed. Thanks for visiting!
To win a bag of matcha green tea from Kiss Me Organics, simply leave me a comment below, telling me what recipe you'd like to make with it. For a bonus entry, pin an image from this post and leave me another comment with the link to the pin. Entries must be posted by Sunday, September 21st, 2014 at 11:59 PM EST and one winner will be chosen at random*.
*Sorry, limited to US and Canadian residents only. No purchase necessary. Winner will be chosen randomly via random.org, and then contacted by email after the contest ends.
If you don't win, you can always easily purchase this matcha green tea online (Amazon). It's good stuff, so check it out!
This recipe post is sponsored by Kiss Me Organics. Thanks for supporting the sponsors that allow me to create new recipes for Kitchen Heals Soul.