My goal: to empty out as much of the fridge, freezer, and pantry before I move to Ottawa.
My reason: even with all my gym efforts, I am still a weakling and I have zero desire to lug quasi-finished bags of oats, graham cracker crumbs, potato chips, and frozen pierogies! The frozen pierogies are easily eaten in seconds with the last of the sour cream for lunch. For all the other pantry odds and ends, it's a little more complicated.
One of my solutions: Momofuku Milk Bar compost cookies.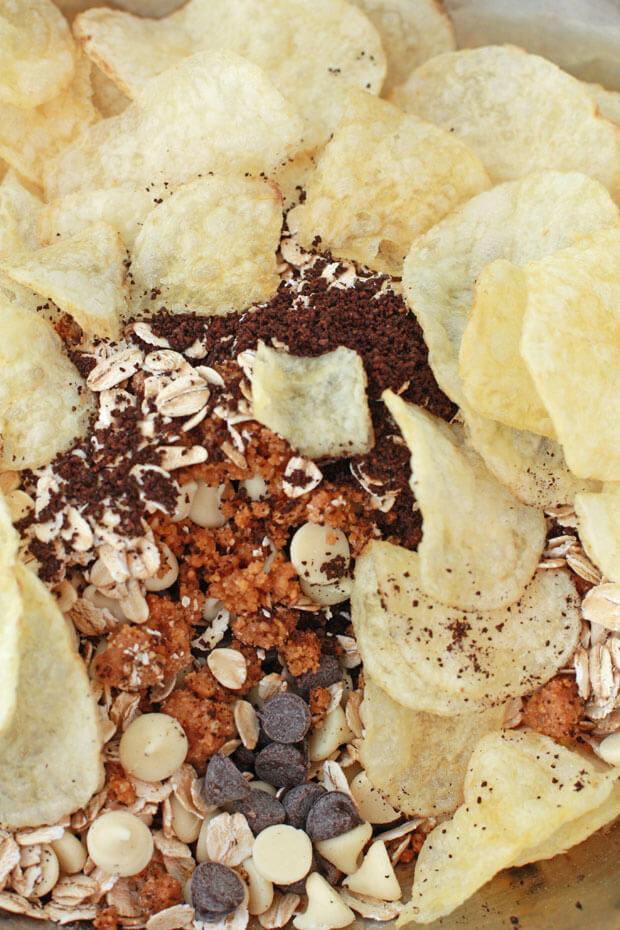 The pantry odds and ends that I stuffed into this recipe include semi-sweet chocolate chips, white chocolate chips, oats, graham cracker crumbs (turned into Tosi's graham cracker crust recipe, as instructed) and potato chips. I had purchased the potato chips on a whim awhile back because they tasted good to me in the store. I rarely eat potato chips, and I never buy potato chips. That day, I left the store with two bags. I'm not sure what I was thinking, and I've been staring at the bags in my cupboard for months.
I think the best part of this recipe is the cookie dough itself. Obviously, we all love traditional unbaked chocolate chip cookie dough, but this one is even better. I don't know if it's the graham cracker crust, or the potato chips. I was really surprised that the coffee grinds added so much flavor to this recipe and for a moment, I contemplated turning off my phone and settling down on the couch with the Kitchenaid mixer bowl of cookie dough in my lap, spoon in hand.
If and when you get around to baking the chilled cookie dough, you will end up with crispy-edged jumbo cookies with the perfect balance of salty and sweet. The coffee grinds add a certain moka flavor to them, but I find every bite of cookie is a wonderful surprise.
If you love to eat chocolate chip cookies, make these cookies, and buy the book they came from. Seriously. This recipe is adapted from the recipe in Tosi's book, with changes to the compost add-ins, among other things. If you are a fan of Momofuku Milk Bar, then try making the Momofuku Milk Bar birthday cake, the Milk Bar birthday cake truffles, and this blackberry almond cake too!