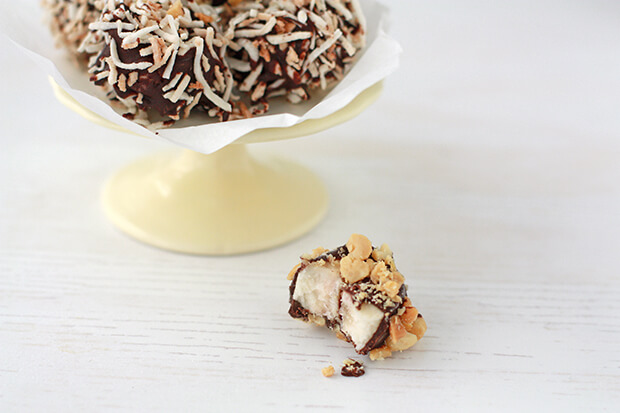 I love everything about Arrested Development. EVERYTHING (well, except when Buster loses his hand because that was freaky). I am, of course, head-over-heals in love with Michael Bluth (played by Jason Bateman). He's so dreamy. If you don't know the show, you should watch this. I actually met David Cross (Tobias Fünke, the never-nude on Arrested Development) at a party once, a few years ago. It was at the book launch for The Art of Living According to Joe Beef: A Cookbook of Sorts. Go figure, David Cross was surprisingly normal in real life, and I was the freak at the party who asked him to sign my cookbook, which has nothing to do with the character he plays or the television show. He looked confused but I had nothing else that he could sign, so what else could I have done?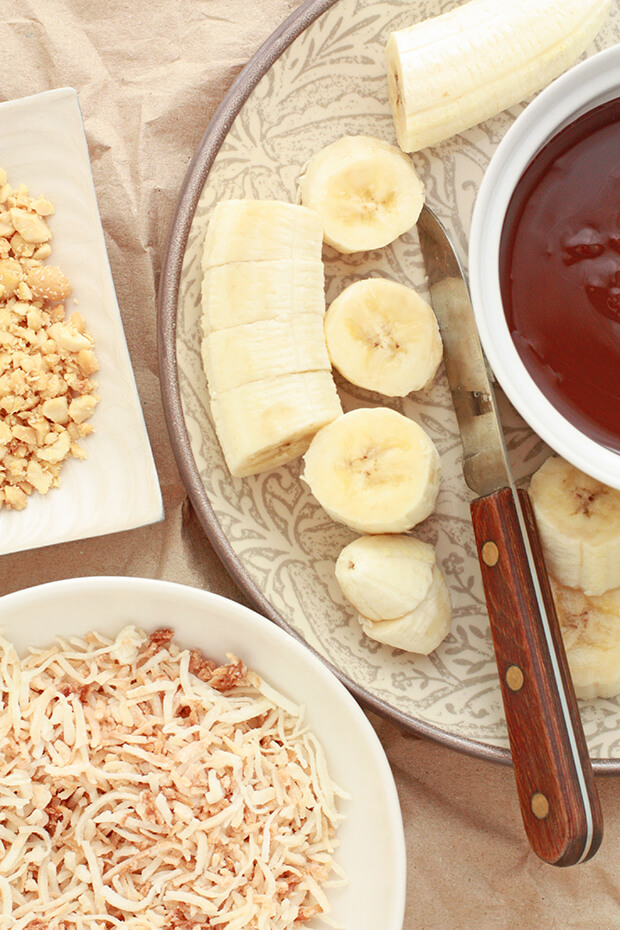 One of my favorite Arrested Development episodes is actually the second episode all about the "Bluth's Original Frozen Banana" stand. I think this was the episode that got me hooked with George's love affair with ice cream sandwiches in prison, Tobias crying in the shower, and "There's always money in the banana stand!". So to celebrate the start of Season 4, I made a take on Bluth's frozen bananas.
I opted to make them bite-sized (which means more chocolate and toppings with each bite). You can spear each banana bite with a popsicle stick, but I lacked the freezer space for this. These are super quick and easy to make, and absolutely delicious. You can make a bunch and store them in the freezer for when you want to serve them. Just let them warm up at room temperature for about 10 minutes before enjoying. For another super healthy frozen treat, try these frozen watermelon pops.
Chocolate-dipped frozen bananas
My take on Bluth's frozen bananas: pieces of banana dipped in melted dark chocolate and then toasted coconut or salted peanuts. This makes an easy healthy snack
Ingredients
1

cup

roasted salted peanuts

chopped

170

grams

semi-sweet chocolate

1

tbsp

canola oil

4

small bananas

sliced into ½-inch pieces
Instructions
Line a rimmed sheet with parchment.

In a dry skillet, toast the shredded coconut on medium heat, stirring constantly. Transfer to a shallow dish to cool.

Place the chopped peanuts in another shallow dish.

Melt the chocolate in a microwave save dish and then stir in the oil. Let the melted chocolate cool a little to thicken the chocolate (makes it easier for the chocolate to adhere to the banana if the chocolate mixture has thickened a little).

Using a popsicle stick (or a fondue fork), dip each banana slice into the chocolate then roll each around in the peanuts or coconut to coat it. Place the coated banana bites on the parchment-lined sheet to cool and set the chocolate.

When all the banana pieces are coated, place the sheet pan in the freezer and freeze for about 2 hours before serving.

Let the pieces warm up slightly at room temperature before eating to thaw the banana pieces.

Store in a container in the freezer.
Notes
For the chocolate, I used Cacao Barry Méxique chocolate which you can order from Vanilla Foods Company
Nutrition