Want to make Greek yogurt pancakes? Click here to find my Oikos Super Grains Greek yogurt pancakes recipe, sponsored by Oikos.
As an Amazon Associate I earn from qualifying purchases.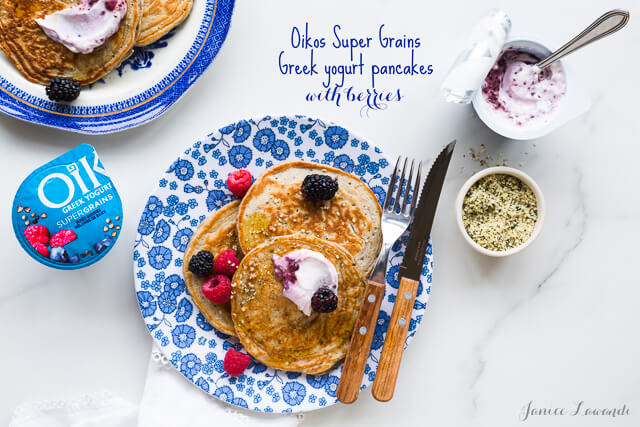 If you follow me on Instagram, you probably know that I have a love-hate relationship with pancakes. I love to eat pancakes, that's for sure. Unfortunately, I'm not very good at making them. There have been a few Instagram posts in the not-so-distant past that featured quasi-burned pancakes. I once even announced that I needed to find a man to make me pancakes because I was failing at making them for myself (was only slightly joking: if you know a guy that can make me pancakes, send him my way!). I declared I had "mastered" the art of burning pancakes, like it was some skill that could be honed and developed over time. Well, today, my friends, I am here to tell you that after years and years of burning pancakes and feeling downright stupid, I can officially make, cook, and flip pancakes without burning them. Years of complaining about and failing at pancake-making have paid off! Of course, it could be that I finally understand my stove because I now know that I need to set my burner to heat at 2 if I want to make perfectly golden brown pancakes, not 6. Go figure, now that I "get" my stove, I'm moving in 5 months, so I predict that come September, I'll be back to burning pancakes on my new stove for the next five or so years. Oh well. Over the years, I've also become a pro at eating burnt pancakes, so I will survive!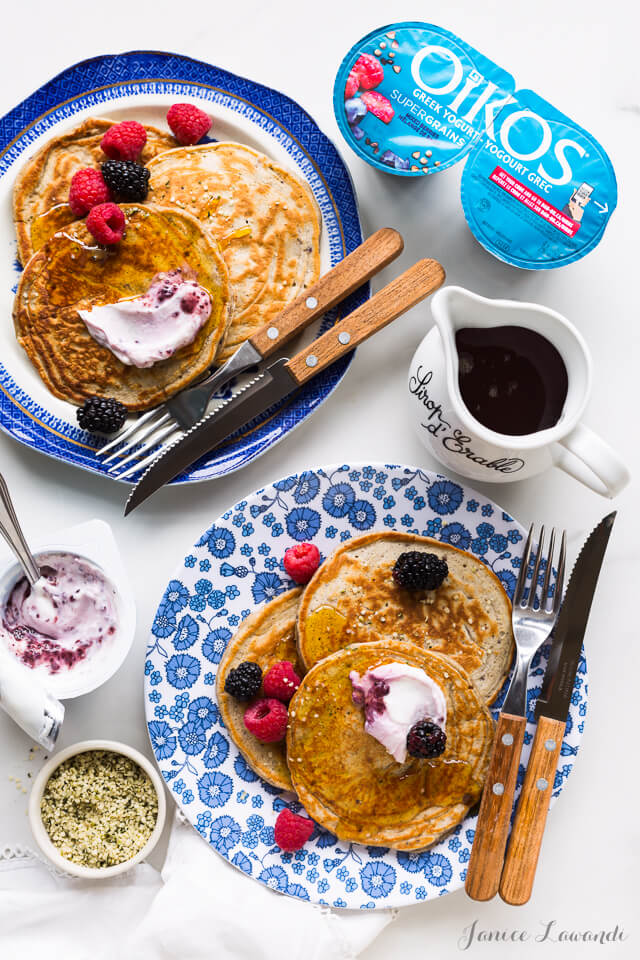 Just like you can make pancakes with buttermilk for breakfast, you can also make pancakes with Greek yogurt. I made these Greek yogurt pancakes with the new Oikos Super Grains Greek Yogurt Mixed Berries + Grains. The thing I love about these new yogurts is that they are not overly sweet like some other products I've tried. So the Oikos Super Grains Greek Yogurt line works well in recipes that you want to add yogurt to (or flavoured yogurt) without adding too much sugar. Plus, when it comes to Greek yogurt pancakes, or any pancakes for that matter, half the fun is being able to smother them in maple syrup, which you couldn't do if the pancakes were overly sweet. These Greek yogurt pancakes are a little higher in protein than the typical pancake because they are made with Oikos Greek yogurt and with more egg than most pancake recipes. This makes them more filling and, dare I say, healthier. I also used some buckwheat flour in the mix because I love the flavour of buckwheat and because one of the grains in the Oikos Super Grains line is buckwheat. It just makes sense! Try them and let me know how you like them in the comments below! For more pancake inspiration, check out my other recipes for pancakes and crêpes, like these multigrain waffles topped with roasted rhubarb and these spiced buttermilk pancakes topped with apple maple syrup.

Greek yogurt pancakes recipe
Oikos Super Grains Greek Yogurt pancakes with berries
An easy recipe for Greek yogurt pancakes. These pancakes are higher in protein that normal pancakes.
Ingredients
31

grams

buckwheat flour

1/4 cup

94

grams

all-purpose flour

3/4 cup

3/4

tsp

baking powder

1/4

tsp

baking soda

1

pinch

fine kosher salt

2

large eggs

63

mL

water

1/4 cup

200

grams

Oikos Super Grains Greek Yogurt Mixed Berries + Grains

2/3 cup

unsalted butter

to cook pancakes
To serve
pure maple syrup

Oikos Super Grains Greek Yogurt Mixed Berries + Grains

Fresh berries

I like raspberries best

Manitoba Harvest hemp hearts
Instructions
In a large bowl, whisk together the flours, baking powder, baking soda, and a pinch of salt.

Pour the whisked wet ingredients over the dry ingredients and whisk to form a smooth, fairly thick batter.

Preheat a large non-stick stillet over medium–low heat (I set my stove to heat at level 2, which is quite low). Let the pan heat up for several minutes.

When the skillet is preheated, drop in a little knob of butter and swirl it around to melt over the entire surface of the skillet.

Drop 1/4 cup amounts of batter and smear with a spoon to form 4-inch pancakes. Cook unttil golden and set on the bottom, then flip and cook the other side until golden.

Serve pancakes with maple syrup, more yogurt, berries, and hemp hearts.
Notes
You can check that the pancakes are done by poking the centre with a cake tester. It should come out clean.
You can also press the top of the pancake when you think the pancake is cooked, it should bounce back and feel soft but spongy.
If you are looking for Manitoba Hemp Hearts, you can find them on Amazon
Nutrition
This post is sponsored by Oikos for their #escapemoment campaign. I was compensated monetarily and with product coupons. Thanks for supporting the companies that allow me to create content for Kitchen Heals Soul. As always, please know that I wouldn't work with a sponsor nor recommend a product if it wasn't worth it.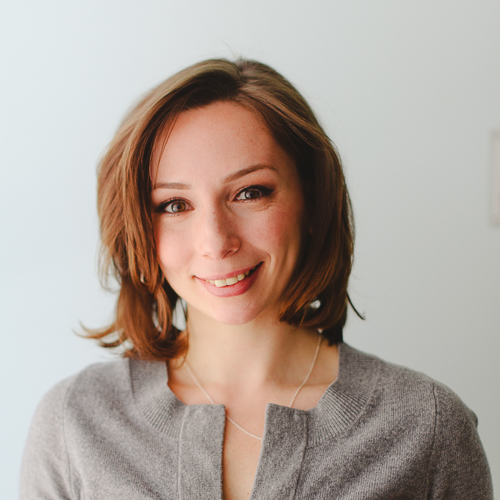 Janice Lawandi is chemist-turned-baker, working as a recipe developer in Montreal, Quebec, Canada. She studied pastry at Le Cordon Bleu in Ottawa and cooking at l'Académie Culinaire. She has a BSc in Biochemistry from Concordia University and a PhD in Chemistry from McGill University. Visit janicelawandi.com to see my portfolio.