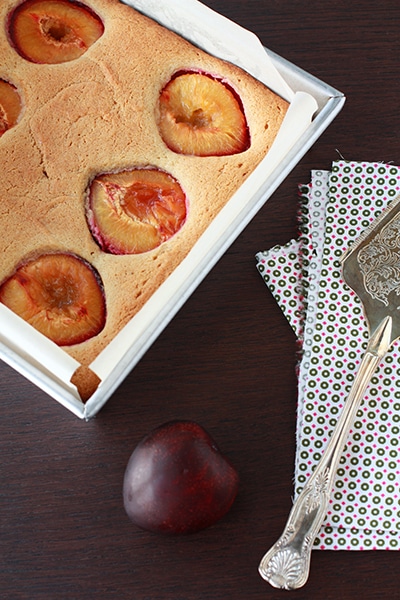 Plums were possibly my least favorite fruit growing up. I think it might have been the sometimes-mushy texture of the flesh and the tart, sour crisp skins that bothered me. Plums were just not my fruit. I think my brother loved them, but I could never understand why.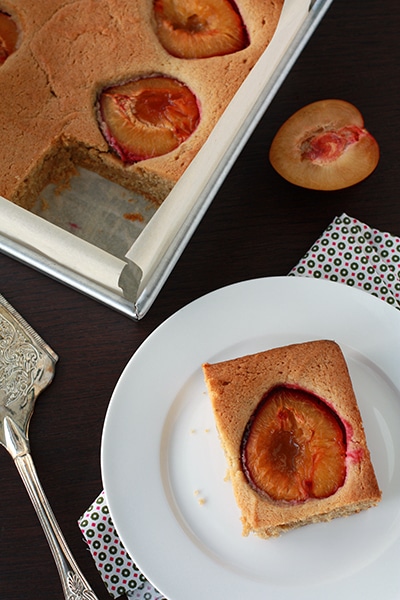 Now, I love plums. I love the crisp, tangy skin that is a welcome contrast to the soft, uber-sweet flesh of the fruit. Their flavor is perfectly balanced, slightly floral even, and I can't get enough of them.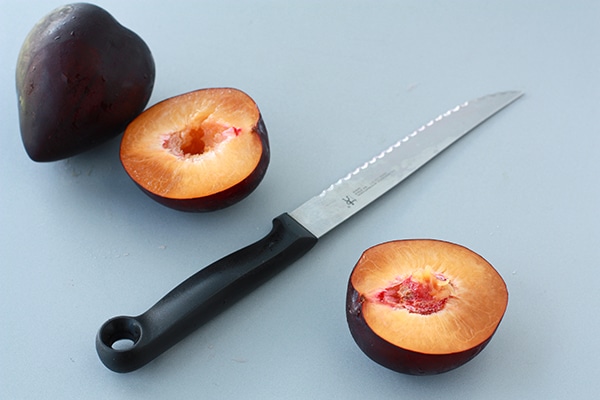 I love to make these plum muffins, and one day I hope to make this plum almond cake. I thought about making a plum crumble since I've never had a plum crumble. In the end, I was craving a spice cake.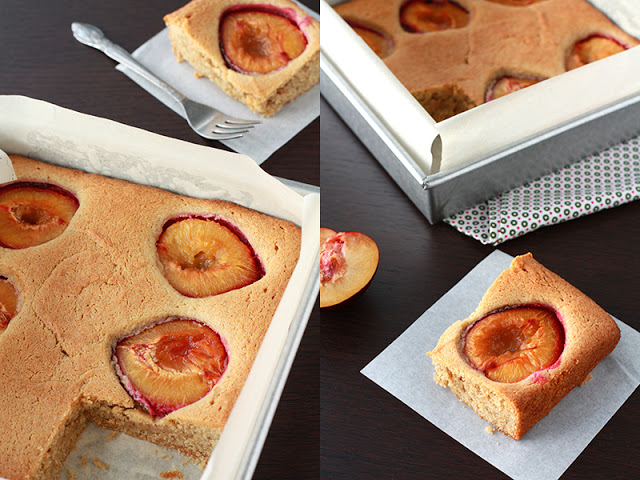 I started with Dorie Greenspan's recipe for a dimply plum cake from Baking: From My Home to Yours
(page 41) because I love the way the cake features the plum halves, like they are on display. Dorie uses cardamom in her recipe, but I felt like more spice, but not just the usual cinnamon and nutmeg combination. Instead, I opted for anise seed for its licorice flavor, and allspice because it reminds me of cinnamon, nutmeg, and cloves combined.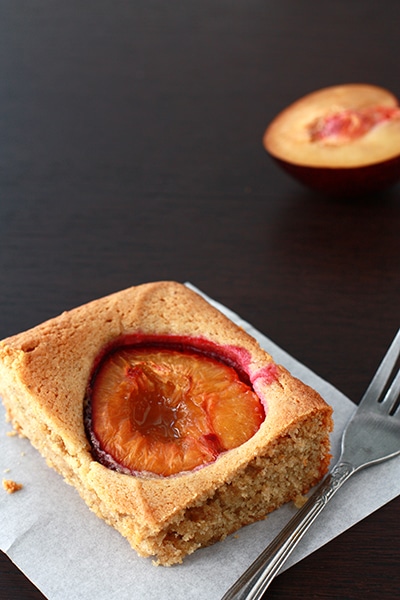 This is a fantastic cake for spotlighting perfectly ripe plums. The cake is light and full of flavor. The sweet caramel flavor from the brown sugar is the perfect complement to the tart plum skins. And, though the oil in the cake batter may seem a little unusual, I think it actually yields a moister crumb than an all-butter cake.
Plum spice cake
This plum cake has a lovely, light texture and is flavored with cardamom, anise, ginger, and allspice which is a great spice cake to go with plums.
Ingredients
1 1/2

cups

all-purpose flour

230 grams

2

tsp

baking soda

1/4

tsp

fine kosher salt

2/3

tsp

ground allspice

1

tsp

ground anise seed

1/8

tsp

ground cardamom

1/2

tsp

ground ginger

5

tbsp

unsalted butter

71 grams, room temperature

3/4

cup

light brown sugar

150 grams, packed

2

large eggs

room temperature

1 1/2

tsp

pure vanilla extract

1/3

cup

canola oil

80 mL

3

–5 plums

halved and pit removed
Instructions
Preheat the oven to 350°F. Lightly grease and line with parchment paper a 9-inch square baking pan. Set aside.

In a medium bowl, whisk together the flour, baking powder, salt, and all the spices. Set aside.

In another medium bowl, cream together the butter and the brown sugar with a wooden spoon for 2 minutes.

Add the eggs, one at a time, beating well between each addition. Add the vanilla and mix well.

Add the oil, and mix well. The batter will be glossy and silky at this point.

Add the flour, and stir slowly to combine, making sure that the flour is completely incorporated.

Spread the batter in the prepared pan and smooth the top. Place the plum halves, cut side up, and pressing them slightly into place in to batter.

Bake for 40 to 45 minutes, until the edges are golden brown, and a cake tester comes out clean when inserted in the cake.

Remove the pan from the oven, and let cool on a wire rack, cut into squares (using the plums as a guide) and serve warm or at room temperature.
Nutrition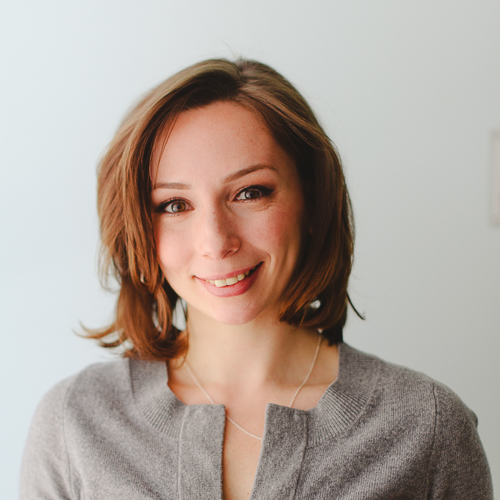 Janice Lawandi is chemist-turned-baker, working as a recipe developer in Montreal, Quebec, Canada. She studied pastry at Le Cordon Bleu in Ottawa and cooking at l'Académie Culinaire. She has a BSc in Biochemistry from Concordia University and a PhD in Chemistry from McGill University. Visit janicelawandi.com to see my portfolio.