This spiced pumpkin loaf cake is an easy pumpkin recipe to make with canned pumpkin, flavoured with cinnamon, nutmeg, ginger, and cloves, yielding a perfect moist pumpkin bread for fall baking. This pumpkin bread is made with canola oil but you can use butter. Feel free to add dried cranberries for a pumpkin cranberry bread.
As an Amazon Associate I earn from qualifying purchases.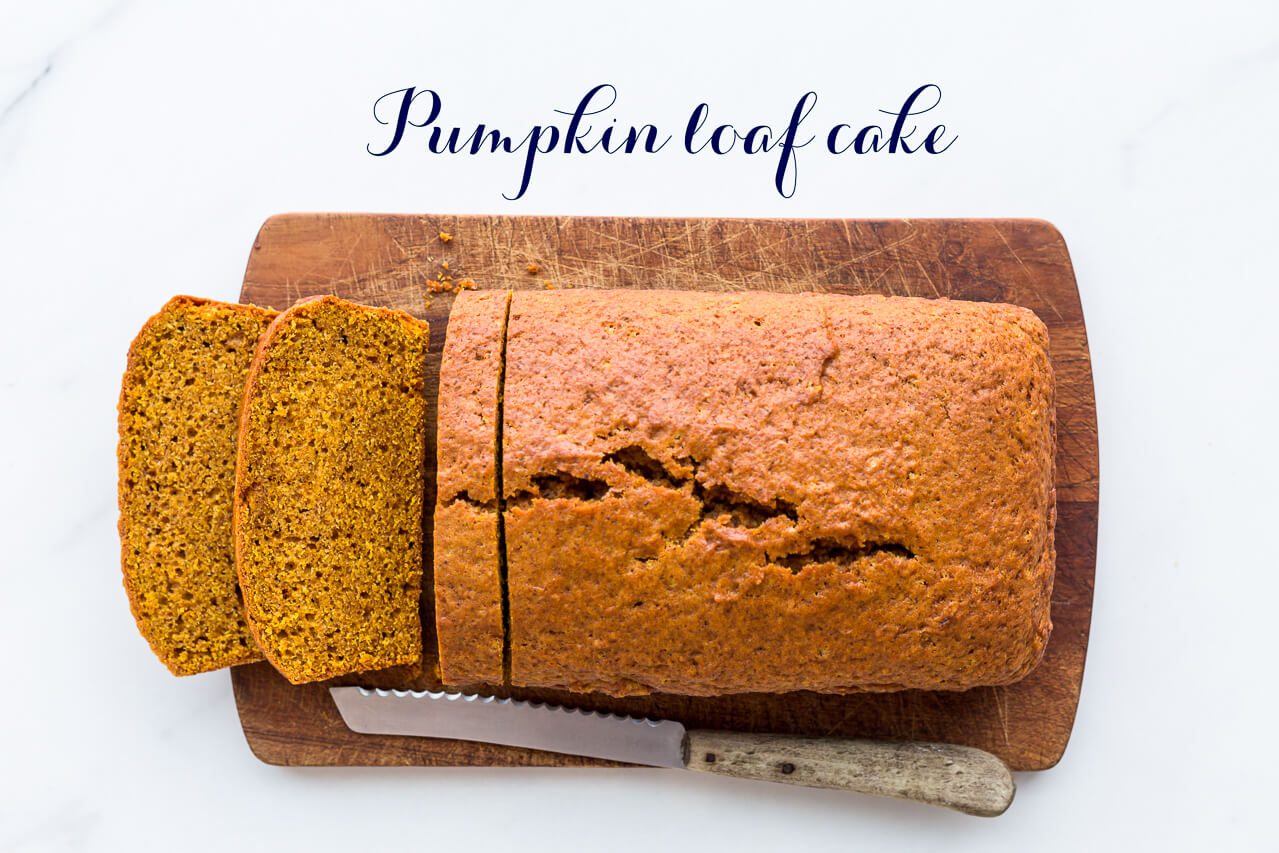 The first time I wrote about a pumpkin bread was in 2010 when I tried to improve an existing recipe for pumpkin cranberry bread that didn't work for me. I came to a reasonable conclusion and felt confident with the final recipe I published. Years later, I decided to revisit that recipe, take better photos, improve the writing of the post, but I found myself back in the same place where I started: with a seemingly unreliable recipe and an obsession with pumpkin cake recipes that verges on insanity. Having baked loaf after loaf in the span of days, I came to a few conclusions this week that you might find helpful.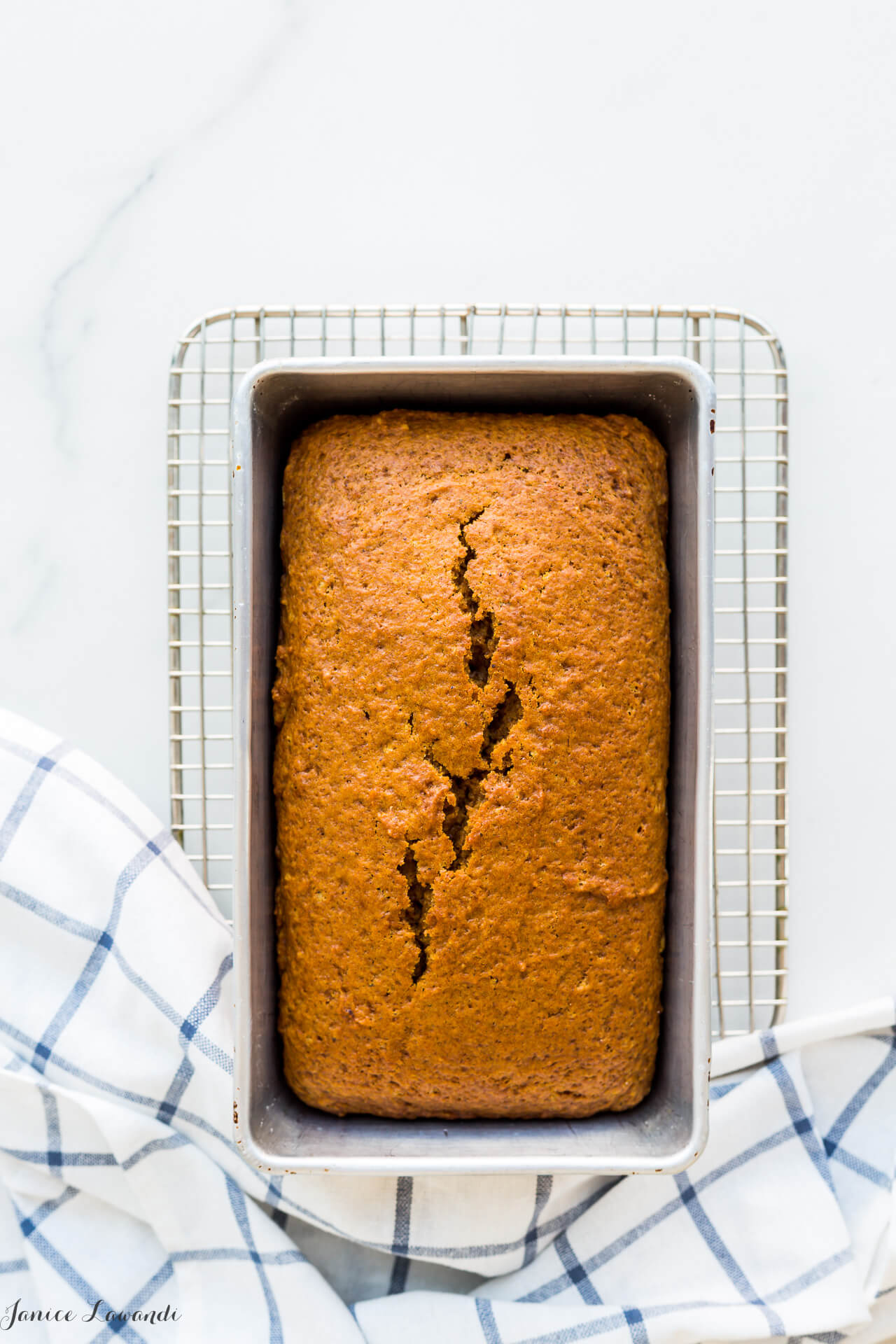 Pumpkin purée can be very watery
I really didn't want to have to tell you to pull out the cheesecloth and strainer, but I think you *may* have to. Depending on the brand of canned pumpkin or the type of pumpkin or squash you baked to make your purée, the pumpkin purée you have *may* be watery, so strain it through a cheesecloth to remove as much water as possible. Do this for at least 30 minutes, and give it the occasional squeeze, stir, press to make sure you are evenly removing water from all the purée and just not a part. This is especially important if you are baking with homemade pumpkin purée.
Now, it's true, that most canned pumpkin is dry enough, but then this week, I bought a different brand and I realized what I had was thin almost like apple sauce and that if I strained it, I found that over a third of the volume was water. Strain your pumpkin. If no water comes out, great! If tons of water comes out, then this wasn't a total waste of your time.
This is the same technique I use with defrosted bananas when I'm making a basic banana bread, otherwise it might end up gummy on the bottom. Same goes for pumpkin.
Realistically, any type of squash or pumpkin purée will work in this recipe. Mashed sweet potato will also work. Just make sure to stick to the quantities of each ingredient listed and measure carefully.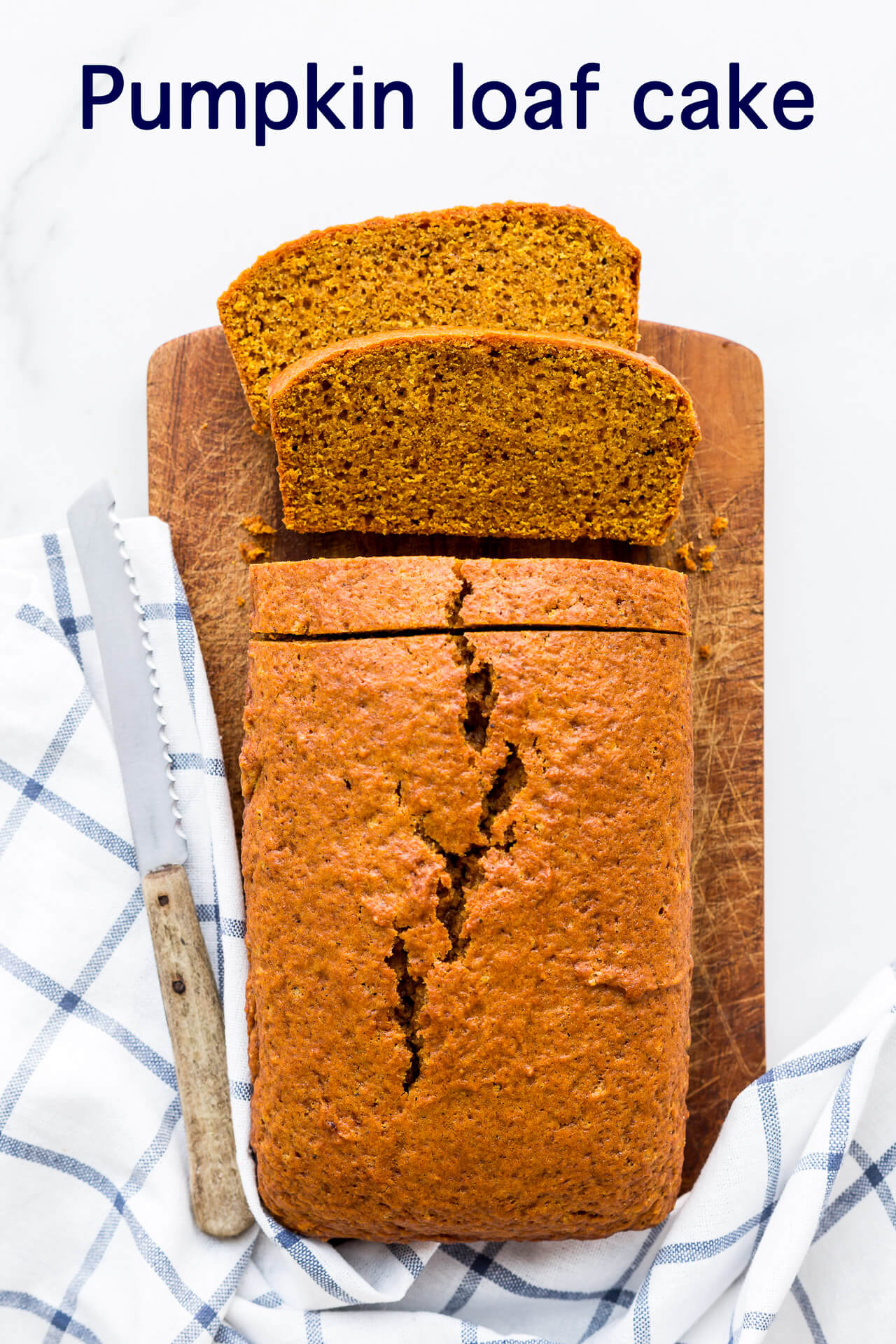 Buttermilk makes for a tender pumpkin cake but…
Because I had a water issue with my recipe, in the final version, I strained the pumpkin and I didn't add any extra liquid to the cake batter. This meant, I omitted that buttermilk from the original recipe which lead to a slightly less tender cake, especially in the crust. For a more tender batter, you could get away with adding up to 60 mL (1/4 cup) of buttermilk, yogurt, or sour cream. The acidity of these ingredients helps to weaken the gluten network, which in turn leads to a more tender product.
The resulting loaf cake will be a little softer if you add in an acidic ingredient like buttermilk. If you do this, your cake may take more than 1 hour 15 minutes to bake. Be patient: more liquid means more time to evaporate/dry the crumb of the cake. I don't recommend adding more than 1/4 cup of liquid to this recipe. If you do, you may end up with a gummy unbaked layer at the bottom of the loaf. Some people are okay with that, but to me, that is unacceptable. I'd rather compromise a little on tenderness than have an underbaked/collapsed gummy layer on the bottom of my cakes. Also, if you are planning on adding frozen cranberries, I don't think you should add buttermilk because the cranberries will contribute some extra moisture to the cake as it bakes.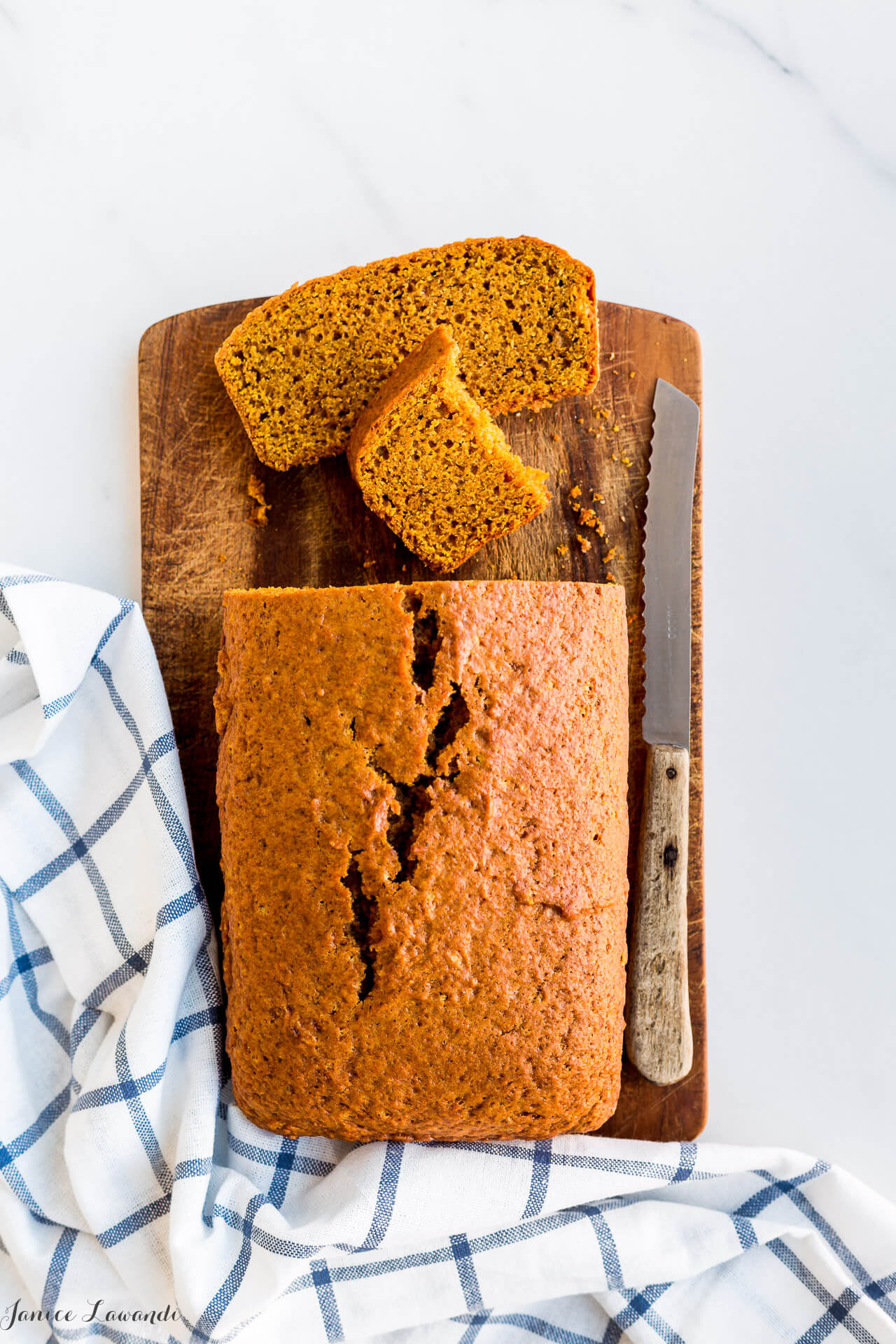 Mixing cake batter: creaming method vs muffin method
I have tested both the traditional creaming method for making this loaf cake and the muffin method, and both work great:
If you want to use softened butter (room temperature butter), then go for the creaming method, whereby you beat together butter and sugar, add eggs one at at a time, then alternate wet and dry ingredients to form a smooth, fluffy cake batter. You could use either a stand mixer or an electric hand mixer.
If you want to use melted butter or oil, use the muffin mixing method, which only requires two bowls (one for the wet ingredients and one for the dry ingredients), as well as a whisk and a spatula. It's easy and the cleanup is minimal and I think the results in this case are just as good as with the creaming method.
The pumpkin bread recipe below has canola oil instead of butter. If you want to make a baking substitution and use butter but you don't feel like hauling out the mixer to cream the butter and the sugar, stick to the muffin method of mixing! Use melted butter, or a mixture of melted butter and oil. It will work. If you are highly motivated, you can use room temperature butter and revert back to the traditional creaming method. All roads lead to cake but I will let you choose your own adventure.
The final recipe for pumpkin loaf cake is great and I know the recipe by heart because I've tweaked this recipe so many times. And if you want to add cranberries, stick to dried cranberries, otherwise with fresh or frozen cranberries, you will get some gumminess around the baked fruit, which I find unpleasant. And if you want an eggless version, try this healthier pumpkin bread. It's dairy-free and vegan pumpkin bread, made with a little less sugar too.
Pumpkin loaf cake
This pumpkin bread has a great texture: moist on the inside with a great crust. It slices well and isn't overly delicate. This recipe works with canola oil or melted butter. You can also add frozen cranberries (tossed in a spoonful of flour to coat them) for a fantastic pumpkin cranberry bread.
Ingredients
250

grams

(

2

cups

)

all-purpose flour

200

grams

(

1

cup

)

granulated sugar

1

tsp

(

1

tsp

)

baking powder

2

tsp

(

2

tsp

)

ground cinnamon

1/2

tsp

(

1/2

tsp

) Diamond Crystal fine kosher salt

1/2

tsp

(

1/2

tsp

)

ground cloves

1

tsp

(

1

tsp

)

ground ginger

1/2

tsp

(

1/2

tsp

)

ground nutmeg

1/4

tsp

(

1/4

tsp

)

baking soda

225

grams

(

1

cup

) pumpkin purée

make sure to strain it before measuring

170

grams

(

¾

cup

)

unsalted butter

melted

2

(

2

)

large eggs

1

tsp

(

1

tsp

) pure vanilla extract
Pumpkin cranberry bread variation (optional)
100

grams

(

1

cup

)

frozen cranberries

tossed in 1 tbsp of flour and strained
Instructions
In a large bowl, whisk together the flour, baking powder, cinnamon, salt, nutmeg, cloves, and baking soda. Set aside.

In a separate bowl, whisk together the pumpkin purée, eggs, and vanilla.

Pour the wet mixture over the dry ingredients. Fold the ingredients with about 16-20 stirs just to combine them. Don't over mix! Fold in the cooled melted butter, and then fold in the floured frozen cranberries just before you are done mixing, if using. 

Pour the batter into the prepared pan and smooth it out. Bang the pan on the counter to help remove any air pockets.

Bake the pumpkin cake until a cake tester inserted into the centre comes out clean. This takes about 1 hour to 1 hour 15 minutes for the plain pumpkin bread but may take 1 hour 30 minutes if you added frozen cranberries. Keep checking it every so often.

Place the pan of baked pumpkin bread on a cooling rack and let it cool for 15 minutes before unmolding it on the rack to cool completely.
Notes
Most canned pumpkin purées are pretty dry, but some are watery. To be sure you aren't adding excess liquid to this pumpkin cake recipe, strain the pumpkin before measuring it. To do so:

Set a strainer over a deep bowl and line it with a couple layers of cheesecloth.
Place the pumpkin in the lined strainer and let drain for at least 30 minutes.
Occasionally, give the pumpkin a stir, a press, or a squeeze to help remove any excess liquid.
Once the pumpkin is thicker and less watery, you are ready to measure out the cup for this recipe.

If you are using defrosted pumpkin purée, you may notice the water will separate upon defrosting. Again, this is a good reason to strain it before using.
Nutrition
Troubleshooting pumpkin bread recipes
It's dry
It's unlikely this recipe will yield a dry cake, even if you over-bake it a little (in an attempt to avoid the dreaded soggy bottom!). If your cake is dry, it's possible you may have mis-measured the oil or the pumpkin purée. Even if you forgot the eggs, the recipe would still work since it's actually almost exactly the same as this eggless healthier pumpkin bread!
A dry cake texture could also indicate that you overworked the cake batter by stirring it too much. This would develop the gluten network leading to a dryer texture. Stir just until the wet and dry ingredients are combined, and don't keep stirring.
It's too delicate
This pumpkin cranberry loaf cake is not dense, and it is very tender, so make sure to cut it into thick slices! Still, if you find your cake is falling apart when you go to serve it, this means there's a problem. Did you mix your ingredients together properly and enough?
Of course, you don't want to over-mix cake batters and you don't want to develop the gluten network too much, but if you haven't properly whisked together your dry ingredients separately from the wet ingredients, there's a possibility that the batter was uneven and not homogenous, which could lead to weak spots in the cake. In the same way, an over-mixed cake batter may yield a dry cake that may be more prone to crumbling.
Another reason your cake might be falling apart is if you didn't smooth out the batter in the pan and remove air bubbles. This would lead to larger holes in the crumb of the cake, making it more prone to collapsing.
It's wet or gummy on the bottom
With recipes like banana bread and pumpkin bread, the goal is to incorporate as much fruit purée as the batter can handle. Too much will throw off the ratio of wet to dry ingredients. This means you may not have enough flour to absorb that moisture, leading to a gummy bottom on your quick breads.
Similarly, if you don't bake your quick breads for long enough, you may also noticed a line of gummy batter on the bottom of the loaf. Remember to use a few methods to check if your cake is done baking before you remove it from the oven. Otherwise, if the crumb is even a little under-baked, you will notice cake collapse, which is most obvious when you cut into the loaf: you will see a thin line of dark dense cake. That's under-baked moist cake batter that collapsed.
Please note this post contains affiliate links to Amazon. As an Amazon Associate I earn from qualifying purchases. If you buy a product I recommend, I will get a small commission, and the price you have to pay will not change in any way.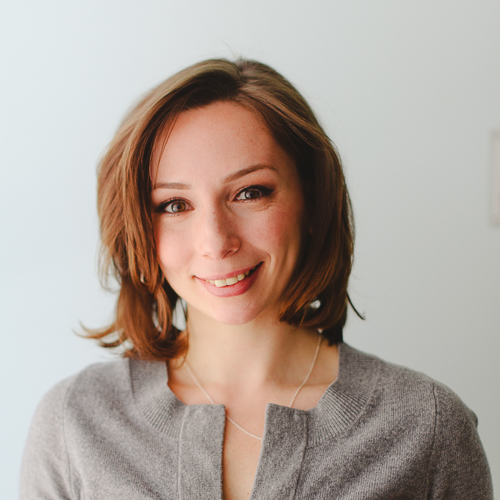 Janice Lawandi is chemist-turned-baker, working as a recipe developer in Montreal, Quebec, Canada. She studied pastry at Le Cordon Bleu in Ottawa and cooking at l'Académie Culinaire. She has a BSc in Biochemistry from Concordia University and a PhD in Chemistry from McGill University. Visit janicelawandi.com to see my portfolio.