Want to make this shake? Click here to find my recipe for these vegan pumpkin pie shakes.
I unofficially declared it pumpkin week when I posted the recipe for the cute little pumpkin tarts. Come November, we Canadians will be reading all about American Thanksgiving, jealously, so I figured why not return the favour and celebrate pumpkin and Canadian Thanksgiving on the blog. Plus, I roasted a whole pumpkin, people! I roasted it, blended it, strained it, and divvied it up neatly among several ice cube trays for easy storage. Okay, it wasn't very difficult, except for the fact that I only have a mini-food processor, so to blend a 3 kilo pumpkin took a while because I had to do it a couple cupfuls at a time, which is a slow process to say the least when you have cups and cups of the stuff. But I digress…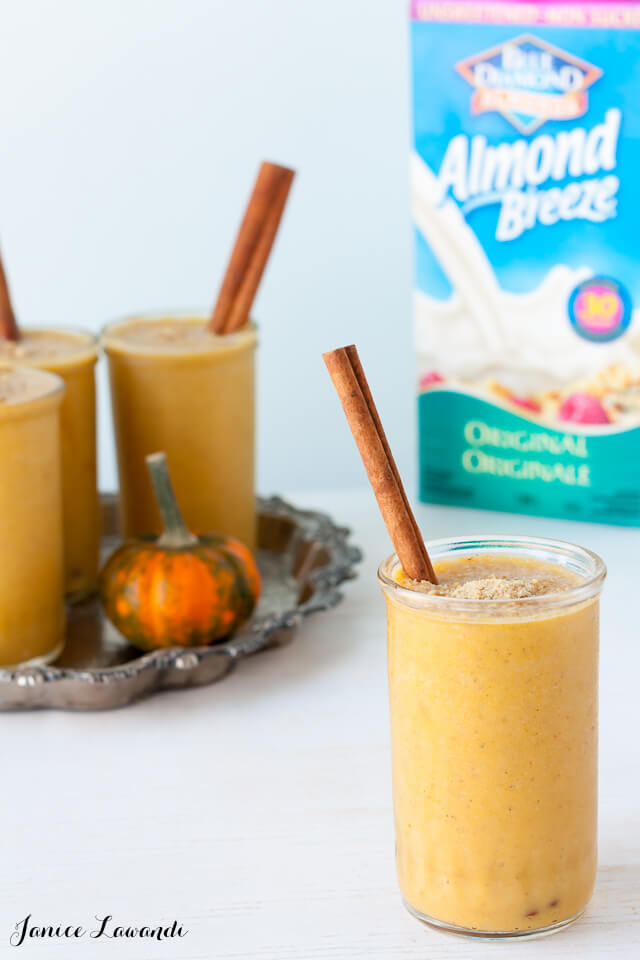 Confession: I don't like the word "smoothie." It irks me, especially most every smoothie recipe I come across is banana-based (ironically, the one smoothie recipe on this blog contains banana, so I just proved my point). Why, oh why does every smoothie recipe have to start with a banana? Is it the potassium? Are we all potassium deficient to the point where all our shakes and smoothies must contain a banana? Maybe I just don't get it. Bananas aside, my shakes always begin with almond milk (and specifically Almond Breeze). I also usually opt for the unsweetened kind (whether plain or vanilla) because I like to control my sweetness. I've been using Almond Breeze since 2009, when I did a crazy gluten-free, sugar-free, processed-food free challenge. Part of the challenge was to explore other "milks", and that's when I latched onto Almond Breeze. I've got to be honest though: I would not drink Almond Breeze straight, BUT to make breakfast porridges, blended in shakes, or even to bake with, it's perfect.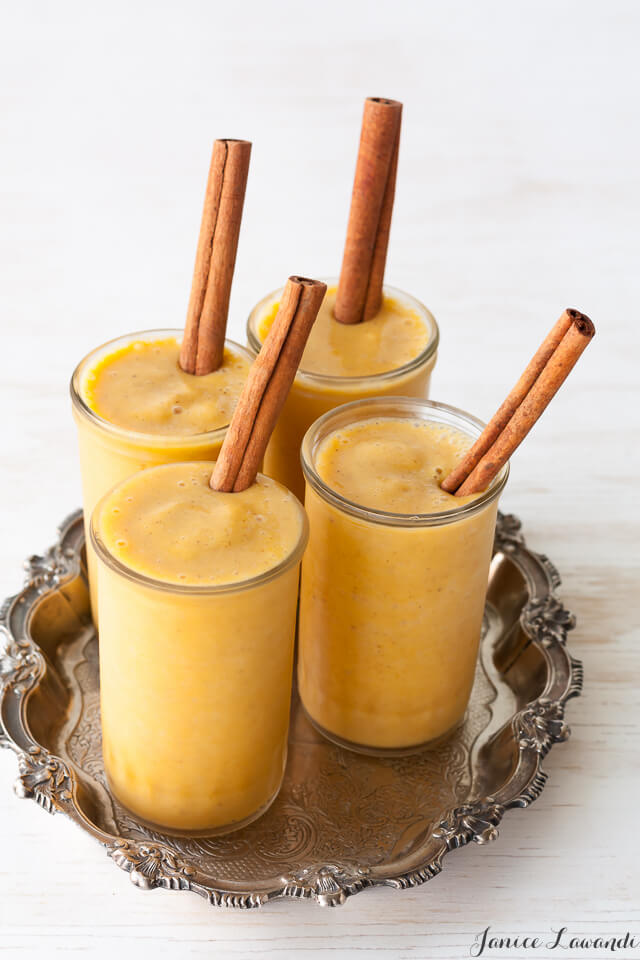 Almond Breeze has added a new line of refrigerated almond milk beverages that come in 1.89 litre packs and start out in the refrigerator aisle (different from the shelf-stable tetra paks). I found this convenient for a recipe like this one because adding room temperature milk to a cold shake kinda doesn't make sense and I never remember to pre-chill my almond milk before opening it because my shake-making is usually unplanned spontaneous.
I am not one for protein powders or adding scoops of anything more than the fruits and veggies I'd eat if I weren't about to blend them. And, as I mentioned earlier, I don't think every single "healthy drink" that comes out of my blender should involve a banana. This is a pumpkin pie shake and it tastes exactly like pumpkin pie: a little sweet, a little spiced, a little creamy. In fact, I based my recipe on the ingredients in the little pumpkin tarts I posted earlier this week. I have consumed blenders-full of this pumpkin pie shake. It's really very good, if I may say so myself. And it's probably healthier than any pumpkin bread, even if that pumpkin bread is made with whole wheat flour. But I'd happily eat and drink them all, obviously.

Vegan pumpkin pie shake recipe
Pumpkin pie shake
This is a pumpkin pie shake that tastes exactly like pumpkin pie: a little sweet, a little spiced, a little creamy.
Ingredients
500

mL

Almond Breeze unsweetened almond milk

2 cups

25

grams

light brown sugar

2–3 tbsp

1

tsp

pure vanilla extract

1

tbsp

pure maple syrup

1/2

tsp

ground cinnamon

1/4

tsp

ground ginger

1/8

tsp

ground nutmeg

1

pinch

ground cloves

250

grams

frozen homemade pumpkin purée

1 cup, about 10 ice cubes worth
Instructions
In a blender, start by blending the almond milk, sugar, maple syrup, and spices.

Add the pumpkin purée and blend until it's the consistency of a thick milkshake.

Divide among glasses. Makes 4 small servings or 2 breakfast portions. You can sprinkle with some freshly grated nutmeg, ground cinnamon, or even graham cracker crumbs.
Nutrition
Almond Breeze sent me samples of their almond milk and financial compensation to develop recipes with their products this month. Thanks for supporting the sponsors that allow me to create new recipes for Kitchen Heals Soul. As always, please know that I wouldn't mention the product if it wasn't worth it. And I really have been using Almond Breeze since 2009.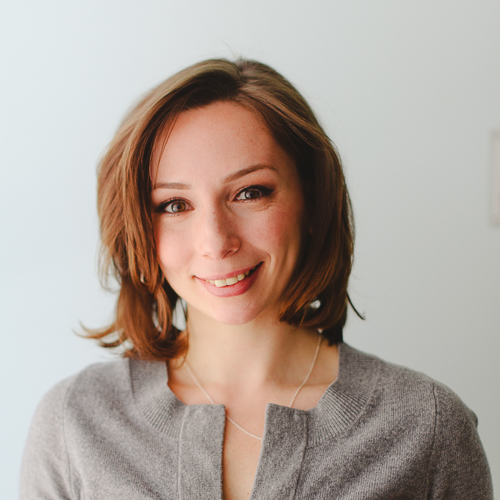 Janice Lawandi is chemist-turned-baker, working as a recipe developer in Montreal, Quebec, Canada. She studied pastry at Le Cordon Bleu in Ottawa and cooking at l'Académie Culinaire. She has a BSc in Biochemistry from Concordia University and a PhD in Chemistry from McGill University. Visit janicelawandi.com to see my portfolio.