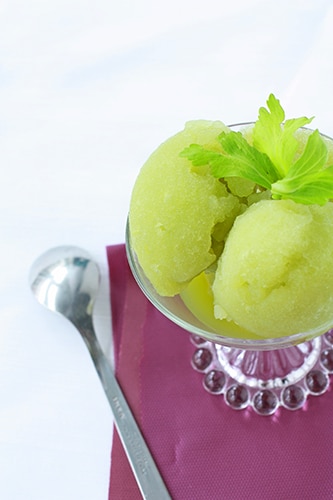 A few months ago, I attended a dinner at Montreal's DNA restaurant, where Elizabeth Falkner was the guest chef (she is the chef at Orson and Citizen Cake). Because we had made the reservations so "late" (and by late, I mean a few months ahead of the date), we could only get a table at 8:30PM. I was worried. I don't do well with late dinners because I end up snacking incessantly beforehand as my dinner-time comes and goes. It's not that I am set on eating dinner at a certain hour, but past 8 o'clock. I'm usually famished. The meal was worth the wait. I feel very lucky to have had the opportunity to try Elizabeth Falkner's creations.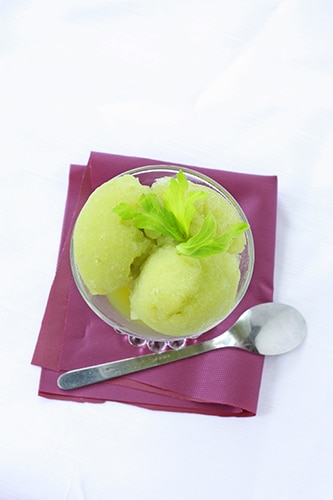 Elizabeth Falkner's menu that night was light and refreshing, which was a good thing, considering the hour we were eating at. Each dish featured a wonderful balance of flavors that I will never forget. We were wowed as of the first course, which featured a memorable sprinkling of this wasabi powder that fizzed on your tongue like pop rocks candy
. Fabulous. She used a few "molecular gastronomy" techniques that were really impressive, but that also demonstrated how thoughtful a chef she is. I actually had the pleasure of meeting her and discussing a few of the courses she had put together on her tasting menu. I quizzed her on the "pop-rocks" effect of the wasabi powder. She truly is a fountain of culinary knowledge, and happy to share a few of her secrets.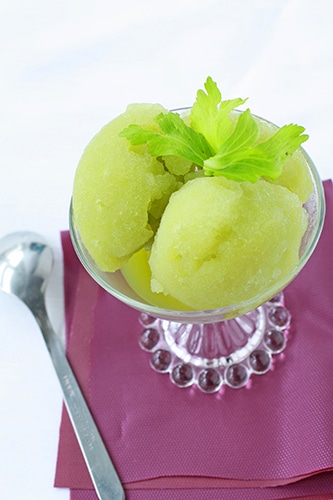 One of the dessert courses included a vibrant green, refreshing celery sorbet. It was fantastic, served with some caramelized apple and blue cheese. That sorbet was my inspiration for this month's baketogether, hosted by Abby Dodge. The recipe is simple, but you need to use an ice cream maker
to freeze the sorbet. If not, you can freeze it in a pan and scrape it into granita with a fork. This recipe would also make great popsicles. This sweet celery sorbet has a hint of lime that is just right. I reduced the sugar in the recipe for fear of overpowering the delicate celery flavor. This sorbet is still sweet though, so don't worry. I think it might be one of my favorite flavors!
Refreshing celery-lime sorbet
Ingredients
¾

cup

water

½

cups

granulated sugar

1

quart

celery

4 cups, roughly chopped

1

tbsp

lime juice

freshly squeezed

1

tsp

lime zest

finely grated
Instructions
Have ready an ice cream maker ( I use an electric <a href="http://www.amazon.com/Krups-Glaciere-1-Quart-Automatic-Cream/dp/B004XZ484W?ie=UTF8&tag=kitch02-20&link_code=btl&camp=213689&creative=392969" rel="nofollow">Krups</a> model, resembling this <a href="http://www.amazon.com/Cuisinart-ICE-21-Frozen-Yogurt-Ice-Sorbet/dp/B003KYSLMW?ie=UTF8&tag=kitch02-20&link_code=btl&camp=213689&creative=392969" rel="nofollow">Cuisinart</a> model with a 1 quart canister that requires pre-freezing for at least 24 hours). Arrange a 5 x 9 inch loaf dish (because it's easier to scoop out of the loaf pan than the Krups canister) in the freezer making sure it is level and secure.

Put the sugar and water into a small saucepan. Cook, stirring, over medium heat until sugar is dissolved. Set aside to cool completely (you can refrigerate this syrup up to 4 days before continuing).

Combine the syrup, celery, lime juice, and lime zest in the blender. Purée the mixture (you may need to pulse to get it going at first) until the celery is finely ground. Transfer the mixture to a container, cover, and refrigerate overnight.

The next morning, strain the mixture through a fine sieve into another bowl. Leave it in the fridge for several hours to extract all the juice. Make sure the juice is well chilled before proceeding.

Pour the chilled mixture into the ice cream maker and process according to manufacturer's instructions. Serve immediately (it will be soft) or scrape into the chilled dish, cover and freeze until firm or up to 2 days.