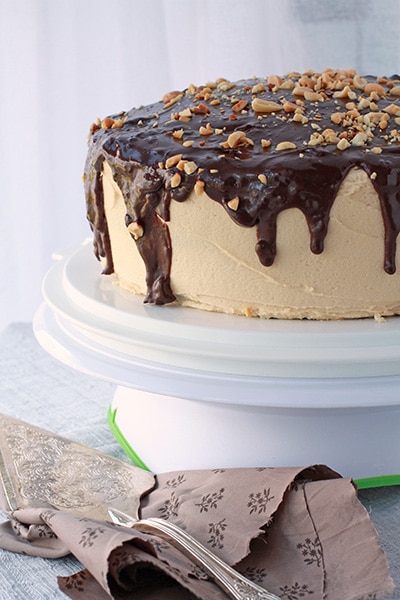 Chocolate peanut butter cake. Recipe courtesy of Smitten Kitchen.
I've loaded my blog with peanut butter recipes over the last month. Some peanut butter recipes came about in sad times, others for big celebrations. Peanut butter is the ultimate comfort food in North America, so I guess it makes sense. It's the one ingredient that conjures memories of happy times and comfort in most of us (even from the simplest peanut butter and jelly sandwich on white bread).
As a kid, I was a huge fan of Kraft peanut butter. It's the peanut butter that comes in the plastic jar, with a green label. There's a teddy bear on that green label. I loved the stuff. Kraft peanut butter was the only peanut butter we ever had in the house, and it was probably the only peanut butter I ever ate. In fact, I'm not sure I ever even tasted peanut butter from any other brand when I was a kid.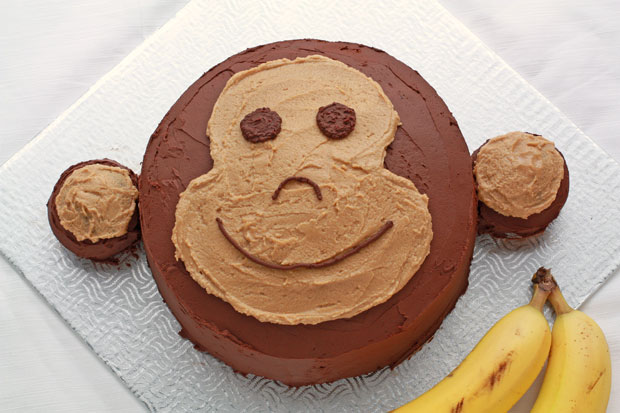 Monkey cake! Banana layer cake with peanut butter frosting and chocolate ganache.
Then, I grew up, and I went sugar-/gluten-free for 40 days.
Yes I, the baking-obsessed person that I am, the lover of all things cake-y and sweet cut all processed sugars and gluten from my diet (for 40 days). And so, my beloved Kraft peanut butter didn't make the cut. I made the switch to Maranatha organic peanut butter
.
The first time I cracked open a glass jar of organic peanut butter, I was a little annoyed. The oils were obviously separated from the nut butter (no emulsifiers here!). There was a lot of work to make the two-phased product look like anything resembling what I called peanut butter. The jar was slippery from all the spilled peanut oil that came from vigorous and labor-intense stirring. Frustrating. Why would anybody buy this when it requires so much work?
As I baked with it over the month of August, I learned a few things that I thought I'd share:After all the work was done, I fell in love with natural, unsweetened peanut butter. It is absolutely delicious, and oh so peanut-y. Organic peanut butter was a revelation to me. And if you buy the kind made with roasted peanuts and with just a touch of sea salt added…. Wow. It's crazy good. I ate my first jar in less than a month. I drizzled it over apples as a snack. I ate it by the spoonful.
Natural peanut butter in frostings: If you use organic, natural peanut butter in a peanut butter frosting recipe, the frosting will begin to separate at room temperature (this meant that my monkey cake got a little "sweaty" at the table). Best to store your peanut butter frosted cake in the fridge, and don't leave it at room temperature for too long before serving.
Natural peanut butter in ganache: Organic peanut butter can cause your chocolate to seize as you melt it. You may end up with a solid block when you heat dark chocolate and organic, natural peanut butter together (as in this recipe) for a peanut butter ganache. When this happens, don't panic! Warm the cream (milk) called for in the recipe (to hot, but not boiling), then pour it over the peanuty-chocolate solid, let sit for a few minutes, then slowly whisk/stir to incorporate the cream and remelt the chocolate. In the end, if your ganache is lumpy and if you're using it to top a cake, sprinkle some chopped peanuts over the ganache, and nobody will ever know that your ganache was lumpy (like the photo at the top of the post)!
Natural peanut butter in a pie filling: Organic peanut butter works beautifully in my peanut butter and chocolate cups.
I have no recipe to include for this post because I used Smitten Kitchen's recipe, pretty much word for word, to make the cake shown in the first photo in this post. The only thing I did differently was the ganache since the chocolate and peanut butter seized over a double boiler. I simply took the bowl off the heat, and added the hot cream, slowly incorporating it by stirring (and eventually whisking) slowly. The finished cake was a huge hit among peanut butter and chocolate lovers.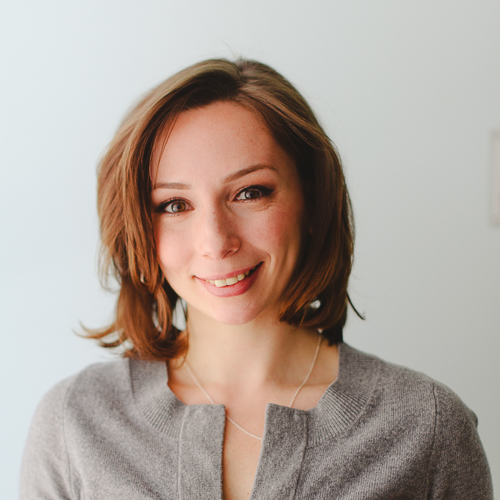 Janice Lawandi is chemist-turned-baker, working as a recipe developer in Montreal, Quebec, Canada. She studied pastry at Le Cordon Bleu in Ottawa and cooking at l'Académie Culinaire. She has a BSc in Biochemistry from Concordia University and a PhD in Chemistry from McGill University. Visit janicelawandi.com to see my portfolio.