This sesame layer cake is made with a raspberry filling and tahini frosting, then decorated with fun candy, sesame snacks, and fresh raspberries.
As an Amazon Associate I earn from qualifying purchases.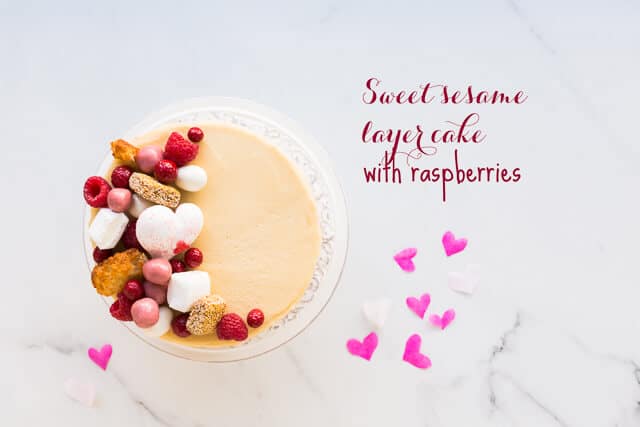 I turned 35 last month and, you know what? Nothing changed. Thirty five is a big number, and I must say that in the years leading up to the big day, I had high expectations of what 35 would be, what my 30s would look like… This is one of those situations where expectations and reality don't quite jive. The 35 year old I am is not the 35 year old I expected to be.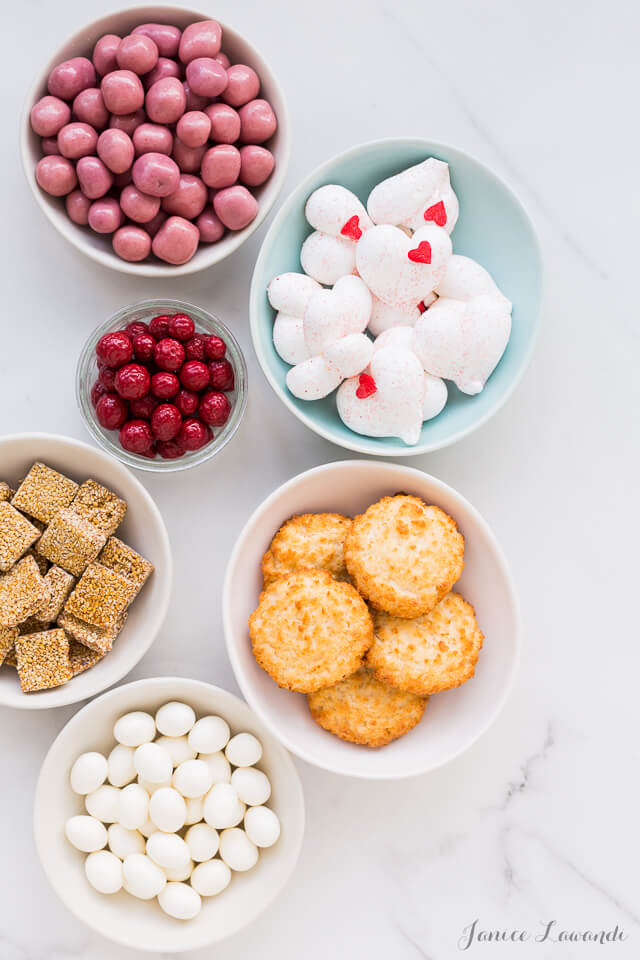 At 35, I feel like I have mellowed, at least somewhat. All things seem significantly less dramatic. I went bathing suit shopping the other day, having gained a good 5 or 10 pounds since the last time I bought a swimsuit (a combination of one too many layer cakes and aging), and I couldn't care less what I looked like tucked into a sporty bikini. The suit will do the job of covering my private bits and keeping it all together. It is what it is. To paraphrase Stacy London, I find that at the age of 35, I have fewer f**ks to give, so to speak. The highs and the lows aren't as far apart as they used to be. I float along somewhere in the middle with a take it or leave it attitude.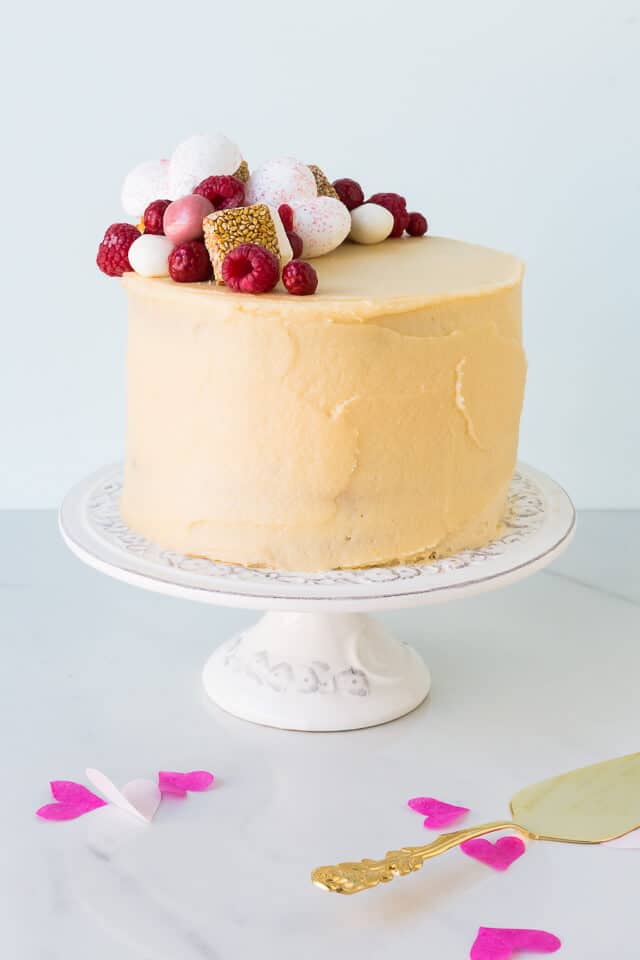 I say that I've mellowed but I also stressed over what layer cake to make to celebrate 35 because 35 is such a big, important number (or so I thought). I took an entire month to come up with a plan and make this cake. And when I was shopping for this cake, I still wasn't entirely sure where I was going with it. I knew I wanted to pile meringues, marshmallows, and fun candies on the top of the cake. That's about all the decorating I can manage. Truth. But even when I was shopping for the ingredients and making the components of this cake, I changed the plan a few times. I wanted sesame because I'm in love with tahina (you probably call it tahini or sesame butter). I was thinking I'd go with some citrus, maybe orange, but in the end, I opted for sesame+raspberry. It made sense in my head. In this case, again, expectations and reality didn't quite jive, but unlike turning 35, the reality was above and beyond what I had expected. Fresh tart raspberries combined with sweet nutty sesame flavours are a match made in heaven. I piled on the raspberries with every slice of cake I ate, not because the cake didn't taste great without them, but the cake tasted even better with them. And because I'm now most certainly an adult at the age of 35, I decided the raspberries were my vegetable for the day. Because I'm 35 and I can do whatever I want. Cake for dinner. Raspberries are vegetables. Hearts everywhere.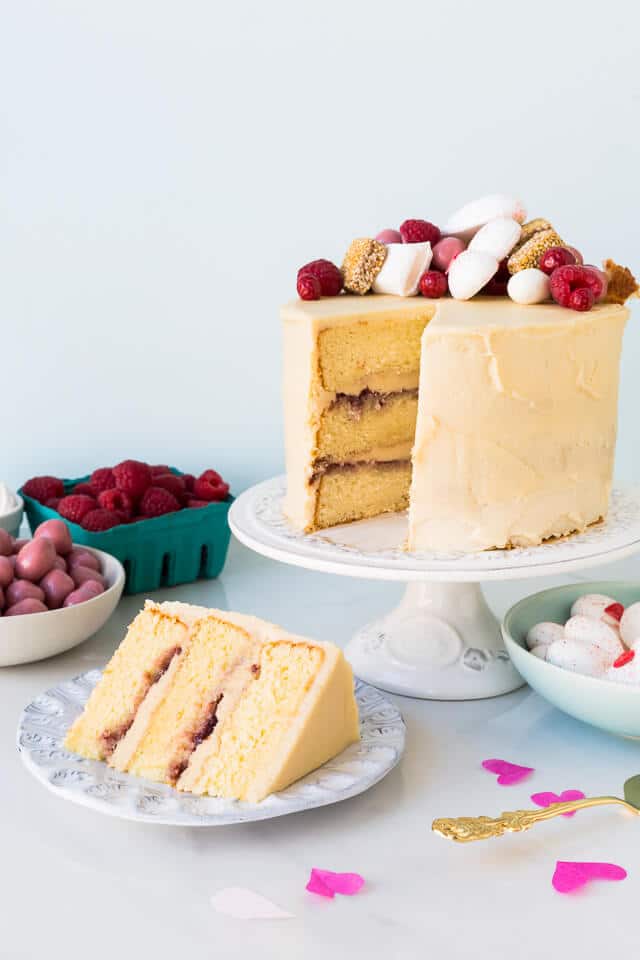 And since we are celebrating, I made a video! I hope you like it!
Here are some of my favourite tools to make layer cake recipes like this one (Note As an Amazon Associate I earn from qualifying purchases):
To make this cake, I started with the best vanilla cake recipe which I flavoured with a little tahini (sesame butter) to make a sesame layer cake. I baked the layers in three 6-inch cake pans, so make sure to take the time to prepare the cake pans by greasing them, lining the bottom with parchment rounds, and flouring them to make sure you have an easy time unmoulding the cake layers.
Sweet sesame layer cake with raspberries
This gorgeous birthday cake is flavoured with sesame and raspberries. The cake layers, filling, and frosting are made with sesame butter (tahini) for a sweet, very nutty flavour, which is the perfect pairing for tart raspberries
Ingredients
Sesame cake ingredients
250

grams

cake flour

2 cups

2

tsp

baking powder

1/2

tsp

fine kosher salt

153

grams

unsalted butter

2/3 cup

60

grams

tahini (sesame butter)

1/4 cup, tahina

250

grams

granulated sugar

1 1/4 cups

3

large eggs

1

tsp

pure vanilla extract

188

mL

whole milk (3.25 % fat)

3/4 cup
Sesame filling ingredients
Sesame buttercream ingredients
100

grams

granulated sugar

1/2 cup

21

grams

all purpose flour

1/4 cup

188

mL

whole milk (3.25 % fat)

3/4 cup

63

mL

honey

1/4 cup

42

mL

whipping cream (35 % fat)

3 tbsp

173

grams

unsalted butter

3/4 cup, cut into pieces

1

pinch

fine kosher salt

1

tbsp

sesame filling

1

tsp

pure vanilla extract
Raspberry filling ingredients
63

mL

good quality raspberry jam

1/4 cup

1

tbsp

Chambord liqueur
Decorations
Fresh raspberries

lots

Macaroons

Meringues

Marshmallows

Sesame snacks

(see notes)

Candy!
Instructions
To make the cake layers
Preheat the oven to 350ºF. Butter, flour, and line with parchment three 6-inch cake pans (Wilton on Amazon)

Whisk together the flour, baking powder, and salt. This is my favourite whisk on Amazon.

In the bowl of an electric mixer fitted with the paddle attachment (Amazon), cream the butter and the sesame butter. Beat in the sugar for several minutes until it is well blended, creamy, and light.

Add the eggs, one at a time, beating for several minutes between each addition and scraping down the sides of the bowl every so often. The mixture should be super light in colour and very fluffy.

Add the vanilla.

Add one third of the flour mixture, mix it in on low speed, then half the milk. Continue with half the remaining flour and the last of the milk. Scrape down the bowl sides and then mix in the last of the flour.

Divide the mixture between the three pans, banging the pans to release any air pockets. Smooth the surfaces of the cakes with an offset spatula and bake them for about 28 minutes until the edges are golden and pulling away from the sides of the pan.

Let the cakes cool 10 minutes before unmolding to cool completely on a wire rack (Amazon).
To make the sesame filling
In the bowl of an electric mixer fitted with the paddle attachment, cream together the butter and the sesame butter. Beat in the icing sugar and mix until smooth and thick. Mix in the vanilla. Transfer to a bowl and set aside.
To make the frosting
In a medium saucepan, whisk together the sugar and flour, then whisk in the honey, milk, and the cream.

Heat the mixture on medium-high heat, whisking fairly often, especially when the mixture comes to a boil. I heated this mixture for about 11 or 12 minutes until it was super thick and gooey.

Transfer the mixture into the bowl of a mixer, then beat the mixture to cool (this takes a long time) with the paddle attachment. I surrounded the bowl with a couple ice packs to cool it down faster.

When you are sure the sweet mixture is completely cooled, add in the butter in dollops, while mixing on low, then when all the butter is added, increase the speed to medium-high and whip the frosting until it is light and fluffy.

Finish the buttercream by beating in one tablespoon of sesame filling, vanilla extract, and a pinch of salt.
To assemble and decorate the cake
Level the cakes with a serrated knife, then place the first layer on a cake stand. Smooth on half the raspberry filling, then half the sesame filling. Stack on the second cake layer and repeat with the rest of the raspberry and sesame filling, then top with the final layer and frost the sides and top with the last of the frosting. You may want to just do a crumb coat, then chill for 30 minutes so the layers firm up before finishing to frost/decorate the cake.

Decorate with meringues, marshmallows, sesame snacks, and lots and lots of candy!
Notes
Makes one 6-inch layer cake
Calories calculated based on one-twelfth of the cake+filling+frosting
For the macaroons, check out these on Amazon
For the sesame squares I used for garnish, I used Prana Sumsuma squares.
Nutrition
Filling and frosting adapted from Baked Elements, which is available on Amazon.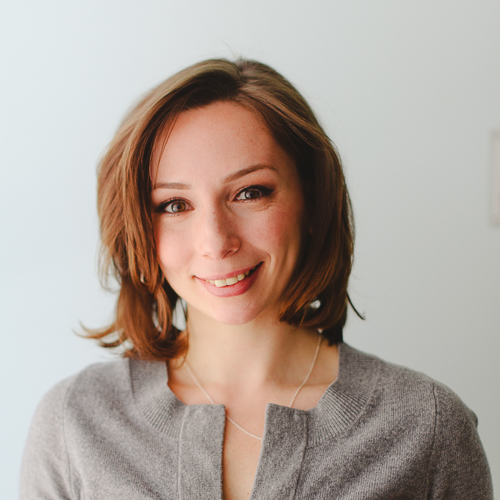 Janice Lawandi is chemist-turned-baker, working as a recipe developer in Montreal, Quebec, Canada. She studied pastry at Le Cordon Bleu in Ottawa and cooking at l'Académie Culinaire. She has a BSc in Biochemistry from Concordia University and a PhD in Chemistry from McGill University. Visit janicelawandi.com to see my portfolio.