It's blueberry season! It's blueberry season! The markets are loaded with small and big cartons of Lac St-Jean blueberries. I am considering making blueberry and champagne jam with these precious summer gems, inspired by a jar of jam I picked up at the PEI Preserve Company last summer (eventually, I will find the time!).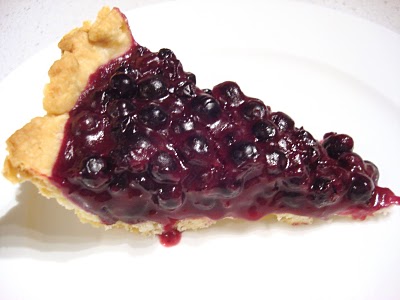 In the meantime, blueberry pie was a must on my baking to-do list of blueberry-containing treats. I have only had blueberry pie a handful of times, and it truly is wonderful: A pie filled to the brim with luscious blueberries swimming in a sweet, blueberry infused sauce. The colors are fabulous too because the sauce appears as a deep purplish-indigo in the pie, and yet, on a white plate, you are left with dribbles of a lighter shade of purple. In this summer's quest for the perfect pie, I decided to test out a different crust recipe. For the last couple of posts (for my summer fruit pie and my peach and whiskey crumble pie, I used the Smitten Kitchen recipe for an all-butter crust. The recipe was a cinch to prepare and work with, but it yielded a super crisp crust (maybe too crisp). Perhaps it was because I rolled the pie dough too thin (I did end up using a double crusts worth of dough for 2 pies)? Or perhaps I overworked the dough (I doubt it, but maybe!). I'm not sure what went wrong, but my dough was so crisp, it was hard to cut with a fork (easy to bite, but forks just wouldn't cut through well). For this blueberry pie, I referred to the Epicurious site and came across a recipe for Basic Flaky Pie Crust (courtesy of RLB's Pie and Pastry Bible, go figure). Since I was pressed for time (and not prepared to make this in advance), I had no time to pre-chill the mixing bowls, etc. prior to making the crust (I don't think it was necessary unless you live in a super hot apartment). I did, however, use frozen cubed butter for this recipe. Interestingly, the recipe called for some vinegar (I opted for white vinegar instead of the recommended cider vinegar) and baking powder. Not sure what either of these do. I read somewhere (sorry no reference) that vinegar prevents the dough from getting tough from overworking it. I put the recipe together with my hands (so soul-satisfying to make pie dough with your hands!). The amount of ice-cold water recommended was not sufficient for my crust though, so I upped the amount 1 tbsp at a time until the dough just came together. It was still a bit crumbly, and the edges cracked a little when I rolled it out after refrigerating, but otherwise, it was a pleasure to work with. I baked the crust at 425°F for 30 minutes with pie weights (ie the base of a removable-bottom tart pan) and then removed the weights and baked it for a few extra minutes, until the crust was evenly golden.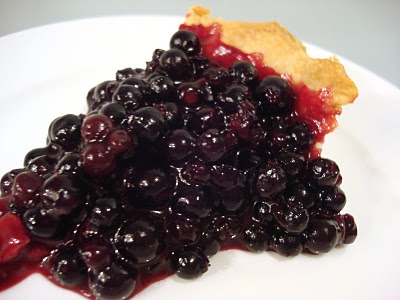 While the pie was baking, I assembled the filling using a "blueberries squared" method I found on chowhound. You basically melt butter (I love that the filling has butter in it!), add half the blueberries with the sugar and lemon juice. When the berries start to burst, you can add the flour and salt. Then you cook it over the stove until it has thickened. You cool it, and then add the other half of the berries (blueberries squared! Get it?). I also added some vanilla extract. Pour into pre-baked crust, let set, and enjoy! Letting it set is key. I got impatient and cut a piece a little too early, and the blueberry filling slowly flooded out. I panicked at the thought that this pie was a failure!
But then, as I was eating my flooded slice, I realized just how flaky and tender this crust was! Look at the flakiness! This crust is awesome!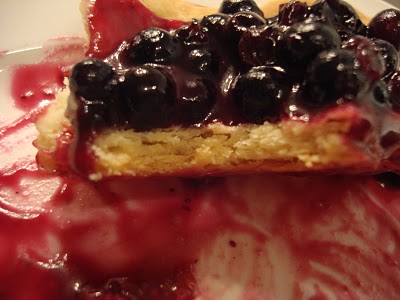 And when I had another slice (or 2) the next day, the pie was set. I could serve a slice neatly, without blueberry filling gushing out.
See the tiny drops of blueberry sauce trickling in the first photo: Perfect! The pie is not so set that it is weirdly gelatinous, but not so runny that it is un-serve-able. Just right! My only complaint is that the filling is a little tart (gets you right at the back of the throat). Perhaps it needed more sugar…. Still, I absolutely adore the crust (even though it cracked a little) and I really like the recipe for the filling, and with a few more tweaks, I think we could be on to something amazing!
Blueberry pie filling
Instructions
Melt butter over medium heat in a saucepan.

Add 3 cups of blueberries, the lemon juice, and sugars, and cook until the blueberries release their juices. Then add the flour, and salt. Stir over medium heat (be careful because the mixture is very thick at first and you do not want to burn the flour! Remove from heat periodically if you are worried this could happen) and let it bubble a little.

Remove from heat and set aside to cool to room temperature.

When the mixture is cooled, add the other 3 cups of blueberries and the vanilla. Stir well to make sure that the berries are evenly coated.

Pour into the baked 10-inch pie crust and let it set (if possible, let it set for a few hours in a cool place) before enjoying.
Notes
Adapted from Chowhound.
Update April 2014: Doesn't seem to work with frozen blueberries 🙁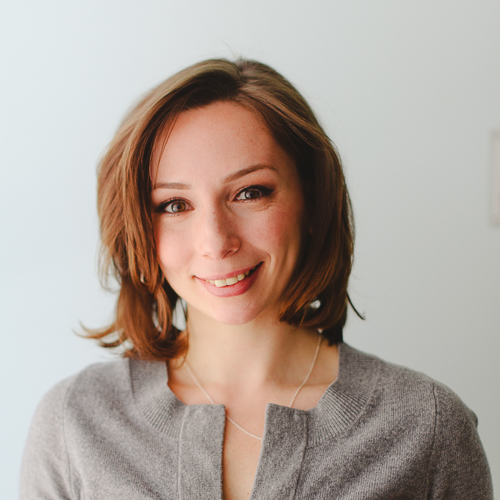 Janice Lawandi is chemist-turned-baker, working as a recipe developer in Montreal, Quebec, Canada. She studied pastry at Le Cordon Bleu in Ottawa and cooking at l'Académie Culinaire. She has a BSc in Biochemistry from Concordia University and a PhD in Chemistry from McGill University. Visit janicelawandi.com to see my portfolio.