The classic birthday cake is layers of vanilla cake with milk chocolate frosting. You can serve it as is or decorate it with sprinkles!
As an Amazon Associate I earn from qualifying purchases.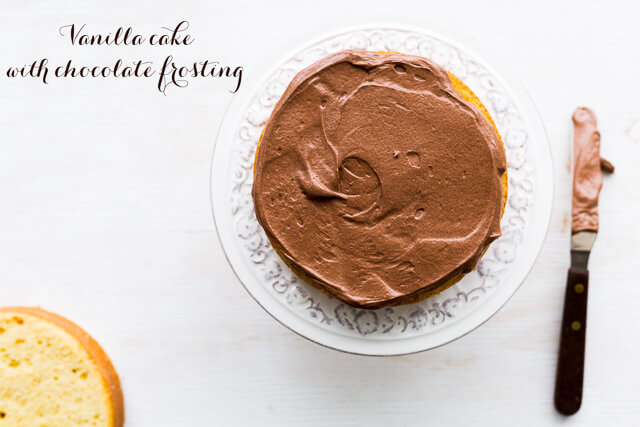 This vanilla cake and milk chocolate frosting is a direct consequence of having tried so many vanilla cake recipes to find the best. I was left with three extra layers of yellow butter cake in the end. How could I not take those poor, abused layers of buttery vanilla cake and reward them (and myself) with some milk chocolate frosting? We deserve it after all that "hard" work!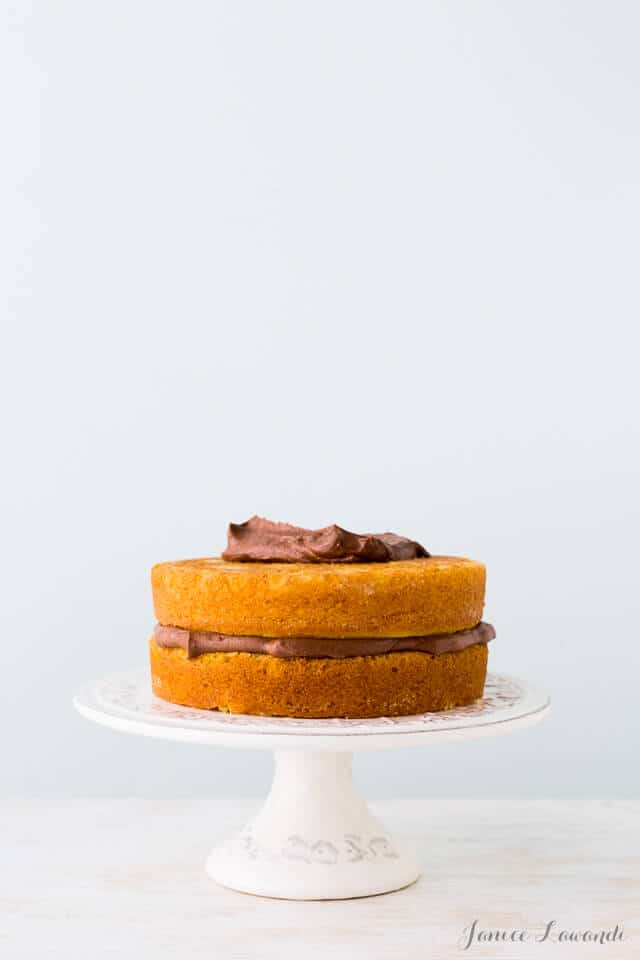 Spending more time with the cake gave me a chance to think more about the large holes in cake and why cakes sink. And I also got to put the best vanilla cake recipe to the test to see if I'd really found a recipe that yields an awesome classic birthday cake.
Anyways, I also made this cake for celebratory reasons. My obsessing over cake bubbles, cake collapse, and the best baking science books has got my brain working overtime, but in a really good way. Sure, I'm super bummed that something might be wrong in the way I mix a cake batter (ugh! Am I overstirring? Side note: how is it possible that I don't yet know how to mix a cake batter?!), but technique flaws aside, I'm genuinely EXCITED to figure it out and to share what I find with you! I'm so stoked about all this, I'm already planning another 6 or 7 versions of this vanilla cake recipe so that I can finally understand how I can make this recipe even better and less prone to giant air pockets.
I haven't felt this excited in a long time. Sure, I've always loved developing recipes over the years, but my favourite part is the analyzing, the thinking, the tweaking, and the troubleshooting to make the recipes better, and that's what I've been focusing on these days. So, I realize this vanilla cake and milk chocolate frosting are what would be considered as a quintessential, traditional birthday cake, but I'm not celebrating a birthday. I'm celebrating something bigger!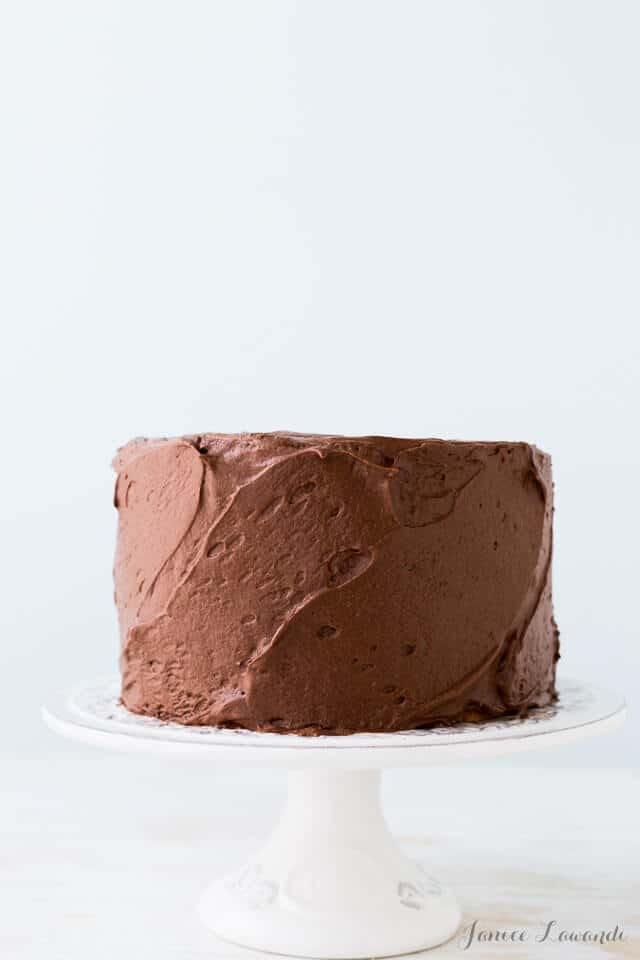 This is one of my all-time favourite cakes, yet somehow, if you scroll through the archives, you'll quickly realize that this blog has never seen this classic combination among all the layer cakes I've made. It's simple, and it's old-fashioned and very nostalgic. As adults, how often do we get to have a slice of a cake like this? It's one of those cakes that would have been served at our birthday parties when we were kids, and at many of the birthday parties we all attended when we were younger. But then we grew up and the yellow cakes with chocolate frosting disappeared, long forgotten. So, I resurrected this combination because we are celebrating and it's probably been more than a decade since I've had a slice of this.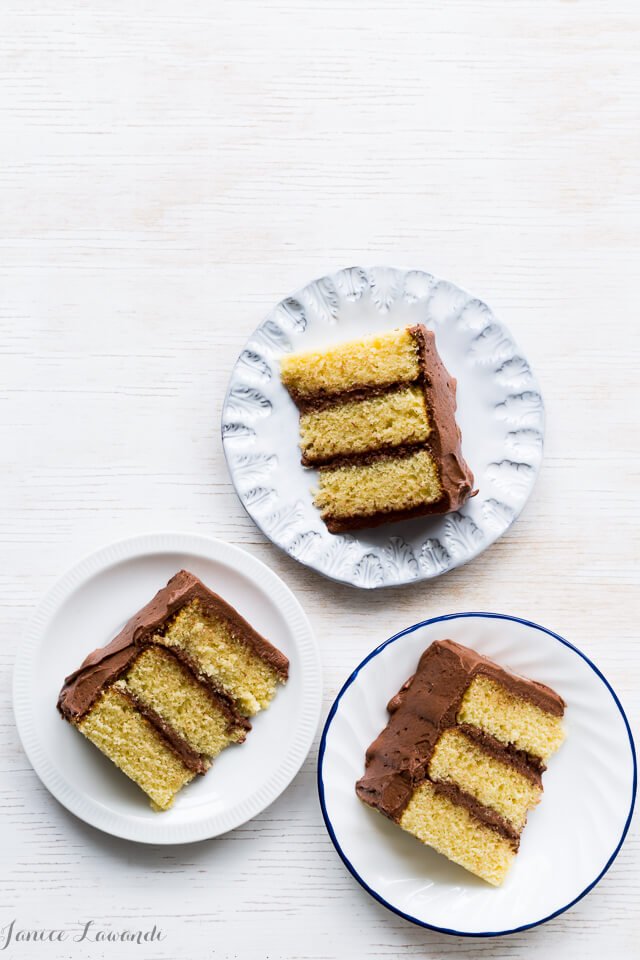 I have more to say about cake bubbles (duh!), but for now, let's just eat cake. This vanilla cake has a fantastic, very buttery taste. Just make sure you don't overmix the batter when you are adding the flour. The milk chocolate frosting is sweet, with a slight tang from the sour cream. When you are making it, add the melted milk chocolate along with the sour cream and beat them into the dry ingredients together. Don't do this stepwise. I've tried and it leads to lumpy frosting, and nobody wants that!
Classic birthday cake: Vanilla cake with milk chocolate frosting
I took the best vanilla cake recipe to make this classic birthday cake, which is 3 layers of vanilla cake with milk chocolate frosting. Remember that to add vanilla flavour to cake batters and cookies, use pure vanilla extract, vanilla bean paste, or imitation vanilla. This isn't a good recipe for vanilla beans.
Here are some of my favourite tools to make layer cake recipes like this one (Note As an Amazon Associate I earn from qualifying purchases):
To bake the cake layers, I split the batter between three 6-inch cake pans. Take the time to prepare the cake pans before baking, by buttering the pans, lining the bottom with parchment, and dusting the sides with flour. This way your cakes will slide right out of the pan, without any resistance.
Vanilla cake and milk chocolate frosting
This is a recipe for the classic birthday cake: vanilla cake with chocolate frosting. The frosting is made with a combination of milk chocolate and cocoa for a deep chocolate flavour with a little tang from some sour cream. The vanilla cake recipe yields buttery vanilla cake layers that are perfect for any frosting.
Ingredients
For the cake
250

grams

cake flour

2 cups

2

tsp

baking powder

1/4

tsp

Diamond Crystal fine kosher salt

173

grams

unsalted butter

3/4 cup, room temperature

250

grams

granulated sugar

1 1/4 cups

3

large eggs

room temperature

1

tbsp

pure vanilla extract

188

mL

whole milk (3.25 % fat)

3/4 cup
For the milk chocolate frosting
Instructions
To make the cake
Preheat the oven to 350ºF. Grease, flour and line with parchment three 6-inch cake pans (Amazon).

Sift together the flour, baking powder, and salt into a medium bowl and set aside.

In the bowl of an electric mixer fitted with the paddle attachment, cream together the butter and the sugar for 3 minutes until it's creamy.

Add the eggs, one at a time, scraping down the bowl as needed. Beat well between each addition. After all the eggs are added, add the vanilla and beat for an additionnal 2 to 3 minutes to lighten it. Scrape down the sides of the bowl.

Drop in one third of the flour, then mix on low, followed by half the milk, again mixing it in on low. Scrape down the sides of the bowl.

Add in half the remaining flour, mixing it into the batter on low, the remaining milk, then turn off the mixer and remove it from the stand. Finish adding the last of the flour with the spatula by hand, being sure not to overmix. Divide the batter between the 3 pans, smooth the surface and bang them on the counter to push out any air pockets. Bake the cakes on the middle rack for about 25 to 30 minutes, until the edges are golden brown and begin to pull away from the pan. Use a cake tester to ensure the centre is baked through.

Cool 15 minutes, then unmold on a rack to cool completely.
To make the frosting
Melt the chocolate with the butter on medium power in the microwave. Heat for 1 minute at a time to make sure you don't burn the chocolate. Stir to combine, add the vanilla, and let cool slightly.

Meanwhile, combine the powdered sugar with the cocoa powder in the mixer. Pour in the melted chocolate mixture and the sour cream, then beat the frosting for several minutes to combine the ingredients and lighten the mixture.
To assemble the cake
With a serrated knife, level the tops of the cakes. Plop the first levelled cake on the cake stand (or plate), cut-side down, then slather the surface with 1/2 cup of the frosting just to the edge. Top with a second levelled cake, and slather with another 1/2 cup of frosting. Top with the 3rd levelled cake, and another 1/2 cup of frosting. Smooth it nicely. Dirty frost the sides with 1/4 cup of the remaining frosting (about half of what's left). Chill 30 minutes, then finish frosting the sides with the last of the frosting.
Notes
Makes one 6-inch layer cake
Calories calculated based on one-twelfth of the cake+frosting
For the frosting, I used Alunga milk chocolate from Cacao Barry, which you can buy at IGA stores in Quebec and online from Vanilla Food Company who deliver!
For the cocoa powder, I like Cacao Barry extra brute cocoa, which you can find on Amazon. Feel free to use any cocoa powder. They all should work here.
Nutrition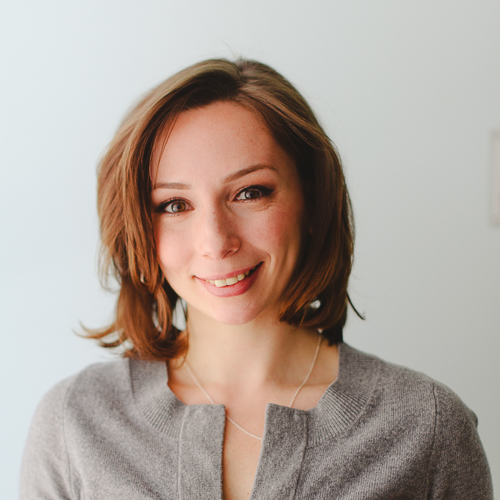 Janice Lawandi is chemist-turned-baker, working as a recipe developer in Montreal, Quebec, Canada. She studied pastry at Le Cordon Bleu in Ottawa and cooking at l'Académie Culinaire. She has a BSc in Biochemistry from Concordia University and a PhD in Chemistry from McGill University. Visit janicelawandi.com to see my portfolio.