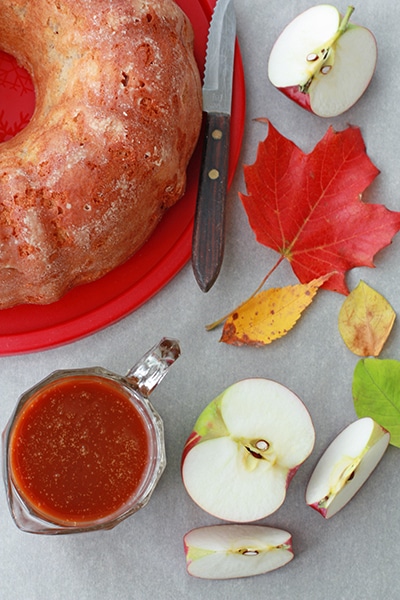 The other night, I slept with a 20-pound bag of Cortland apples. I do mean that literally. My schedule got out of hand, and so did the "order" in my apartment. And so, by Sunday night, I was completely exhausted and just couldn't deal with the giant bag of apples I had picked that day. The only place to put it was my bed. Thus, I slept with a 20-pound bag of apples, for real.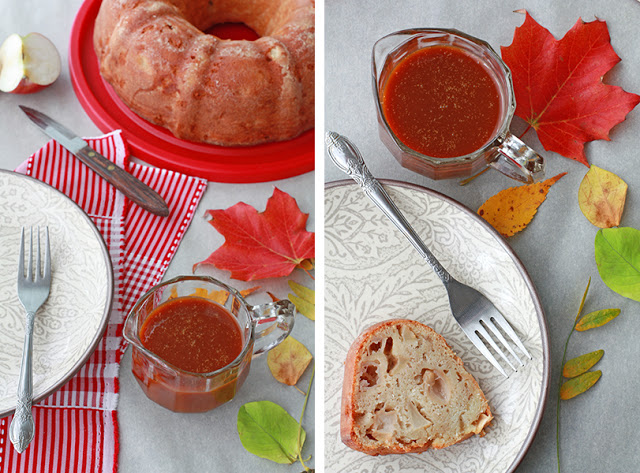 See, there are pros and cons to going apple picking once a year and picking 20 pounds of apples when you live alone (I'm not counting the cat because she doesn't eat apples).
Pros:
A day spent in nature, out of the city, where there's fresh air, sunshine, and tress
You get to eat the apples while you're picking them; there's nothing like a fresh apple straight off the tree
You get to climb ladders and trees
You go home with 20 pounds of apples, yay!


Cons:
If there's traffic, it could take 3 hours to get to the apple orchard instead of the 30 minutes that google maps told you it would take
You inevitably get stuck in traffic because you pick the most beautiful day of the year to go apple picking
Apple picking is hard. You end up tired and sweaty by the end of it
You go home with 20 pounds of apples, OMG!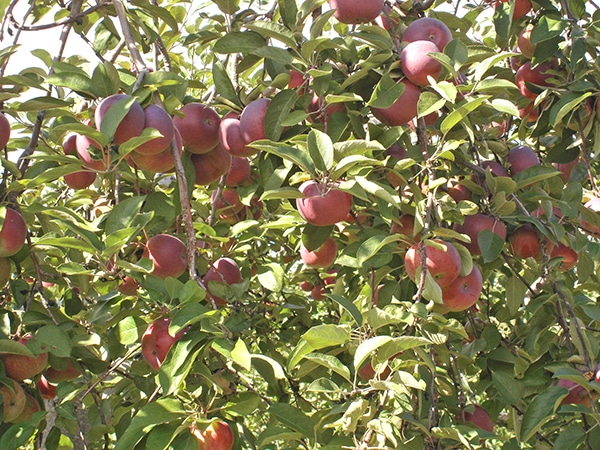 I go apple picking every year, and every year I recall the same pro/con list. What always amazes me is how, as I'm picking the apples and filling my 20-pound bag, I think to myself "Gosh, this is not nearly enough apples!" Then, when I unload them into my fridge, I panic because I have to find space for 20 pounds of apples. That's a lot of apples! And finally, as I munch on the last of the 20 pounds of apples, I proclaim that next year, I will bring home 40 pounds of apples! I did that one year. Again, if you think 20 pounds of apples is too much for one person, imagine 40 pounds!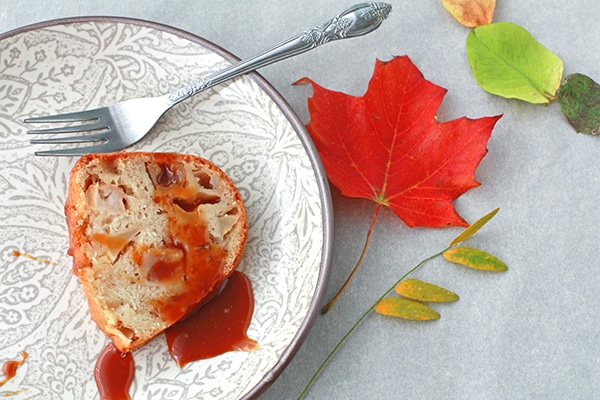 This recipe is originally from Dave Lieberman. The recipe as published on the Food Network site is, shall we say, inedible (and I'll eat almost anything!). I called it "the fat cake" the first time I made it because it contained a ridiculously obscene amount of oil, and I honestly couldn't get through a single slice. So, I tweaked the recipe a lot (removing much of the fat content, and adding in apple sauce). I came up with this recipe in the end. I've made it a few times, and everybody enjoys it. It's kind of like an apple pound cake, dense, full of apples, and delicately spiced.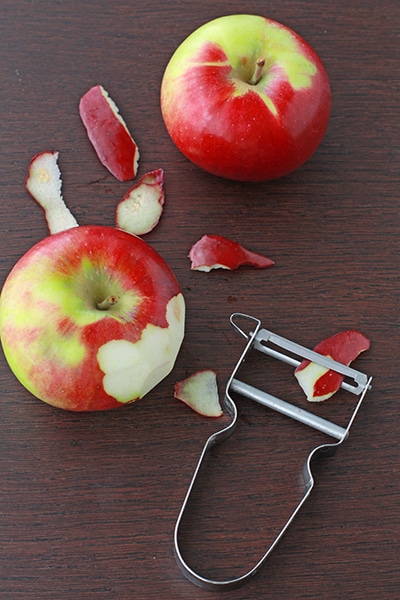 The salted caramel sauce is to die for. Then again, when is salted caramel sauce not wonderful? It's so good, that I honestly spooned it on every bite of cake. It's not that the cake isn't good on its own, but the cake with a drizzling of caramel is a whole other level of amazing. Real caramel sauce and apples are a winning combination.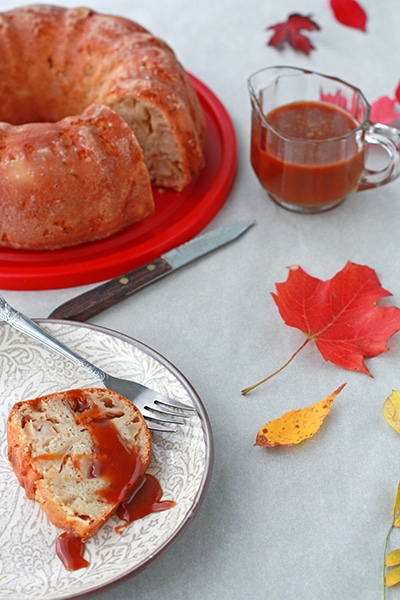 Oh, and if you feel the need to drizzle a little caramel sauce on each and every bite like I do, by all means, do it. Just try not to do this every day (your dentist and your nutritionist might get mad)….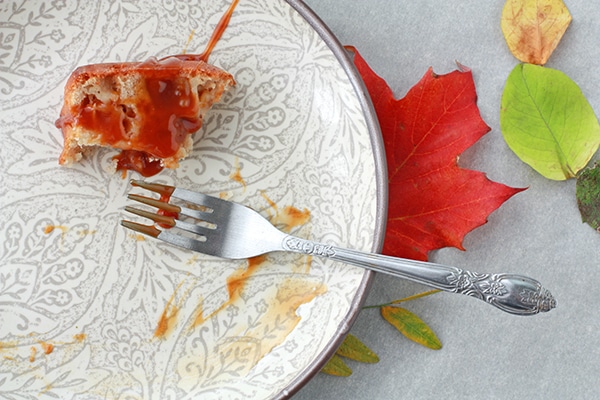 Caramel sauce is not hard, and it pretty much stirs itself! Just please prepare and measure out all your ingredients before you get started because when the sugar has caramelized enough, you have to act fast or it will continue to cook and burn. That would be sad. For more caramel sauce instructions try here, here, and especially here for lots of tips and tricks.
Apple bundt cake and salted caramel sauce
Servings
1
bundt + 2 cups caramel
Ingredients
For the bundt cake
3–4

Cortland apples

~500–600 grams, or any other baking apple, peeled, cored and cut into ~1/2 inch pieces

1

lemon

juiced

1/4

cup

granulated sugar

50 grams

1

tsp

ground cinnamon

1/8

tsp

ground nutmeg

1

pinch

ground cloves

2 1/2

cups

all-purpose flour

350 grams

1/2

tsp

fine kosher salt

1

tbsp

baking powder

1/2

cup

unsalted butter

114 grams, melted

2

cups

granulated sugar

400 grams

1

tbsp

pure vanilla extract

1/2

cup

warm water

1/2

cup

unsweetened applesauce

4

large eggs
For the salted caramel sauce
2

cups

granulated sugar

400 grams

1/2

cup

water

plus more for brushing sides of pan

1/2

cup

unsalted butter

8 tbsp, cubed

1

cup

whipping cream (35 % fat)

heated

3/4–1 1/2

tsp

grey salt

or sea salt
Instructions
For the bundt cake
Preheat the oven to 350°F. Prepare a bundt pan by greasing and flouring it. Set it aside for later.

In a medium bowl, toss the apples with the lemon juice, 1/4 cup of sugar, cinnamon, nutmeg, and cloves. Stir it well so that all the fruit is evenly coated. Set aside for later, stirring every so often to evenly coat.

In a large bowl, whisk together the flour, salt, and baking powder. Set aside for later.

In another medium bowl, stir together the melted butter, 2 cups of granulated sugar, vanilla, warm water, and apple sauce with a wooden spoon. Add the eggs one at a time, and beat well after each addition.

Pour the liquid mixture over the whisked dry ingredients. Stir well to combine, being sure to pull up any flour stuck at the bottom of the bowl. Add the spiced apples and any juices that may have released, and stir to combine.

Pour the batter in the prepared bundt pan, and bake for about 1 hour to 1 hour and 10 minutes until a cake tester comes out clean. Let cool completely then invert on your serving plate.
For the salted caramel sauce
Set out all your ingredients before beginning. This is very important. Have the cream heating on a back burner so that is is warm, but don't let it boil.

In a deep 3 quart saucepan, pour the water, and then the sugar. Don't stir it.

Bring the mixture to a boil over medium–high heat. If there's sugar stuck on the sides of the pan, carefully brush it with a heat-resistant silicone brush dipped in a little water.

Continue to boil the caramel until it turns amber in color (the temperature will read somewhere between 350°F and 360°F with a candy thermometer). As soon as the caramel has reached the desired color, slide the pan off the heat, and turn the burner off.

Slowly and carefully drop in the cubed butter (it will bubble and erupt so be careful!). Pour in the cream, slowly and carefully, a quarter at a time.

When the bubbling has calmed down, begin to gently whisk the caramel until it is smooth and homogeneous. Add in the salt and continue whisking a little more to combine.

Let it cool slightly before serving (or sampling). The more you let it cool, the thicker it will get.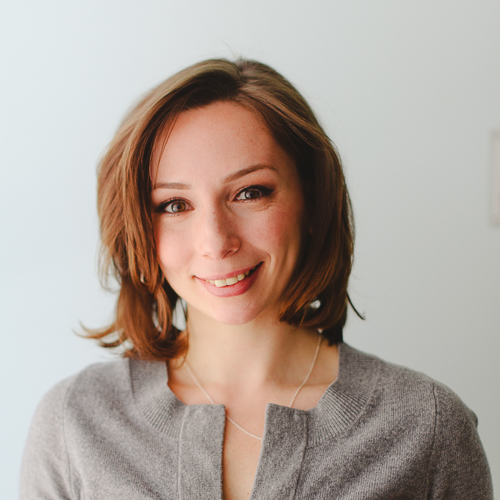 Janice Lawandi is chemist-turned-baker, working as a recipe developer in Montreal, Quebec, Canada. She studied pastry at Le Cordon Bleu in Ottawa and cooking at l'Académie Culinaire. She has a BSc in Biochemistry from Concordia University and a PhD in Chemistry from McGill University. Visit janicelawandi.com to see my portfolio.