I firmly believe that there aren't enough pear desserts out there, which is why I made this pear pie. Plus, I needed an excuse to practice making pie because practice makes better, so to speak.
I adore wine-poached pears. They make a positively exciting addition to a big lunch salad with blue cheese, if you ask me. Poached in wine, poached pears are downright fancy. And they are the inspiration for this pear pie.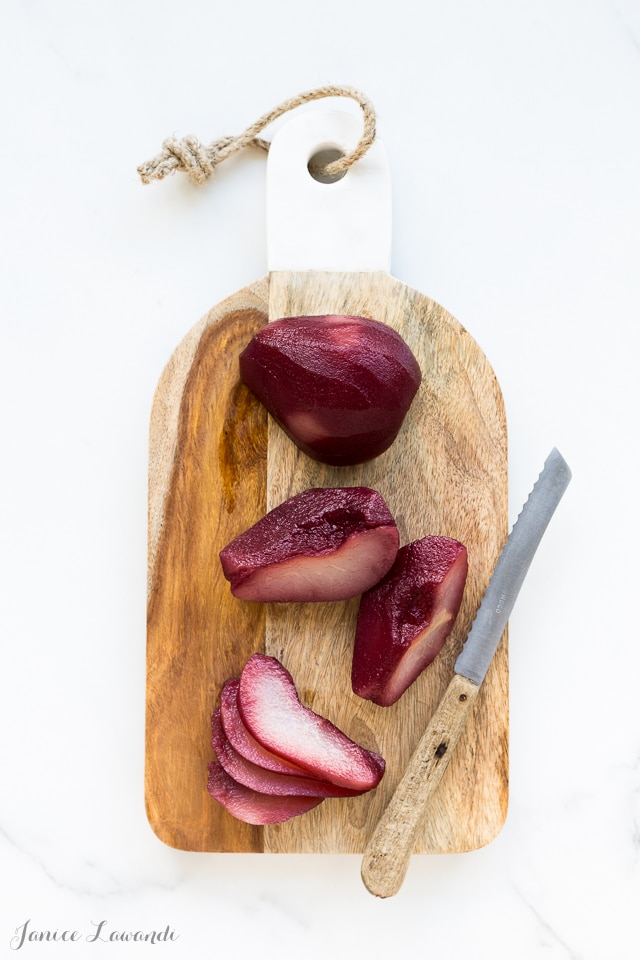 Which pears are best for poaching?
For poaching, you want to choose a firm pear of a variety that holds its shape well during cooking and baking. You can use Bosc pears or Bartlett for poaching. Flemmish Beauty pears are also great for poaching. These pears keep their shape when heated, which makes them perfect for poaching in a light syrup or a wine syrup.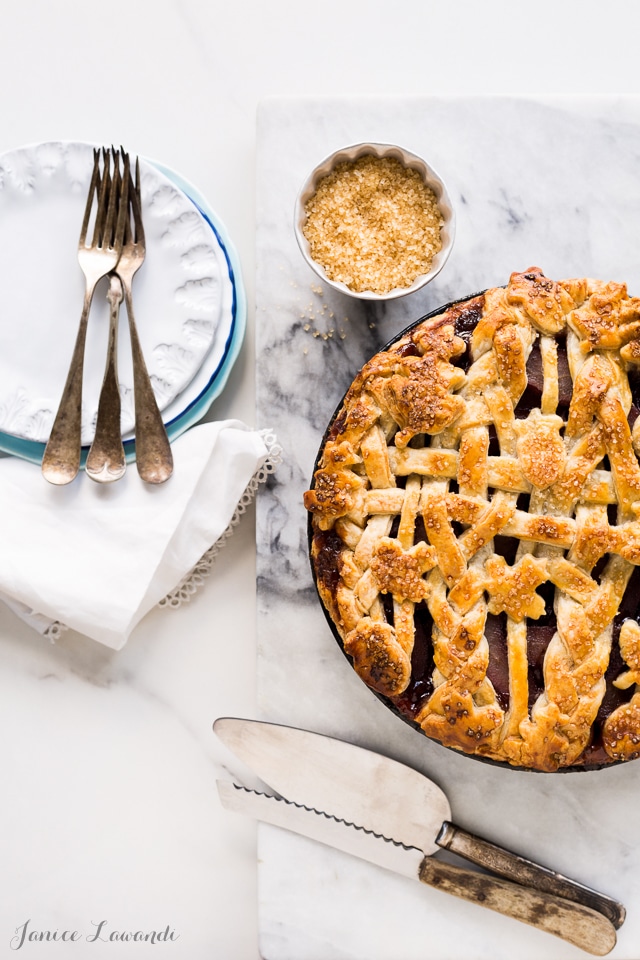 How do you make poached pears?
To make poached pears, you first prepare a thin syrup of sugar and water. You can add wine and spices to make the poaching liquid more flavorful. Vanilla bean is also nice for this type of recipe. Then all you have to do is peel and core a few pears, immerse them in the poaching syrup, and let them simmer for about 20 minutes or until they are fork tender, but not falling apart. You can strain the pears when they are cooked through and then boil down the poaching liquid to make a syrup to serve with the poached pears. It's the same principle for poached quince, but quince take longer to cook through.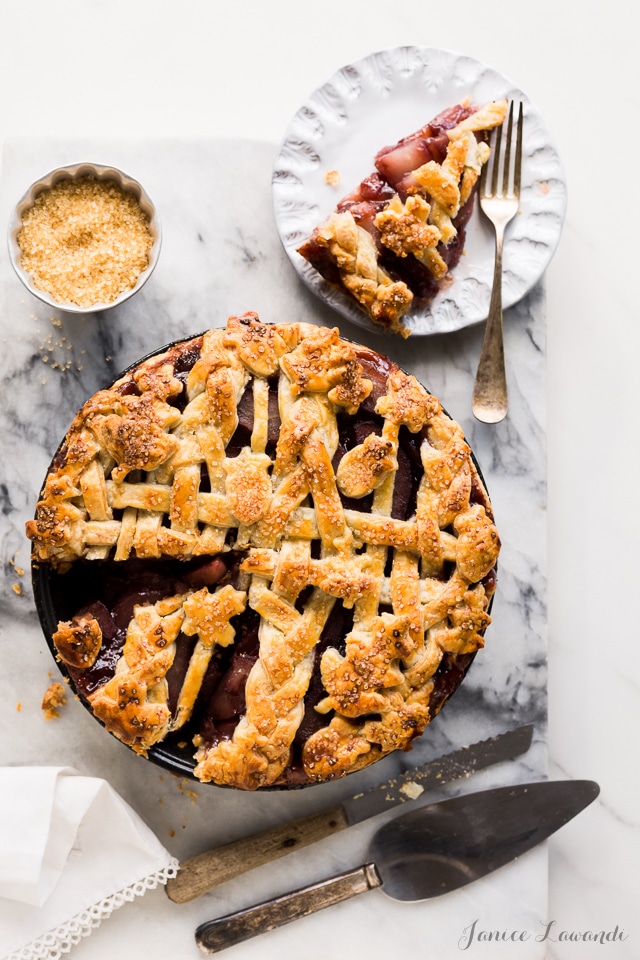 I made the first version of this wine-poached pear pie with half a cup of tapioca starch over a month ago. The filling turned into a gelatinized disappointment as it cooled, although it tasted amazing. So I persevered and did more tests.
Taking a step back from the recipe, I realized that I had to make this pie with one tablespoon of tapioca starch to thicken the pie juices, and not the half cup my insomnia brain initially thought was necessary. Half a cup of tapioca starch is wrong for a pear pie and is what you would need to thicken 2 pounds of rhubarb, like for this rhubarb lattice pie!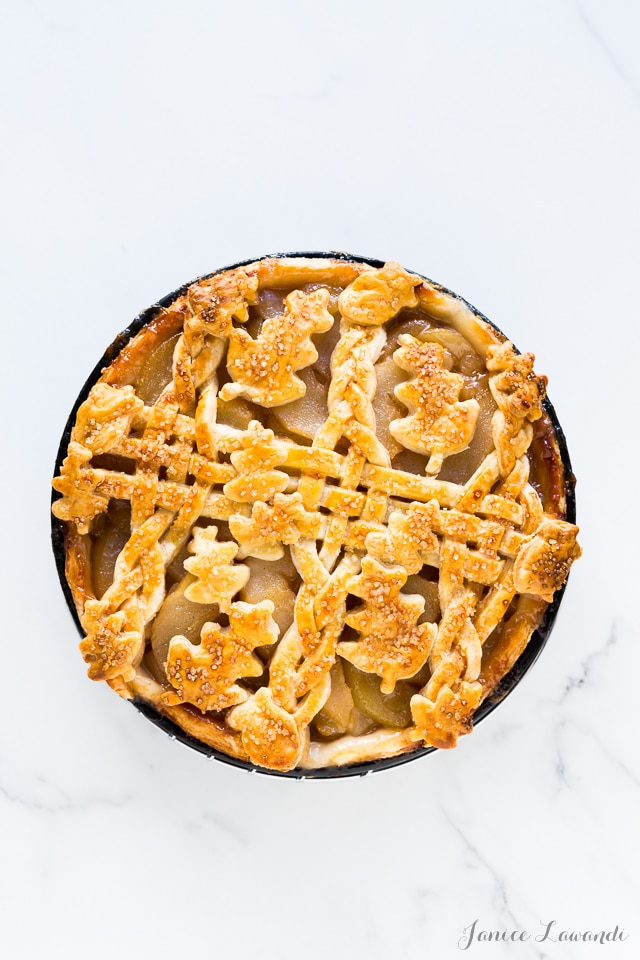 This pie crust recipe is adapted from the flaky pie crust on Serious Eats. It's got a lot of butter and a fair bit of water. The water works with the flour to give the pie dough some strength. It rolls out really nicely and as Stella Parks mentions, it doesn't crack when you roll it.


If your favourite pie crust is giving you trouble, next time, add more water when you make it! And make sure to invest in a few tools for pie-making:
Pie plates: I like to use dark metal pie plates because metal is better at conducting heat to the pie dough and the darker finish will absorb more heat, similar to this one found on Amazon
Rolling pin: I prefer the French-style rolling pin with tapered edges, like this one on Amazon
If you want to top the pie with a lattice crust, here's a video to show you how to make a lattice pie crust:
 
Wine-poached pear pie
This pear pie is made special by poaching the pears in a wine syrup first. The filling is lightly spiced and flavorful, assembled in an all-butter pie crust for a stunning fall dessert.
Ingredients
Wine-poached pears
750

mL

(

3

cups

)

wine

red for a more robust wine flavour, a light rosé or white for a milder taste

250

mL

(

1

cup

)

water

200

grams

(

1

cup

)

granulated sugar

1

cinnamon stick

1

vanilla bean 

split

1

slice

(

1

slice

)

lemon peel

no pith

1.8

kg

(

4

lb

)

pears

peeled, cored and cut in half—I recommend Flemish Beauty or firm Bosc/Bartlett pears
For the all-butter crust
250

grams

(

2

cups

)

all-purpose flour

5

mL

(

1

tsp

)

fine kosher salt

15

mL

(

1

tbsp

)

granulated sugar

230

grams

(

1

cup

)

unsalted butter

cut into cubes, cold

125

mL

(

½

cup

)

cold water
For the pear filling
1

batch wine-poached pears

50

grams

(

¼

cup

)

granulated sugar

15

mL

(

1

tbsp

) tapioca starch

1.25

mL

(

¼

tsp

)

ground cinnamon

1

large egg

beaten
Instructions
Wine-poached pears
Heat the liquids with everything but the pears. Bring the mixture to a boil.

Add the pear halves and bring to a boil again. Cover with a round of parchment and weigh everything down with a lid or a plate so that the pears are immersed. Reduce the heat so that the poaching liquid is just simmering. Poach the pears for 10 to 15 minutes. The pears should be fork-tender when they are done, but not to the point of breaking down or falling apart.

Strain the pears into a large container, then let the poaching liquid cool completely. Transfer the liquid to the container with the pears, cover, and let the pears soak for a couple days in the fridge before making the pie. You can make the pie the next day even, but the wine flavour might not be as pronounced.
To make the pie dough
In a large bowl, combine the flour, granulated sugar and salt. Drop in the cubed butter and press it and work it into the flour with your finger tips. Smoosh all the cubes of butter to flatten them out in the flour. Pour the cold water over top and then mix it with a fork. Finish with your hand, patting the dough into a disk.

Wrap the dough and chill for 20 minutes.

Roll the dough to a large rectangle (10x15-inch), then fold the top and bottom quarters over towards the centre, then fold it over again to make one 10-inch long rectangle. Press it gently together. Fold the dough in half to make a compact rectangle. Divide the dough in half, lengthwise, to form two blocks of dough. Tuck the corners of each block under to make a disk-like block, wrap each block and chill another 20 minutes.

Take one half of the dough out of the fridge, then roll it out into a big disk (about 11–12 inch diameter). Transfer the dough to a metal pie plate, working it down into the bottom edge and grooves. Trim the crust.

Refrigerate the bottom crust for 2 hours. Then proceed with the rest of the recipe
To make the pie
Preheat the oven to 400ºF. Line a baking sheet with parchment. Drain the poached pears really well, then slice each half into 6 pieces.

In a large bowl, toss the pear slices gently with the sugar, tapioca starch, and cinnamon.

Transfer the filling to the chilled crust.

Roll out the second disk of dough to a large circle, at least 12 inch diameter. Cut out shapes or strips to make a lattice. Arrange the top dough (or strips) on top of the filled pie, trim and tuck under the ends, and crimp or press the edges together. Brush the top crust with the beaten egg and sprinkle with turbinado. Place the unbaked pie in the freezer for 30 to 45 minutes (or even overnight).

Place the pie on the parchment-lined baking sheet and bake the pie on the bottom rack for 30 minutes. Turn down the oven to 350ºF and continue baking for another 50–60 minutes until the filling is bubbling and the crust is golden brown.

Let cool at least 1 hour before serving (preferably longer)
Nutrition
Calories:
671
kcal
|
Carbohydrates:
96
g
|
Protein:
5
g
|
Fat:
25
g
|
Saturated Fat:
15
g
|
Cholesterol:
82
mg
|
Sodium:
264
mg
|
Potassium:
402
mg
|
Fiber:
8
g
|
Sugar:
56
g
|
Vitamin A:
804
IU
|
Vitamin C:
10
mg
|
Calcium:
48
mg
|
Iron:
2
mg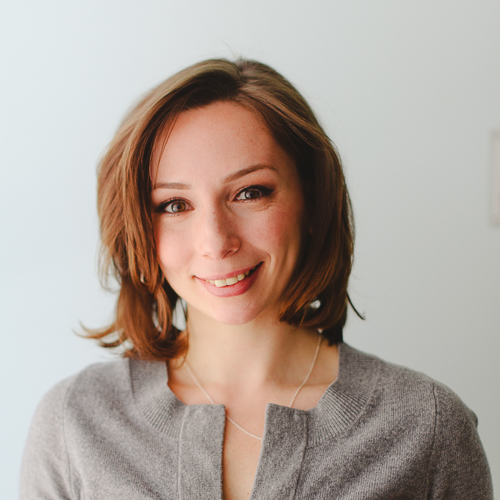 Janice Lawandi is chemist-turned-baker, working as a recipe developer in Montreal, Quebec, Canada. She studied pastry at Le Cordon Bleu in Ottawa and cooking at l'Académie Culinaire. She has a BSc in Biochemistry from Concordia University and a PhD in Chemistry from McGill University. Visit janicelawandi.com to see my portfolio.