Want to know what to bake with rhubarb this season? Find out how to grow rhubarb, harvest rhubarb, and bake with rhubarb in this roundup of some of the best rhubarb recipes. Let's go beyond the usual rhubarb pie to bake the best rhubarb desserts this year!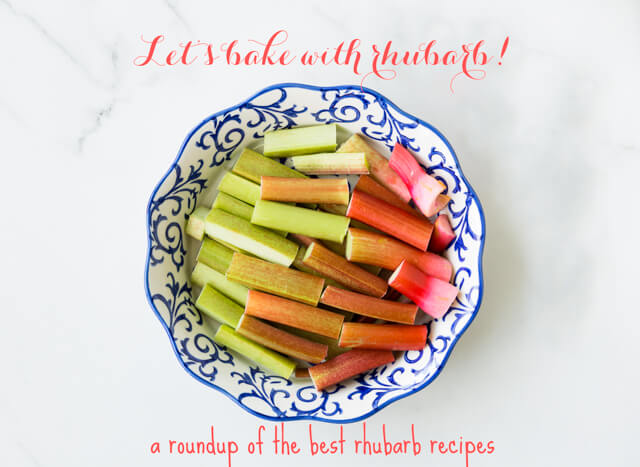 What do you make with rhubarb? Rhubarb is a pretty unusual ingredient. Some love it, others hate it. I'm obviously Team Rhubarb.
Sure, you can make a strawberry rhubarb pie, which is a classic, but what else can you make with rhubarb? It's a question I get asked a lot. In fact, last spring, Susan Semenak of the Montreal Gazette even called me to talk about rhubarb for an article in the newspaper. She interviewed me about rhubarb because she noticed on my Instagram page that I had baked a unique moist rhubarb cake, and that I had roasted rhubarb to serve with waffles.
We talked about rhubarb jam, rhubarb pudding cakes, and even rhubarb pop tarts! The fact is, there are so many different ways to cook and bake with rhubarb, so I thought I'd share a roundup of some of the best rhubarb recipes from friends I admire. And if you love to bake with rhubarb, tell me! Share your best rhubarb recipes in the comments below. I'd love to hear what you bake with rhubarb.

How to grow rhubarb
Planting rhubarb
You can order rhubarb plants online or pick them up at your local greenhouse in spring. Your local greenhouse will generally sell rhubarb planted in a pot with stems already sprouted up. If ordered online, rhubarb may come as a dormant root that has to be soaked to hydrate it before planting. Choose a spot for your rhubarb plant that has lots of sun because rhubarb likes full sun even. You should plant the root a couple inches underground and if you are planting several rhubarb plants, plant them several feet apart because although they may be small now, rhubarb plants will soon grow very wide and since the plants yield a lot of stems with very large leaves, you should leave 4 or even 5 feet between plants.
Rhubarb colour
I looked into growing redder rhubarb varieties quite a bit when I was ordering a new plant a few years back. If you want very pink or red rhubarb, you need to plant one of the following rhubarb varieties: Crimson Red, Macdonald, or Valentine. Often at the market and grocery stores, you will find greener varieties sold because the plants are hardier and easier to grow, whereas red varieties might require more upkeep. Hothouse and forced rhubarb tends to be pinker or redder in colour. Where I live, it's hard to find growers that do this though.
How to harvest rhubarb
The same summer you planted your rhubarb, you shouldn't pick it much at all, so only snap off 10 to 25% of the plant maximum to allow the plant to become established the first year and to grow strong. Then every subsequent year, you can pick a little more and more, until the plant is strong and vibrant, at which point you can pick as much as you want, leaving behind just a few stems.
When picking rhubarb, grab each stalk from the base and pull/twist slightly to snap it off the plant. You pick rhubarb by plucking the stalks from the plant. Don't cut them off. Plucking apparently signals to the plant to grow more.
How to shop for rhubarb
When you are buying rhubarb at the market or a grocery store, favour stalks of rhubarb that are unblemished and undamaged. Rhubarb stems should have bright colours, from light green to vibrant pinks and red. Freshly picked rhubarb should be firm, perky, and strong, whereas rhubarb that was picked a long time ago will become limp, soft, and bendy, just like old celery. Pick the rhubarb that is freshest.
How to prepare rhubarb
When you harvest rhubarb, here's what you do next:
Chop off the leaves. Discard/compost the leaves and bake with the stems only. You can eat the rhubarb stalks, baked and even raw, like celery stalks, but dip the stalks of rhubarb in sugar because they are QUITE sour. The astringency of rhubarb stems is from oxalic acid, but the amounts are much lower in rhubarb stalks than in the leaves. Oxalic acid also makes spinach and sorrel astringent.
Wash stalks of rhubarb very carefully because a lot of dirt and earth gets trapped within the curves of the stem. Dry washed rhubarb well before storing
To freeze rhubarb, slice it and freeze it in a single layer on a parchment-lined baking sheet. When the sliced rhubarb is frozen solid, you can transfer it to a freezer bag or a large jar and store in the freezer for the entire winter.
To store rhubarb in the fridge, wrap the washed and dried trimmed rhubarb stalks in a clean towel in the crisper drawer of your refrigerator. I find storing rhubarb in a bag in the fridge can be too humid and promote mold.
Rhubarb flavour
Did you know that rhubarb is a vegetable, not a fruit? Even though, rhubarb is used predominantly in baking and sweet preserves. It's sour and astringent, and tends to break down when cooked. Greener varieties are more tart, as a rule. Some bakers like to neutralize the oxalic acid and its astringency by mixing rhubarb with a base, like baking soda, a commonly used baking ingredient.
Best rhubarb recipes roundup
There are so many great recipes that feature rhubarb. Here's a roundup of some of the best rhubarb recipes you can bake to make the most of the rhubarb season.
Rhubarb in pie fillings:
Rhubarb pie with lattice pie crust: Most people will make a strawberry rhubarb pie, but I think rhubarb deserves a pie of it's own! The filling is roasted first to help release some of the water from the rhubarb so that the pie filling will be thick and not runny. This is similar to the technique I used for this awesome maple apple pie.
Rhubarb galette: The galette is the easiest pie you can make and this rhubarb galette from Liv For Cake is a winner!
Rhubarb in cake:
Moist rhubarb cake is a must when rhubarb is in season. This cake is made with ground pumpkin seeds and sour cream for a super moist rhubarb snacking cake that features rhubarb in the cake and on top!
Mini orange cornmeal cakes topped with rhubarb are the cutest! Such a showstopper and yet so easy to make. The cake has lots of orange flavour and is super moist with cornmeal and sour cream. Topped with the pinkest stalks of rhubarb, these mini cakes are a real treat!
Rhubarb layer cake: This buttermilk cake with rhubarb buttercream and cardamom cream from The Vanilla Bean Blog is a really unique way of incorporating rhubarb in a dessert by making a rhubarb buttercream.
Rhubarb in crisps and crumbles
Strawberry rhubarb crisp: Bake your crisps in individual ramekins or Mason jars or bake them in a bigger baking dish. It's entirely up to you, but make sure to adjust the baking time accordingly. This strawberry rhubarb crisp recipe is sweetened with honey and features a buttery oat crumble topping.
Blueberry rhubarb crisp with marzipan oat crumble: The combination of blueberry and rhubarb is also referred to as bluebarb or rhuberry. I honestly like this combination even more than strawberry with rhubarb. Try this blueberry rhubarb crisp and see for yourself!
Rhubarb in bars
Rhubarb blondies: Top brownies and blondies with chopped rhubarb like Michelle from Hummingbird High did in these rhubarb and white chocolate blondies.
Strawberry rhubarb bars, like a fruit crisp in bar form, is a genius idea from The Recipe Rebel and definitely one to take on picnics!
Rhubarb in preserves
You can transform rhubarb into jams and jellies. Whatever you prefer, rhubarb preserves are a must so you can still enjoy rhubarb and memories of summer in the dead of winter. Here are two options to get you started:
Rhubarb vanilla bean jelly from Simple Bites is a stunning pink that will make a beautiful topping for homemade rhubarb scones.
Rhubarb jam (no pectin) flavoured with juniper berries: The juniper berries are entirely optional but give a lovely gin flavour to rhubarb jam, without the booze. Use rhubarb jam to make bostock with frangipane!
More unique rhubarb recipes: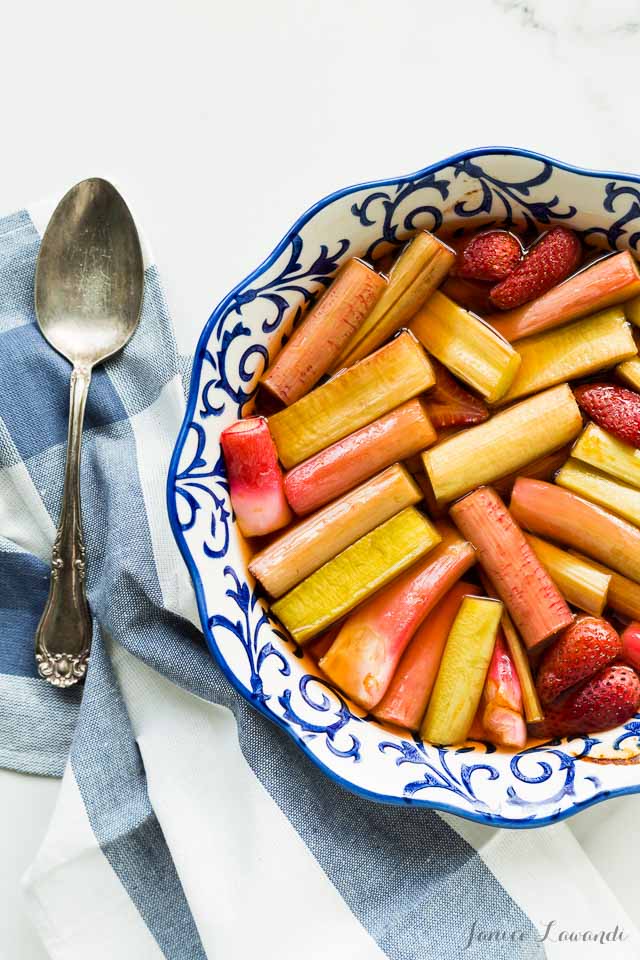 So many amazing recipes to make with rhubarb. Now what are you going to bake with rhubarb?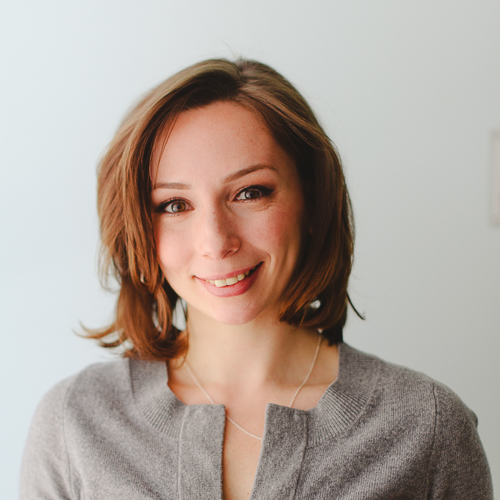 Janice Lawandi is chemist-turned-baker, working as a recipe developer in Montreal, Quebec, Canada. She studied pastry at Le Cordon Bleu in Ottawa and cooking at l'Académie Culinaire. She has a BSc in Biochemistry from Concordia University and a PhD in Chemistry from McGill University. Visit janicelawandi.com to see my portfolio.