This spice layer cake is stacked with a white chocolate cream cheese frosting. The white chocolate in the cream cheese frosting allows you to make a thick cream cheese frosting without any icing sugar or powdered sugar, but the frosting is still thick enough to pipe on cakes.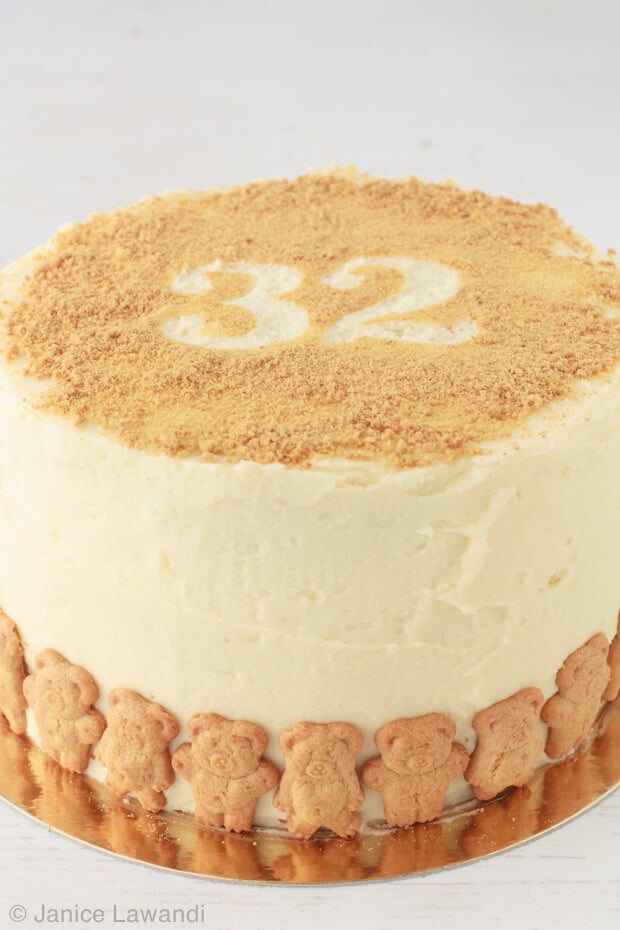 Getting creative with a basic vanilla cake recipe
Every birthday should be celebrated with a cake, if possible. And while you can't go wrong with the classic vanilla cake with milk chocolate frosting, sometimes it's nice to switch it up. You can take your favourite vanilla cake and get creative with it through some thoughtful baking substitutions and also some careful additions. Here are a few ways to jazz up your favourite vanilla cake recipe:
use brown sugar instead of granulated sugar, which will give the cake a light butterscotch or caramel flavour: to do so, replace a portion (or even all) of the granulated sugar with light brown sugar or even dark brown sugar (gram for gram, or cup for cup)
add almond extract, which will give the cake layer a marzipan flavour, while keeping the vanilla extract in the recipe: remember almond extract is potent so a little goes a long way and for a recipe with around 190 grams (1.5 cups) of flour, try adding 5 mL (1 teaspoon) and see how you like it
add citrus zest, which will give your cake layers a lovely flavour without you having to make any changes to the recipe: add the zest of a lemon or the zest of an orange to your favourite recipe, and you'll be surprised at the amount of flavour it imparts
add warm spices to the dry ingredients, like in the recipe below, with a combination of cinnamon, ginger, and allspice. You can also try adding other spices, like ground cardamom like in this cardamom cranberry layer cake and you won't need to make any adjustments to the other ingredients to do so.
add ground tea leaves to the dry ingredients, like Earl Grey tea in this Earl Grey cake and you won't need to make any adjustments to the other ingredients to accommodate the tea.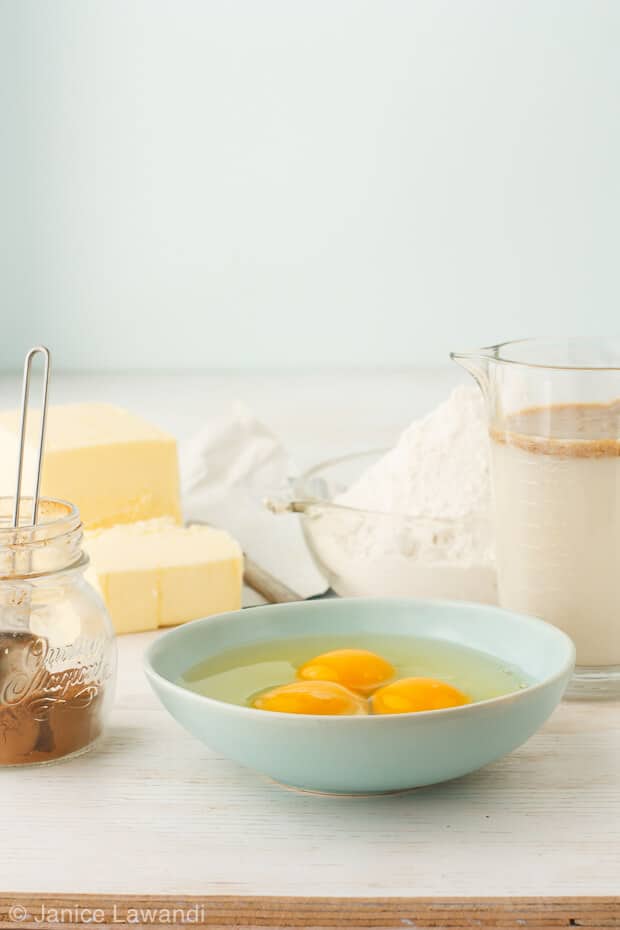 Baking a three layer cake
I baked this 3-layer cake in one single, very tall cake pan (the only 6-inch pan that I owned at the time), and it took a full hour to bake, and in my opinion could have even used a few minutes extra in the oven. Though you can easily bake a layer cake in one single layer that you will split after it cools, the baking time is so much longer and there is a greater risk that you end up slightly underbaking the cake, which may result in some gumminess at the bottom or even cake collapse. For this reason, I highly recommend that you bake this cake in three separate 6-inch cake pans (not one!) and if you only have one, then I suggest you bake the batter in stages, one third at a time. The baking will be more even, and it will be much easier for you to judge doneness.
Take the time to prepare the cake pans before baking, by buttering the pans, lining the bottom with parchment, and dusting the sides with flour. This way your cakes will slide right out of the pan, without any resistance. And also take the time to use a few techniques to check if your cake is done baking so you don't have any surprises when you level and stack the cakes later.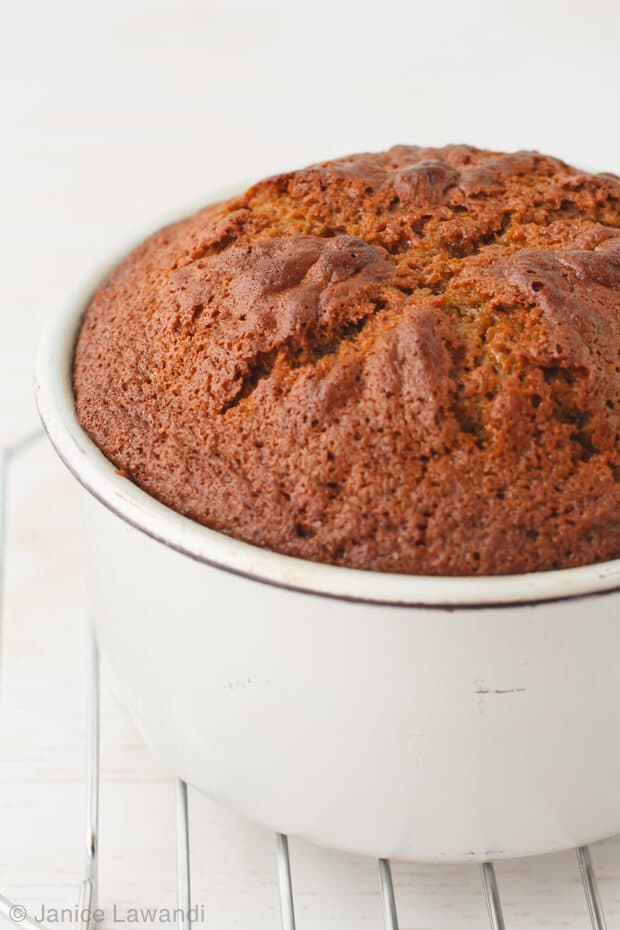 Making thick cream cheese with white chocolate instead of icing sugar
Since I am still on a quest for a cream cheese frosting that is thick while using less icing sugar, I tried out a new-to-me recipe from Rose Levy Barenbaum's Cake Bible (Amazon). What is interesting about this recipe is that it is sweetened with white chocolate, and not icing sugar, so there is little to no chance of the cream cheese liquifying on you. I must admit that this recipe is a little challenging for a couple reasons:
If the white chocolate is too hot, or melted too quickly and therefore more liquid-y than cooled melted white chocolate should be, your frosting may be runny and require some chill time to get back that perfect texture.
If your white chocolate is melted and cooled to room temperature, but it hits the mixer paddle or the bowl sides, it may harden up, resulting in a lumpy frosting.
Helpful tip: add the melted white chocolate in stages, being sure to get it right onto the room temperature cream cheese, and not down the sides of the cold metal mixer bowl because it will splatter/harden. If you lose some to the beater or if you end up with a couple nuggets of white chocolate, it's okay, people: it's white chocolate! And so, if that happens, let's just call it white chocolate chip cream cheese frosting, okay?
If you are looking for a "regular" cream cheese frosting made with icing sugar, but less than most recipes, you can try the frosting on these apple cupcakes with thick pipeable cream cheese frosting. The frosting on this berry chocolate cake works great too.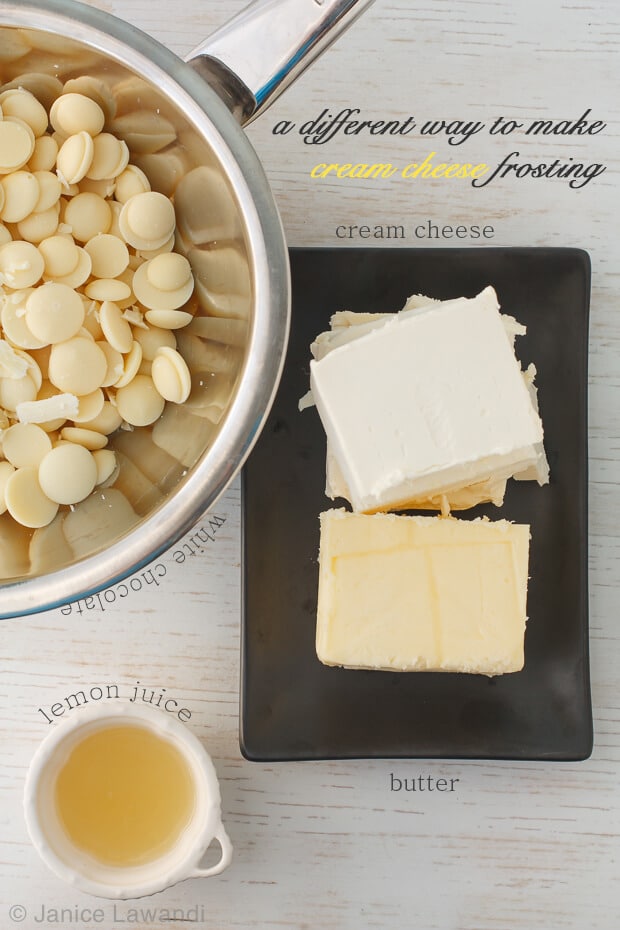 I'm always looking for creative ways to decorate a cake if you aren't a professional cake decorated. I decided to decorate this birthday cake with the honey Teddy Grahams. Animal crackers would also work. And the top is just a stencil of the birthday number made with number cutouts and a generous scattering of graham cracker crumbs. Easy! Another great way would be to decorate the top of the birthday cake with candy and fun treats.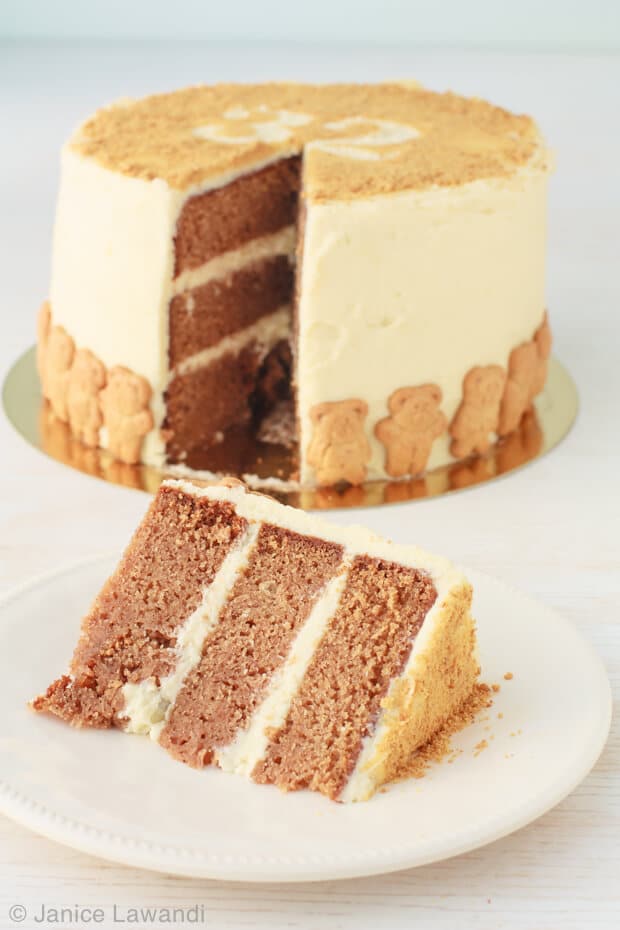 Spice cake with white chocolate cream cheese frosting
This spice layer cake is made with a white chocolate cream cheese frosting and decorated with graham cracker crumbs and Teddy Grahams cookies.
Ingredients
Spice cake
290

grams

(

2⅓

cups

)

all-purpose flour

7.5

mL

(

1½

tsp

)

baking soda

1.25

mL

(

1/4

tsp

)

fine kosher salt

5

mL

(

1

tsp

)

ground cinnamon

5

mL

(

1

tsp

)

ground ginger

2.5

mL

(

1/2

tsp

)

ground allspice

7.5

mL

(

1½

tsp

) pure vanilla extract

250

mL

(

1

cup

)

buttermilk

115

grams

(

½

cup

)

Stirling Creamery unsalted butter

300

grams

(

1½

cups

) light brown sugar

3

large eggs
White chocolate cream cheese frosting
255

grams

(

9

oz

)

Cacao Barry white chocolate

340

grams

(

¾

lb

)

Philadelphia cream cheese (full fat, regular)

room temperature

172

grams

(

¾

cup

)

Stirling Creamery unsalted butter

room temperature

22.5

mL

(

1½

tbsp

)

fresh lemon juice
Instructions
Make the spice layer cake
Preheat the oven to 350°F. Grease and flour three 6-inch cake pans. Line the bottom of each with a round of parchment.

In a bowl, whisk together the flour, baking soda, and spices.

Combine the buttermilk and the vanilla in a cup.

In the bowl of an electric mixer, fitted with the paddle attachment, cream the butter and the sugar for several minutes until it is light and fluffy.

Add the eggs, one at a time, beating well with each addition and scraping down the bowl as needed.

Add the flour mixture in thirds, alternating with the buttermilk, mixing on low.

Divide the batter between the 3 pans, and bake the cakes until a cake tester inserted in the center comes out clean. (if you are baking the batter in one tall cake pan, the cake may take as long as an hour or more to bake!)

Let the cake layers cool in the pan for 10 minutes, then unmold them onto a rack to cool completely.
Make the white chocolate cream cheese frosting
Melt the white chocolate over a double boiler until it is thick and just melted. Do not overheat the chocolate, it should never feel warm to the touch. Let the melted chocolate stand for a few minutes or until it has thickened up and to make sure it's not too warm to make frosting.

In the bowl of an electric mixer fitted with the paddle attachment, beat the cream cheese until it is smooth, then add the white chocolate in thirds, being sure to pour it right onto the cream cheese, and not on the beater or the sides of the bowl as it will harden and clump. Beat in the white chocolate and when it is all incorporated, add in the butter and beat it in, finishing with the lemon juice.
Assemble and decorate the cake
Trim/level the layers with a serrated knife so that they are flat and fairly even. Place the first layer on a plate, top with a generous 1/2 cup of frosting, smoothing it with an offset spatula. Top with the 2nd layer of cake, another generous 1/2 cup of frosting, and then the 3rd layer. Smear the last of the frosting onto the top and sides of the cake so the surface is smooth and completely covered.

Line up the Teddy Grahams around the base of the cake, pressing them into the frosting to "glue" them. Use the graham cracker crumbs to stencil on the number of the birthday celebrated.
Notes
Butter provided by Stirling Creamery
Makes one 6-inch layer cake
Calories calculated based on one-twelfth of the cake+frosting
Nutrition
Calories:
452
kcal
|
Carbohydrates:
44
g
|
Protein:
6
g
|
Fat:
28
g
|
Saturated Fat:
17
g
|
Cholesterol:
98
mg
|
Sodium:
280
mg
|
Potassium:
158
mg
|
Fiber:
1
g
|
Sugar:
29
g
|
Vitamin A:
809
IU
|
Vitamin C:
1
mg
|
Calcium:
102
mg
|
Iron:
1
mg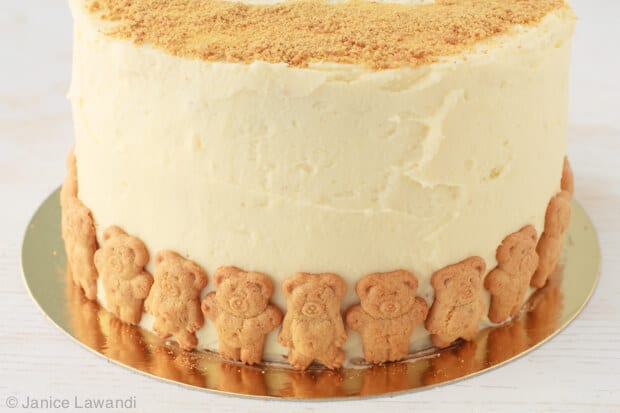 I do my best to bake with the finest ingredients. Stirling Creamery, a Canadian company, has provided the butter for this post.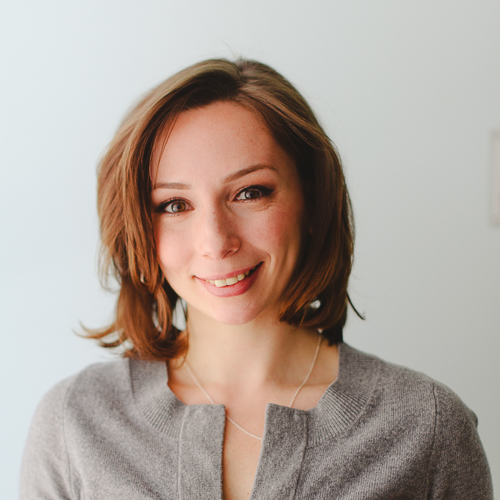 Janice Lawandi is chemist-turned-baker, working as a recipe developer in Montreal, Quebec, Canada. She studied pastry at Le Cordon Bleu in Ottawa and cooking at l'Académie Culinaire. She has a BSc in Biochemistry from Concordia University and a PhD in Chemistry from McGill University. Visit janicelawandi.com to see my portfolio.