We can all sing around here that "the weather outside is frightful" and I'm pretty sure (in my fantasy world), crowds of people would join my caroling in agreement. I think the carolers would beg along with me to just let it snow since we've had spurts of unseasonal, warm temperatures, and loads of rainy/freezing rainy precipitation. Yesterday, our outdoor thermometers registered +6°C, today they registered –11°C. The inconsistent weather has put quite the damper on our holiday spirits.
My solution has been to play holiday music pretty much constantly. That, and I baked gingerbread cookies. I love a good gingerbread cookie. The aroma of the spiced cookies baking in the oven is exactly right for this season. But sometimes, I find them just a tad too crisp (I'd rather not add a broken tooth on top of the stress of the holidays). Then a colleague sent me this link to a German gingerbread cookie recipe that yields firm, but chewy cookies. She offered to translate, but I turned down her offer even though I am far from fluent in German. My ability to decipher German did not come from the time that I lived in Germany for several months as everybody spoke to me in English. I did not really acquire German when I took a German course at the University level, only to forgot it all a few months later. I think my ability to decipher German recipes has come from my PhD where I was I was faced with a number of lab protocols that I needed to follow, but that were written in German. Okay, maybe some of my knowledge came from living in Schwenningen and German class at Concordia, but I'm going to attribute it to my PhD because that degree has got to have served a purpose for something good!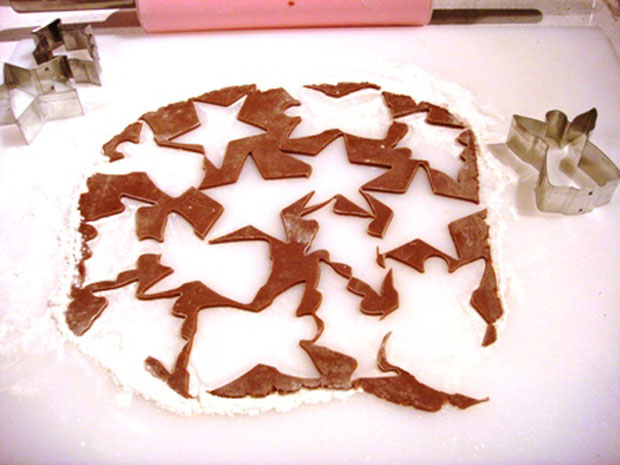 Anyways, back to my German recipe. I think the slight chewiness of these cookies comes from a few key ingredients, namely honey, brown sugar, and butter, which are melted together first, before combining with the rest of the ingredients. Also, baking on a Silpat (silicone baking mat) helps keep them softer.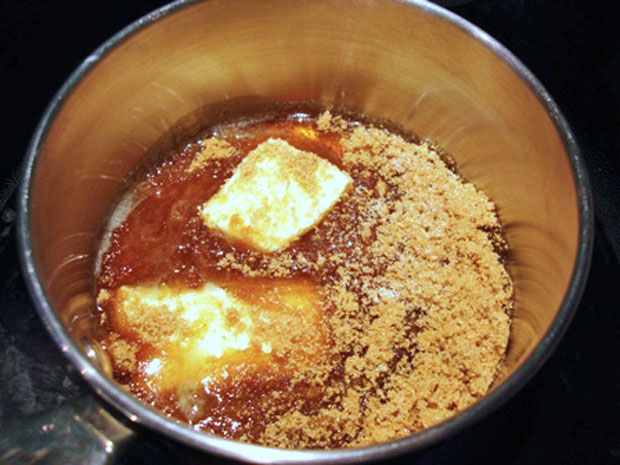 Since I haven't practiced cookie decorating since the September Daring Bakers Challenge, I figured I might as well try (*shudder*). I whisked together a little over 200 grams of powdered icing sugar, with 1 egg white, and a couple teaspoons of lemon juice, and then used this white royal icing to decorate. It was rough. I decided to focus on learning to outline so I made sure that the royal icing was fluid enough to pipe, but not so fluid that it would run off the cookies before drying. I'm pretty sure that I was using too large a tip to outline my cookies (or at least that is my excuse). I clearly need to practice more. I honestly felt like I was a 4 year old learning to wield a pencil to sign my name for the first time, with slightly awkward techniques and maneuvers…. I'm sure my mommy will love them just the way they are. The cookies are festive and delicious, just what this dreary weather called for, especially when served with a warm cup of tea.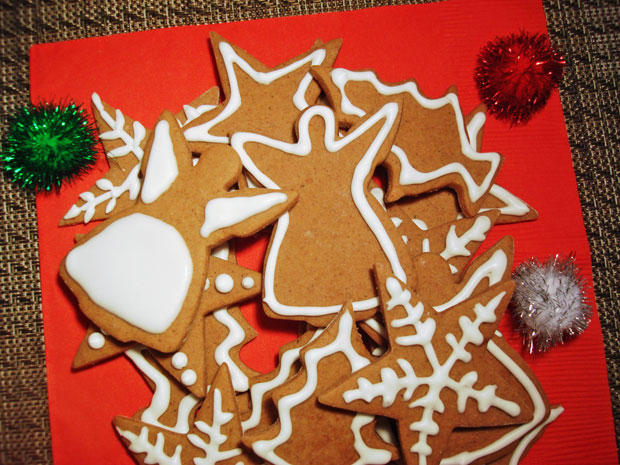 German gingerbread cookies
Instructions
In a medium saucepan on medium heat, melt the honey, butter, brown sugar, and salt, stirring occasionally with a wooden spoon. When the mixture is completely melted and homogeneous, remove from the heat to cool until it is lukewarm.

In the bowl of an electric mixer fitted with the paddle attachment, beat the cooled honey-butter mixture with the egg until combined. Scrape down the sides of the bowl as needed.

Combine the dry ingredients in a separate bowl and sift them into the mixer bowl. Beat until combined, scraping down the sides of the bowl to incorporate every last bit of flour.

Transfer the dough to a very lightly-floured worksurface, and knead it for a minute to make sure that all the ingredients are well combined.

Divide the dough in two, forming each half into a disk. Wrap each disk with plastic wrap and refrigerate for about 1 hour until the dough has firmed up.

Preheat the oven to 350°F.

Take one disk of dough from the fridge, and roll it out on a floured surface to 1/4-inch. Using lightly floured cookie cutters, cut out festive shapes and transfer them to a Silpat-lined baking sheet.

Bake the cookies for 10 minutes.

Cool slightly before transferring to a wire rack.

Continue with the rest of the dough. The dough scraps can be rerolled a few times to make more cookies.

Store the baked cookies in a airtight plastic container to keep them chewy.
Notes
For a Silpat, you can get it on Amazon
Nutrition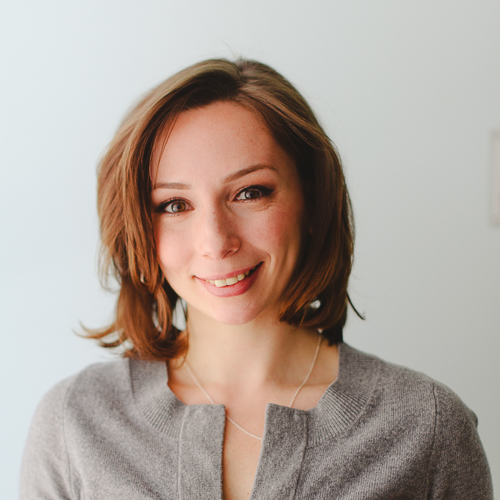 Janice Lawandi is chemist-turned-baker, working as a recipe developer in Montreal, Quebec, Canada. She studied pastry at Le Cordon Bleu in Ottawa and cooking at l'Académie Culinaire. She has a BSc in Biochemistry from Concordia University and a PhD in Chemistry from McGill University. Visit janicelawandi.com to see my portfolio.