The February 2011 Daring Bakers' challenge was hosted by Mallory. She chose to challenge everyone to make Panna Cotta from a Giada De Laurentiis recipe and Nestlé Florentine Cookies.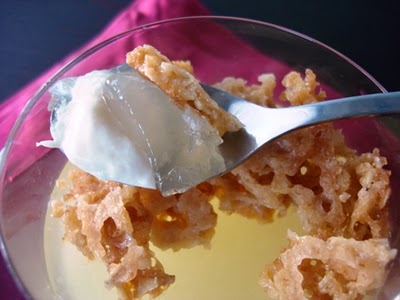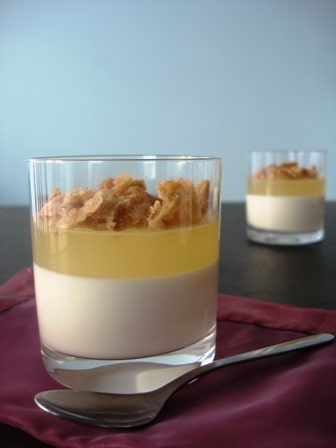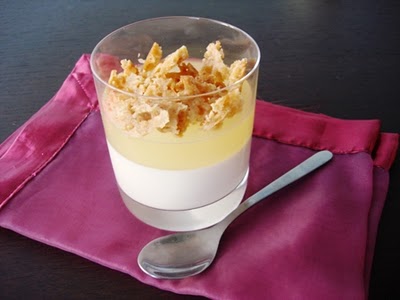 This mascarpone panna cotta with lemon gelée and florentine crumble really was creamy, dreamy, crunchy, and sweet! Pure bliss.
The mascarpone panna cotta (loosely based on this recipe featured in the Toronto Star newspaper). I think my inspiration was cheesecake, and since lemons, and not raspberries (my go-to berry), are in season right now in North America, I topped the panna cotta with lemon jelly. I found the oat florentine cookies (recipe tweaked from Nestlé) had a slight caramel flavor reminiscent of graham crackers, so I crumbled them over each of the panna cotta.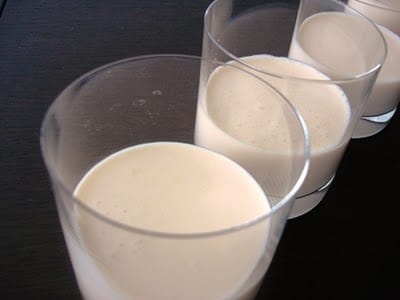 The finished dessert reminded me a lot of a lemon creamsicle, not quite the cheesecake flavor I had dreamed of. Still, I think they turned out beautifully, creamy and sweet on the bottom, with the tart jelly and nutty, crispy, caramel-y crumble on top. I'd definitely make these again. I suggest making the florentines and the panna cotta the day before. Then, make the lemon jelly and assemble on the second day, half a day before serving.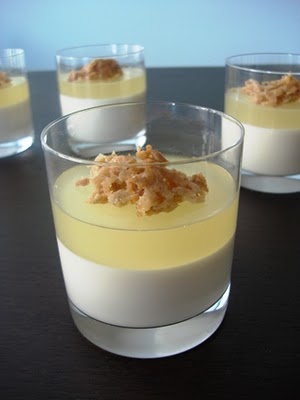 Mascarpone panna cotta with lemon jelly and florentine crumble
This recipe will yield soft, silky mascarpone panna cotta that you can serve plain or top with lemon jelly and crumbled florentine cookies.
Ingredients
4

tbsp

water

1

tsp

Knox unflavoured gelatin powder

1 1/4

cups

whipping cream (35 % fat)

divided

1/2

cup

mascarpone

1/2

cup

granulated sugar

1/2

tsp

finely grated lemon zest

zest of ~ half a lemon

1/2

tsp

pure vanilla extract
Lemon jelly
125

mL

fresh lemon juice

1

packet

Knox unflavoured gelatin powder

50

grams

granulated sugar

250

mL

water
Instructions
In a small stainless steel bowl, sprinkle the gelatin over the water. Set aside to bloom for about 5 minutes.

In a medium bowl, whisk the mascarpone with the sugar, 1 cup of the cream, lemon zest, and vanilla. Set aside.

Add the final 1/4 cup of cream to the bloomed gelatin, and set the bowl over a pan of simmering water. Heat the gelatin/cream mixture until the gelatin has dissolved and you can no longer see the gelatin flakes, stirring constantly.

Take the gelatin off the heat and stir it into the mascarpone mixture.

Pour the panna cotta into 4 glasses or ramekins.

Transfer to the fridge and chill to set, about 3 hours, if not overnight.
Lemon jelly
Pour ¼ cup of lemon juice in a 2-cup measurer or a medium bowl. Sprinkle the gelatin over top. Set aside to bloom at least 5 minutes.

In a small saucepan, bring the water and sugar to a boil to completely dissolve the sugar.

Pour the syrup over the gelatin, and whisk to dissolve the gelatin.

Add the remaining 1/4 cup of lemon juice. Let the lemon jelly cool to room temperature before using.
Assembly
When the panna cottas are set, and the lemon jelly has cooled to room temperature, pour the lemon jelly over top each of the panna cotta. Pour as little or as much as you would like (I poured a 1-inch layer on mine, but I think a half-inch would have been better).

Chill in the fridge to set the jelly, about 1 hour.

Crumble 2 of the florentine cookies over each of the panna cottas before serving.
Notes
Given the acidity of the lemon juice, I used a full packet of gelatin so that it would set properly.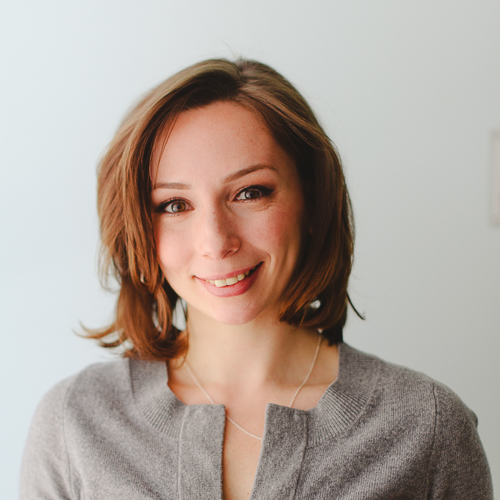 Janice Lawandi is chemist-turned-baker, working as a recipe developer in Montreal, Quebec, Canada. She studied pastry at Le Cordon Bleu in Ottawa and cooking at l'Académie Culinaire. She has a BSc in Biochemistry from Concordia University and a PhD in Chemistry from McGill University. Visit janicelawandi.com to see my portfolio.