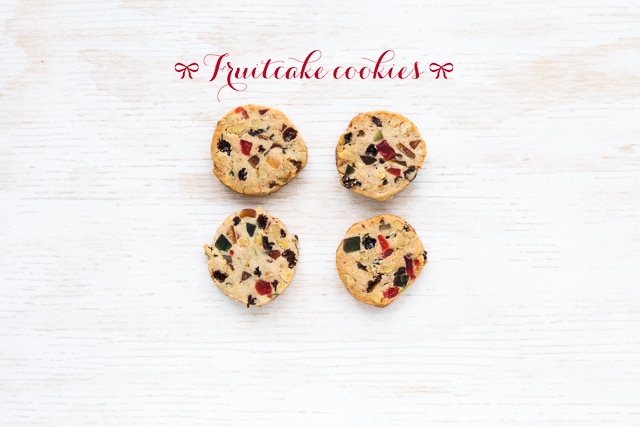 *** Please note that this post was updated in December 2016 with a new version of the fruitcake cookies (image above). I have kept the old version (at the very bottom of this post) in case you like to bake it already. If you don't, I would start by making the new version. I used sweeter, more delicate spices in the new version of this recipe for fruitcake cookies. I also sliced the cookies a little thinner. ***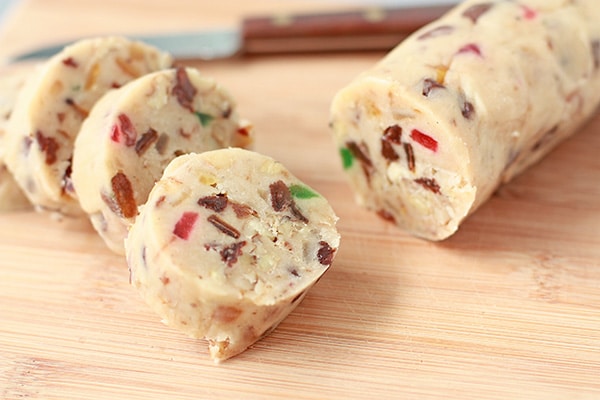 Don't panic if you are days away from the holidays or if it's already December 24th. You still have time to throw together a few easy cookie recipes. Slice-and-bake cookies are your best bet when it comes to pumping out a large number of cookies in a short amount of time and with less effort. Why? Because slice-and-bake cookie dough can be made ahead and stored in the refrigerator for several days. Or you can freeze it for up to 1 month. When you are ready to bake, try to take the cookie dough out of the freezer the day before. Then all you have to do is slice and bake them!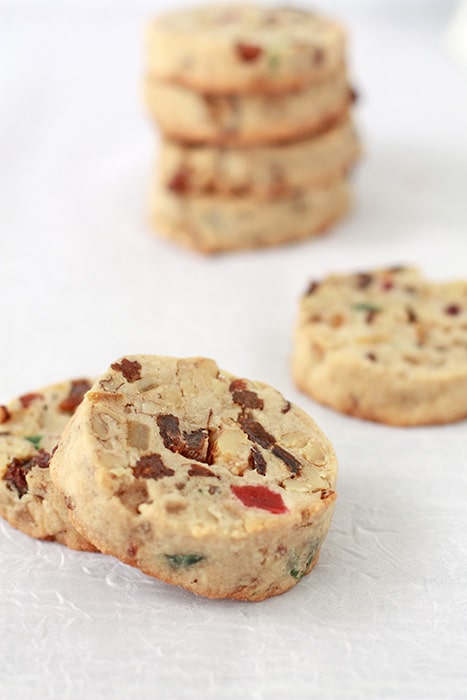 What kind of fruit should you use
A typical fruitcake will have raisins and/or dried currants, glacéed cherries (red or green), candied citrus peel, candied citron peel, candied pineapple, and possibly nuts (though my family's white fruitcake doesn't have nuts). Really, any candied or dried fruit can be used in this recipe. The great thing about this recipe is that you can use up the tail-ends of the fruit you bought for your other Christmas baking. Candied ginger would also be great here. You can use chopped pitted dates instead of the raisins, or dried cranberries instead of the glacéed cherries…. use what you like and what you've got!
For the nuts, feel free to replace the walnuts with chopped pecans, almonds or even chopped hazelnuts. Or skip them entirely if you prefer for a nut-free version!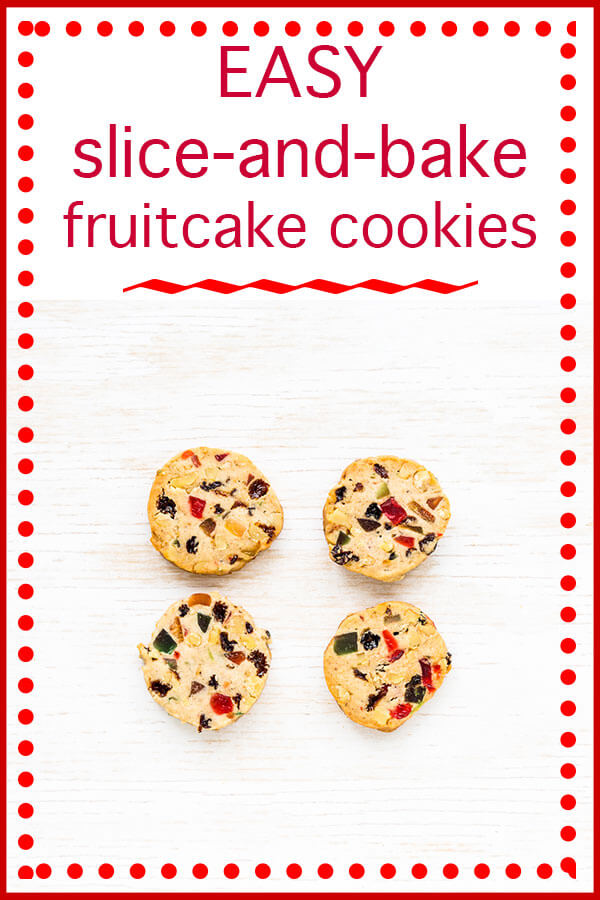 What if you hate fruitcake?
If you would don't love fruitcake, I'm not here to judge you. Try these slice and bake ginger cookies and slice and bake gingerbread coins instead. Both are very easy and still quite festive for the holidays. If you dare to make something more elaborate, try the cinnamon rugelach with dried cranberries.
Slice-and-bake fruitcake cookies
This updated recipe for fruitcake cookies is flavoured with cardamom and allspice. Cut thinner, these cookies are a little more delicate.
Ingredients
454

grams

(

1

lb

)

candied fruit

or dried fruit, chopped

45

mL

(

3

tbsp

)

brandy

170

grams

(

1 ⅓

cups

)

walnut pieces

1 1/3 cup, toasted and chopped

333

grams

(

2 ¾

cups

)

all-purpose flour

3/4

tsp

(

3/4

tsp

)

ground cardamom

1/4

tsp

(

1/4

tsp

)

ground allspice

230

grams

(

1

cup

)

unsalted butter

room temperature

100

grams

(

½

cup

)

granulated sugar

72

grams

(

⅓

cup

) light brown sugar

1

large egg
Instructions
In a small saucepan, combine the candied/dried fruits and/or raisins with the brandy. Heat to warm up everything until the mixture is steamy, then remove the saucepan from the heat and let stand.

Meanwhile, in a medium bowl, whisk together the flour with the spices. Set aside.

In the bowl of an electric mixer fitted with the paddle attachment, cream together the butter and the sugars until light and fluffy. Add the egg and beat well to combine. Scrape down the sides of the bowl as needed.

Add the flour to the mixer bowl in three additions, stirring between each addition and scraping down the bowl as needed. When the last of the flour has almost disappeared into the dough, add the soaked fruit and the walnuts. Stir to combine.

Divide the dough into 4 and roll each piece into a log of about 2-inches diameter. Wrap each in plastic wrap and refrigerate overnight.

Slice each log into about 16 cookies and arrange on parchment-lined baking sheets spaced 1 inch apart.

Bake at 350ºF for 15 minutes until the edges are nice and golden.
Notes
For the candied fruit, you can use any or even dried fruit:
raisins or dried currants
dried cherries or dried cranberries
crystallized ginger
candied citrus peel (lemon, orange, or citron)
glacéed cherries (chop them up in to small pieces!)
Nutrition
Adapted from Ina Garten.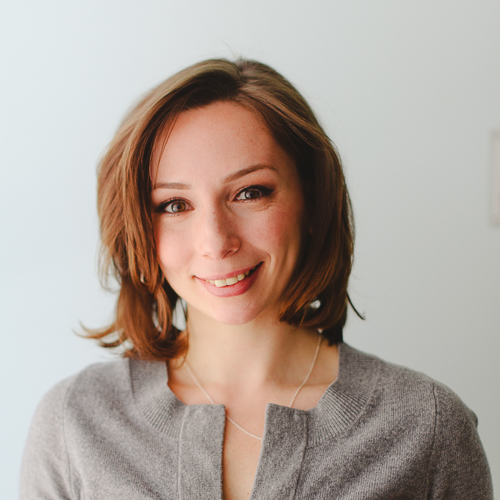 Janice Lawandi is chemist-turned-baker, working as a recipe developer in Montreal, Quebec, Canada. She studied pastry at Le Cordon Bleu in Ottawa and cooking at l'Académie Culinaire. She has a BSc in Biochemistry from Concordia University and a PhD in Chemistry from McGill University. Visit janicelawandi.com to see my portfolio.