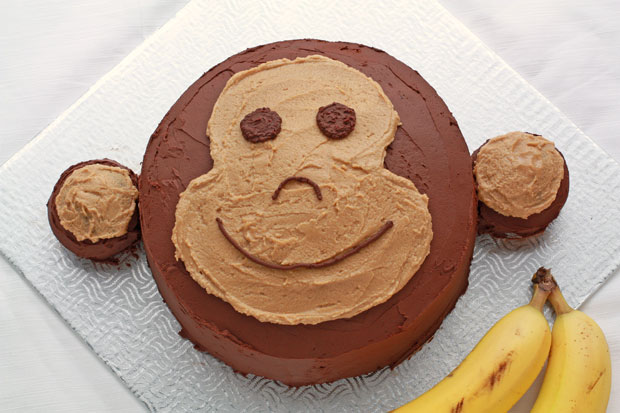 When a PhD student defends their thesis, it's a really big deal. Actually, it's huge. It takes anywhere from four to seven years to get to that day. Yes, often in Chemistry, it takes seven solid years of work to finally get to that one day. Defense day is full of fear and excitement, not only for the student defending, but also for those that attend. So much hard work, sweat, and tears go into the years before the big finale. It is truly a moment to celebrate.
Me after my defense, shoes off, with a crown and necklace of popcorn and helium-filled balloons.
Photo courtesy of an anonymous, sugar-addicted chemist
My defense date was over a year ago, March 8th, 2010. I was seriously afraid to defend my thesis, scared to make a fool of myself in front of my friends and family when I was supposed to be demonstrating that I was an expert. To be honest, I cried before the defense, out of sheer panic. I also cried after the defense, from the immense sense of relief because this huge, difficult part of my life was finally over. I cried when my panel of judges, one by one, took my hand to shake it in congratulations and when they gave me the title of doctor. We celebrated with boat-loads of popcorn that one of my best friends, E, spent three days lovingly popping, just for me. There was popcorn everywhere. It was epic.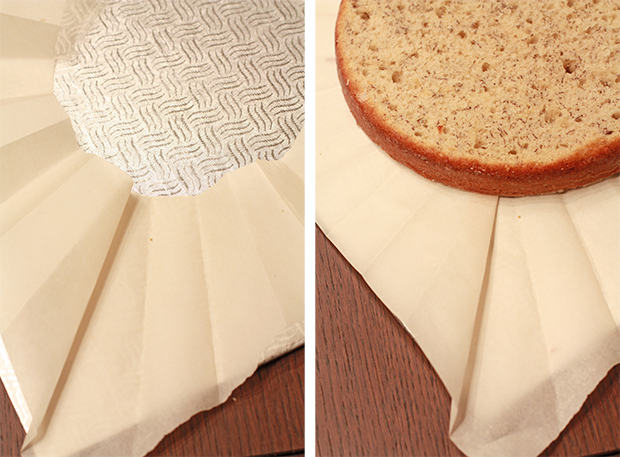 Genius idea:
Cut out a parchment round from a bigger sheet of parchment paper, then use the scraps of paper to protect the cake board when icing and decorating!
Friday, I attended E's defense. E is a very hard worker, and she gave every one of her projects her undivided attention over the years, working most nights and week-ends. I was so happy to have the opportunity to witness such an important event in her life, and be there to support her. For the post-defense celebration, we celebrated with fruity cocktails, and I happily contributed a monkey cake for this momentous occasion. She loves monkeys. That's her thing. How could I resist the chance to make her a monkey cake?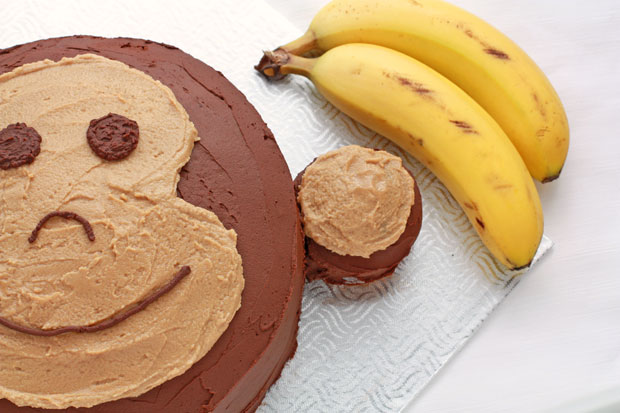 What you need to make a monkey cake
Components of a monkey cake
Obviously, since I was making a monkey cake, the two 9-inch cake layers had to be banana-flavored (tweaked from Martha Stewart's Baking Handbook, page 157). I used chocolate ganache (Alton Brown) and peanut butter frosting (Bon Appétit, January 2003) between the layers. The ears were made by baking two cupcakes-worth of the banana cake batter in a muffin tin. So to make a monkey cake, you will need two 9-inch layers of cake, preferably banana cake, plus two banana cupcakes, chocolate frosting, and peanut butter frosting. You will also need cake board, parchment paper, offset spatula for frosting, a serrated knife for levelling the layers of cake, and a piping bag with a round tip for any fine decorating.
How to make a monkey cake
Once you've stacked your banana layers with frosting, you can then cover the entire cake with chocolate ganache, and then apply the monkey face with peanut butter frosting. Add the eyes, nose, and mouth with chocolate ganache frosting. This is where you . may want to use a piping bag. For the ears, cover the cupcakes entirely with chocolate frosting, then add peanut butter frosting to the tops to give more shape to the ears (see photos). Stick the ears on either side of the monkey face.
The combination of banana, peanut butter, and chocolate was a huge hit with everyone, especially our friend-turned-doctor. The cake layers are firm but moist, and with just enough banana flavor that is not overpowering. To cut down on the sweetness of the decorated cake and to make it more "adult-friendly," I opted to use an unsweetened, lightly salted natural peanut butter to make the peanut butter frosting, and semi-sweet chocolate for the chocolate ganache.
E's three-day popcorn popping spree made my defense party unforgettable. I hope that my little monkey cake contribution made her big day a little more special too. If you aren't in the mood for a monkey cake and rather something a little simpler, try this banana snacking cake with chocolate frosting.
Monkey cake: Banana cake with chocolate ganache and peanut butter frosting
Here's how to make and decorate a monkey cake. Start with layers of banana cake (for the face) and two cupcpakes (for the ears), then frost with chocolate and peanut butter frosting and decorate to look like a monkey face.
Ingredients
Banana Cake Layers
2 3/4

cups

all purpose flour

plus more for pans

1 1/2

tsp

baking powder

1

tsp

baking soda

1/2

tsp

Diamond Crystal fine kosher salt

3/4

cup

unsalted butter

1 1/2 sticks, room temperature

1

cup

mashed

ripe banana

1/4

cup

yoghurt

2.5% fat

1

tsp

pure vanilla extract

1 2/3

cups

granulated sugar

4

large eggs

room temperature
Chocolate ganache frosting
16

ounces

semi-sweet chocolate

chopped fine

16

ounces

whipping cream (35 % fat)

2 cups, ie 500 mL
Peanut butter frosting
1.5

cups

creamy peanut butter

I used natural, organic peanut butter, but this means the frosting will separate if left too long at room temperature, so beware!

1/2

cup

unsalted butter

1 stick, room temperature

2

cups

icing sugar

1

tbsp

spiced or dark rum

Enough skim milk to obtain a spreadable consistency
Instructions
To make the cake:
Preheat the oven to 350°F. Prepare two 9-inch round cake pans by greasing, lining the bottom of each with parchment, and then greasing and flouring them, tapping out the excess flour. Set them aside for later, saving the parchment scraps for when you decorate. Do the same to two cups of a 6-muffin pan, but don't line the bottom of the cups with parchment. Set the prepared muffin pan aside for later.

In a medium bowl, whisk together the flour, baking powder, baking soda, and salt. Set the dry ingredients aside.

In a small bowl, mix together the mashed banana, yoghurt, and vanilla. Set aside the banana mixture for later.

In the bowl of an electric mixer, fitted with the paddle attachment, beat together the butter and granulated sugar on medium-low for a few minutes, until it is light. Scraped down the sides of the bowl with a spatula, as needed.

Add the eggs, one at a time, mixing on medium-low between each addition, and scraping down the bowl as needed.

Add one-third the dry ingredients, mix well and scrape down the bowl, and then half the banana mixture. Repeat this again with half the remaining dry ingredients, and the rest of the banana mixture. Finish by adding the last of the dry ingredients, and mix well, scraping down the sides of the bowl to make sure every ingredient is evenly incorporated.

Divide half the batter between the two prepared cake pans. Scoop out about 1/3 cup from each cake pan, and transfer to each of the muffin pans. Fill the empty muffin cups half way with water.

Bake the cakes for about 25 minutes (though the original recipe says 30–35 minutes). Check the cakes to make sure they are done by poking through the center with a skewer or cake tester. The skewer should come out clean.

Transfer the cake pans to a wire rack to cool completely.
To make the ganache frosting
Heat the heavy cream in a quart-sized, microwavable container and microwave for 3 to 4 minutes on high, or until it just begins to simmer; be careful not to allow cream to boil over.

Place the chocolate in a medium, heat-proof bowl. Pour the cream over the chocolate and let stand for 2 minutes (don't rush this step), then slowly stir with a spatula. As you stir, the lumpy mixture will slowly blend together and become a thin, chocolate syrup.

Let the syrup set at room temperature for a few hours, then transfer it to the fridge for another hour or so. When the ganache has a thick pudding-like consistency, transfer it to the bowl of an electric mixer fitted with the whisk attachment and whip it into frosting. Use right away, before it hardens any more.
To make the peanut butter frosting
In the bowl of an electric mixer fitted with the paddle attachment, beat together the peanut butter, butter, rum, and the powdered sugar until mixture is smooth.

Add milk by teaspoonfuls until the desired, spreadable consistency is reached.
To assemble
Line a 12-inch cake board with the saved parchment scraps.

Trim the top off of one of the baked cake rounds so that it is flat and even. Peel the parchment lining off the bottom, and place it in the center of the board.

Frost the top of this layer with a thin layer of both the ganache and peanut butter frostings.

Peel the parchment lining off the bottom of the second cake round, and place it on top of the first. Do not trim this cake round. Frost the entire cake with ganache frosting.

To fix the ears to the cake rounds, frost the bottom with ganache, and skewer them to the cake with toothpicks. Place them at opposite sides of the round. Frost the ears with ganache.

With peanut butter frosting, fill in the ears, and paint on the monkey face. For the lines of the mouth, eyes, and nose, use a piping bag with a round tip and the ganache.

Refrigerate the cake until you are ready to serve. To cut through the ganache layer, you may want to use a knife dipped in warm water.
Nutrition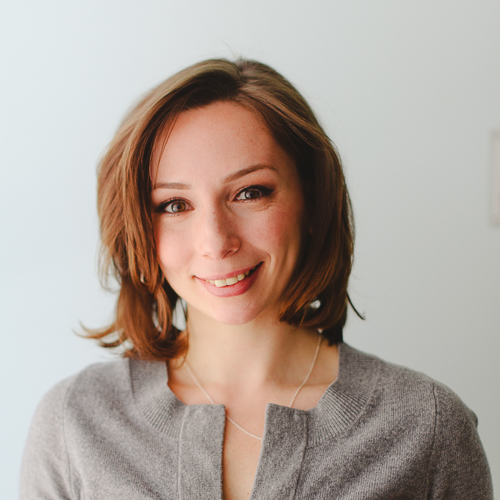 Janice Lawandi is chemist-turned-baker, working as a recipe developer in Montreal, Quebec, Canada. She studied pastry at Le Cordon Bleu in Ottawa and cooking at l'Académie Culinaire. She has a BSc in Biochemistry from Concordia University and a PhD in Chemistry from McGill University. Visit janicelawandi.com to see my portfolio.