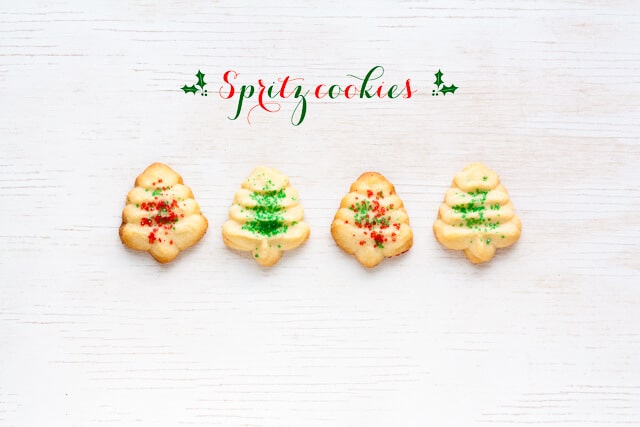 To be honest, I have a love-hate relationship with spritz cookies. They are so cute and festive, but gosh, every time I pick up the cookie press, I have to get a few practice cookies punched out before I figure out how to use the darn thing. It's not hard to use, don't get me wrong, but I use my cookie press so sporadically that each time I do, I realize I've forgotten how all over again. That's okay. Once you get the hang of it, it works well, forming perfectly even cookies in the shape you want and in minutes. In case you are wondering, the cookie press I have is from Wilton (the latest version of the Wilton cookie press I have is available on Amazon). If you prefer rolling your cookies, try these simple sugar cookies, or for something spiced, you can make gingerbread, or even matcha gingerbread.
This recipe adapted from America's Test Kitchen yields a simple vanilla cookie that is sure to please.
Spritz cookies
These vanilla spritz cookies have a delightful simple flavour. You can use a cookie press to make them, or if not, a piping bag could work.
Ingredients
1

large egg yolk

1

tbsp

whipping cream (35 % fat)

35% fat

1

tsp

pure vanilla extract

230

grams

unsalted butter

1 cup, softened

132

grams

granulated sugar

⅔ cup

280

grams

all-purpose flour

2 cups scooped

Sanding sugar

optional
Instructions
Preheat the oven to 375ºF. Line two cookie sheets with parchment.

Whisk the egg yolk with the cream and the vanilla. Set aside.

In the bowl of a stand mixer fitted with the paddle attachment, cream the butter with the granulated sugar and the salt. Add the egg yolk mixture and beat it in. Add the flour and mix it in on low until combined.

Press the cookie dough together and fit it into the cookie press barrel, fitted with the Christmas tree stencil (or whichever you choose). I used this cookie press from Wilton available on <a href="http://amzn.to/1TsIxKq" target="blank" rel="nofollow">Amazon</a>.

Press out cookies onto parchment-lined sheets, spacing them about an inch apart. If you are decorating with coloured sugar, now is the time to do so!

Bake the cookies until the edges are light golden brown (about 10 minutes).

Let cool 10 minutes then transfer to a wire rack to cool completely.
Notes
You can order the coloured decorative sugar on Amazon
Nutrition